The rise of Washington Medical Hair Clinics | Plastic Surgery Practice August 2014
By Denise Mann
The year was 2010, and the hair transplantation field was exploding. Technological advances catapulted a dramatic rise in the number of procedures performed, and the memories of astro-turf-like hair plugs of the 1980s and 1990s had all but faded.
In short, it was the perfect time for Chris Clark and the plastic surgeons of the Washington Plastic Surgery Group to enter the arena.
"We got together and said, 'Let's do this,'?" Clark recalls.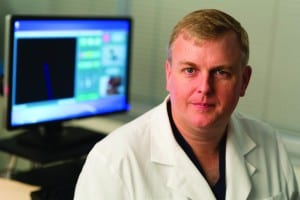 "This" refers to what has since grown into a hair restoration dynasty—Washington Medical Hair Clinics, the hair transplantation arm of a busy set of plastic surgery practices. The group set out to establish a standard of care for hair restoration performed in state-of-the-art operating rooms by plastic surgeons.
"When we started, few plastic surgeons were doing hair transplants, and we were seeing referrals from all sorts of doctors with the results being variable at best—particularly when dealing with strip grafts," says Barry Cohen, MD, MBA, a plastic surgeon in Rockville, Md.
Today, Clark—the director of the Clinics—works with a team of four plastic surgeons and seven hair technicians who operate out of five locations and do anywhere from 10 to 14 hair transplants per week, including eyebrows and some other niche procedures. The existing clinics are located in Washington, DC, Virginia, and Maryland, but there are plans to expand internationally. Next stop may well be Dubai, Clark says.
So it's safe to say that things are going along swimmingly. "It was an experiment that turned into a nice marriage," says Adam G. Tattelbaum, MD, one of the surgeons at Washington Medical. "Chris knew the business, and we knew the surgery. The rest is history."
PERFECT STORM
As the Clinics grew, so too did the hair restoration industry. The total market size for hair restoration surgery increased 47.9% since 2008, or from $1.3 billion in 2008 to $1.9 billion in 2012, according to statistics compiled by the International Society of Hair Restoration Surgery (ISHRS).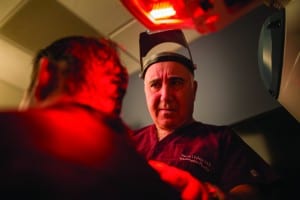 Unquestionably, "The biggest advance has been in the size of the grafts," Cohen says. "In the 1980s, a hair plug was 10 to 15 hair follicles, and men's scalps looked like Barbie dolls. Now, we use one, two, three, or four hair follicles." Clark agrees. "Hair transplants have gone from virtually undetectable to undetectable if done right."
And the surgeons at Washington Medical are certainly doing them right. The team also brings an expertise to the table when it comes to treating traumatic alopecia and taking on complex burn reconstruction cases. "These are more challenging, and most non-plastic surgeons would turn them away," Cohen says.
THE ROBOTIC REVOLUTION
The surgeons at Washington Medical Hair Clinics still do standard strip graft procedures and automated follicular unit extraction (FUE) when appropriate, but they are also among the first few East Coast practices to offer what all four surgeons call "the robot." They are referring to the ARTAS Robotic System by San Jose, Calif-based Restoration Robotics. The device uses advanced imaging and precision robotics to identify and select the best individual follicular units for harvesting.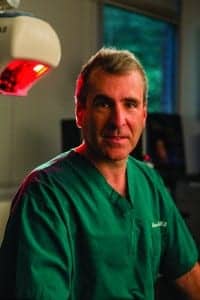 "The robot is a technological marvel that is in the process of revolutionizing the hair restoration business," says Frederick Watkins, MD, one of the plastic surgeons at Washington Medical. Advantages of the robot may include a more robust and rapid harvest with significantly lower transection rates than traditional methods. The robotic procedure can be done in half the time as manual FUE, and scarring is a non-issue. There is also less downtime following robotic hair surgery. Hair transplant patients receiving a transplant via the robot can return to normal activities in 1 to 2 days, compared to weeks after strip harvesting procedures. Robotic hair transplantations do tend to cost more than manual surgeries, however. Still, some in the hair restoration field are still on the fence about what role, if any, robotics should play in hair transplants.
Watkins is not one of them. "It is still run by [a physician] and does not eliminate the need for the artistic eye," he says. "It still requires a surgeon and other staff to run the machine and make sure it is working properly."
He adds that the robot is also not right for every procedure. "It depends upon the location of the follicles and/or the presence of pre-existing scars," he says. It is also not as effective on curlier hair because dissecting these follicles can be unpredictable. "This could be improved upon in the future, but right now, some hair transplant patients still do better with strip procedures," Watkins says. "If the patient is a good match for the robot, the procedure can go much faster."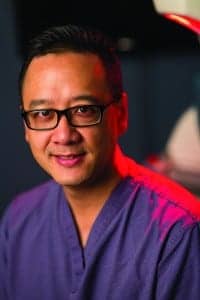 Bennett C. Yang, MD, another plastic surgeon at Washington Medical Hair Clinics, says, "The robot has added certain benefits to what we already do, and we are now able to provide patients with options to the traditional strip excision procedure."
HAIR SAY
Despite significant advances in technology, there remain some snake oil salesmen out there who prey on the fears and hopes of balding men and women—especially those who don't want to undergo surgery. "There is a lot of false advertising and products that are marketed that don't do anything," Yang says.
That's why the Washington Medical team is bullish on hair transplants and not so enthused about hair cell cloning and other "baldness cures" yet. "We stay on top of the technology, and if the science is there to back it up, we will implement it," Tattelbaum says. "I know what we do works. There are tough areas that don't take hair as well, and as time goes on, there will likely continue to be advancements, but for now, we feel surgical hair transplants, Propecia, and Rogaine certainly improve the appearance of a balding scalp."
ISHRS members, too, rely on Propecia, followed by Minoxidil (2% or 5%) solution and Rogaine Foam when using nonsurgical therapies as stand-alones or adjuncts to transplant surgery, with 5% reporting using Latisse (bimatoprost ophthalmic solution) for scalp hair growth in 2012.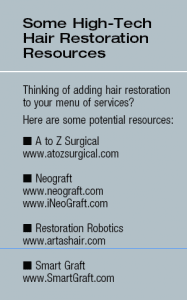 The field is still evolving, Cohen agrees. "There are still problems—namely, the lack of donor area," he says. Regenerative medicine seems to hold the greatest amount of potential. A team at NYU Langone Medical Center in New York City is looking at the cells found around hair follicles to see if they can be grown in culture using specific growth factors and then re-injected into the scalp to restore existing hair follicles. A team from the Perelman School of Medicine at the University of Pennsylvania in Philadelphia found that when the growth factor Fgf9 was overexpressed in a mouse model, there was a two- to three-fold increase in the number of new hair follicles produced.
ISHRS members, for their part, agree that cloning, tissue engineering, and other regenerative medicine techniques will be the next big thing in hair. "Cloning is the nirvana, unless there is a magic bullet to reverse baldness," Cohen concurs.
Denise Mann is the editor of Plastic Surgery Practice. She can be reached at dmann@allied360.com.
Original citation for this article: Mann D. Growth factors. Plastic Surgery Practice. 2014;(8),12-16