By Denise Mann
Joe Niamtu III, DMD, hits his professional stride.
As the largest solo injector of Botox Cosmetic in Virginia, Joe Niamtu III, DMD, often signs his e-mails with a simple "Joetox."
Clearly, Niamtu, an oral and maxillofacial surgeon whose practice is limited to cosmetic facial surgery, has a sense of humor about himself, and tries not to take himself too seriously. He does, however, take his patients, procedures, and professional responsibilities extremely seriously. "I have never done anything at half speed or half commitment," he says. "I want to be remembered as someone who was really serious about what he did and had fun in life."
Niamtu also takes his role as a teacher seriously, and it's his academic career that helps him stay fresh and engaged. He takes the Joe show on the road about 20 weekends a year and has spoken on six continents. "I always learn as much as I teach," he says. Publishing is also a passion. His most recent textbook sold 2,000 copies in the first 2 years of publication and has been translated into Spanish.
It takes a great deal of drive and tunnel vision to juggle a busy practice, academic, teaching, and publishing responsibilities with a challenging, but rewarding family life, yet Niamtu does so seamlessly.
Dr Joe, as his patients call him, doesn't complain ever. He has hit his professional stride, and could not be happier or feel more fulfilled. "You never hear me say I am the best," he says. (Although he has been voted a best or the best by various local and national magazines and people's choice awards time and time again.) "They say excellence is a journey, not a destination."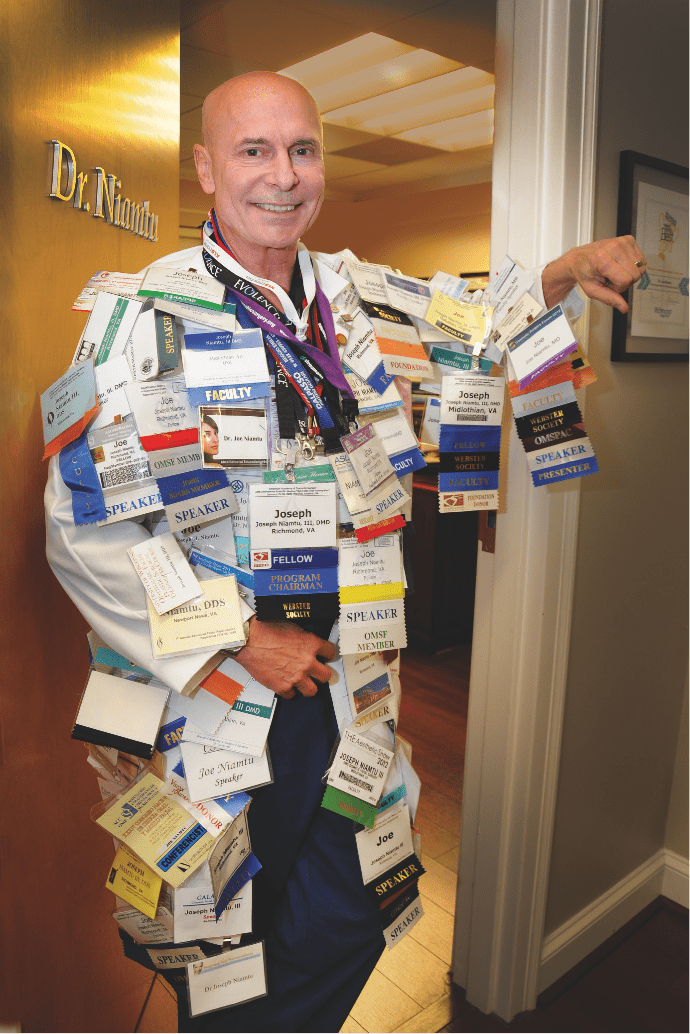 Niamtu has spoken at many meetings.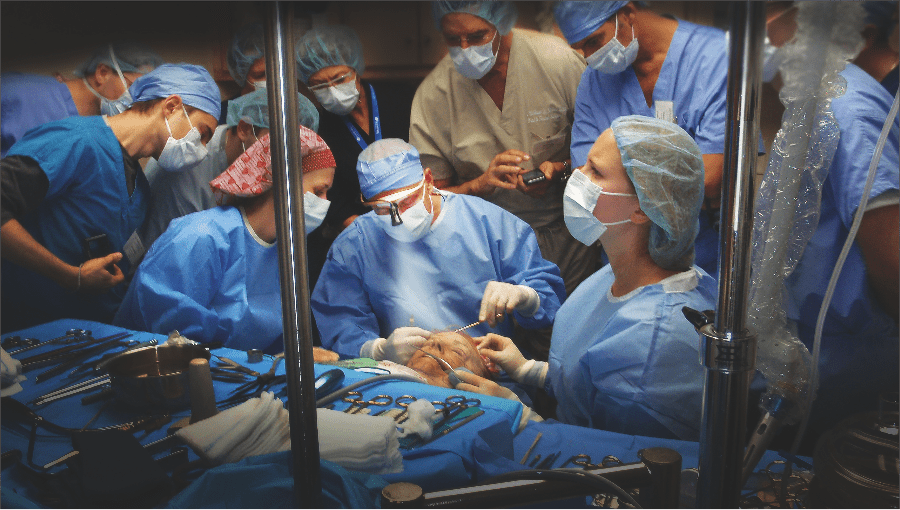 Niamtu does not take shortcuts.
Joe Cool
He is an active member and fellow of the American Academy of Cosmetic Surgeons (AACS), a group of doctors that tends to get the goat of some other groups of doctors in what many call the "core wars." As such, Niamtu has taken some punches, but like everything else, he takes them in stride. "My retribution is to keep doing better and better. The harder they push, the better I do."
Fellow cosmetic surgeon and past AACS President Angelo Cuzalina, MD, DDS, of Tulsa, Oklahoma, attests to Niamtu's Rocky attitude.
"He has had his share of political battles because he is in the spotlight," he says. "He keeps a very positive attitude, and is an extremely good friend and an incredible individual who would do anything
for a patient."
Anything? Yes, anything, quite literally. Cuzalina recalls a time when Niamtu performed pro bono surgery on a Romanian man who was shot in the face. That's not all he did, either. Niamtu also let the patient stay at his own home while he got back on his feet. This stay lasted 4 years. "He has a heart of gold," Cuzalina says.
So where does he draw the line? Niamtu doesn't watch TV or play computer games, and when it comes to his role in the AACS, he has no political aspirations.
In fact, Niamtu considers himself more of a worker bee at the AACS.
"I don't ever want to be president of anything," he says. "I don't like politics because it detracts from the stuff that is important to me." And that is surgery.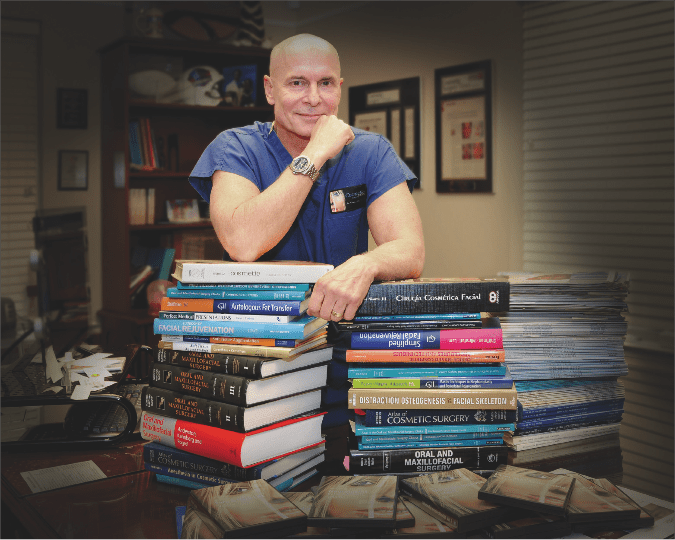 Publishing is another passion
"Like most surgeons, I am not happy if I am not operating," he says. "My absolute favorite procedure is facelift surgery." He performed 82 facelifts in 2012.
"I feel it is the most significant cosmetic procedure," he says. "You can hide mediocre breast or abdominal surgery, but in the face there is nowhere to run, nowhere to hide. No other procedure carries the emotional and physical impact of a facelift."
He doesn't take shortcuts with his facelifts. "I perform platysmaplasty on all patients and SMASectomy," he says. More than 25% of the facelifts Niamtu performs involve simultaneous chin or cheek implants, and almost one-half receive simultaneous laser resurfacing.
Injectables, however, provide an immediate gratification. "It is really fun to inject a patient, let them look in the mirror, and see that big smile of looking younger."
Making Lemonade
While jovial and upbeat when discussing work, a different side of this man emerges when he discusses his family and home life.
"It took me almost a half of a century to find the girl of my dreams, and a year after marriage we had our son, Joey," he recalls. "I was so excited to teach him how to throw a football, hunt and fish, and unlock the mysteries of life."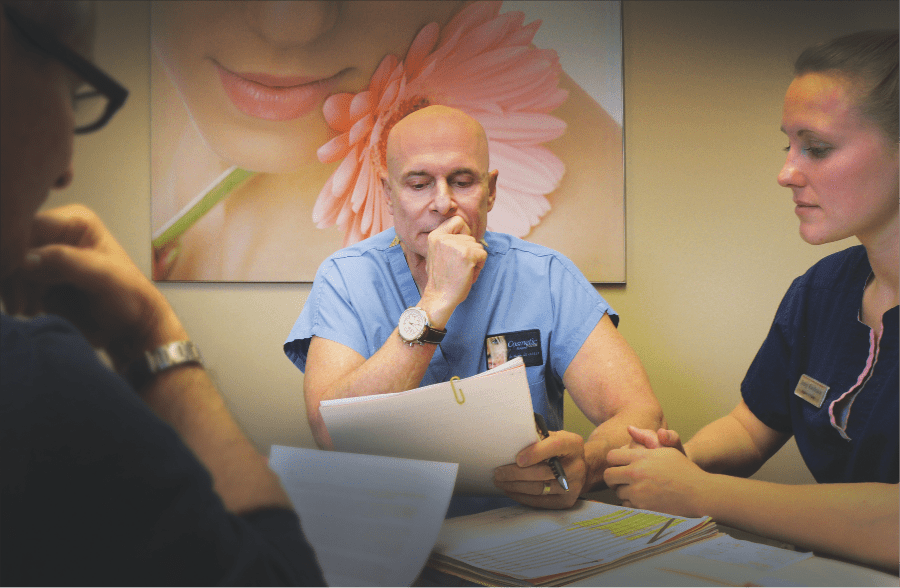 He is very serious about his patients.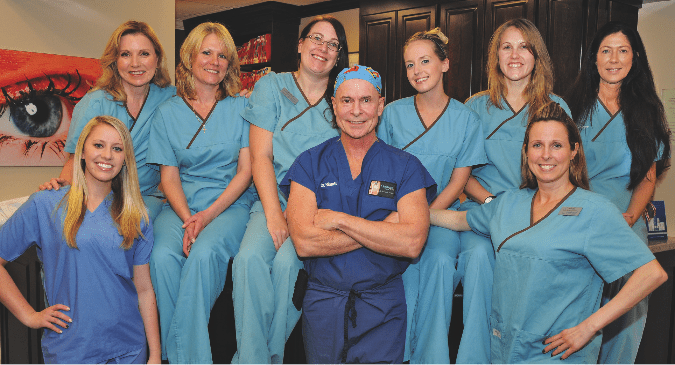 Niamtu and his staff
At 3 months of age, however, Joey began to have seizures. He was ultimately diagnosed with severe cerebral palsy. "He would never walk or talk, would be tube fed and always in diapers," he says. "This was a horrible setback in my life and took a lot of readjusting. One of my biggest fears was who will take care of Joey when I am gone?"
Niamtu, and his wife, April, both underwent comprehensive genetic testing before having more children. "We were told that Joey's condition was a mutation, and having it happen twice would be like winning the lottery twice," he says. "A year after this, my second son, Evan, was born and all appeared normal," he says. "Tragically, Evan missed milestones and had the same condition, which remains an undiagnosed genetic abnormality."
Today, Joey is 12 and Evan is 10. "They are the joys of my life," he says. "April and I have had to turn
More articles on Niamtu from PSP
lemons into lemonade." The pair decided not to put their sons in an institution, and instead added an addition to their home with three shifts of around-the-clock nursing. The boys sit in normal school class but can't participate. "We dress them normally and try to provide them with as normal as a life as possible."
This is the type of stress and tumult that can break even the most solid of unions, but it has made the Niamtus' marriage stronger. "She is my lighthouse," he says of his wife. "I found out how tough and how compassionate my wife is as she deals with this like there is nothing wrong."
As for Niamtu, he lives in the moment and tries not to worry about the future. "Each night after work, I hold them and play guitar, which makes them laugh," he says. And while he would never complain and ask, "Why me?" he admits, "If my boys could walk and talk, I would have a charmed life." n
Denise Mann is the editor of Plastic Surgery Practice. She can be reached at [email protected].