By Denise Mann, editor of PSP
For most of us, January is a time for reflecting on the past year and looking ahead toward the coming one. We make resolutions. What will we do more of? Less of? We also make predictions. What will pop? What will flop?
So what better use for my inaugural 2013 column than to let you in on mine.
January 2013 marks 1 year since I took over as the editor of Plastic Surgery Practice. It was a year of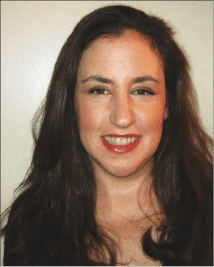 Densie Mannbig changes for this brand: a new editor, a new sales team, a new editorial director, our Web site got a major facelift, and we made strides toward a digital-first publishing model. We also added lots of new features, spurred some controversy with articles, started a LinkedIn group, increased our social media presence, and announced some significant strategic alliances.
All in all, a great year for a great brand, and I hope 2013 is even better.
In 2013, I resolve to own this space. I want the brand to grow by leaps and bounds online by engaging more readers and encouraging them to talk about the issues that matter most.
I resolve to publish our first-ever celebrity cover. I have a few possibilities in mind that I won't reveal just yet. Plastic surgery and celebrities tend to go hand-in-hand, and the article will look into why and what we can all learn from these celebrity patients.
I resolve to roll out a new A-list advisory board in February. I'm so grateful to our current editorial board for all of their due diligence in previous years, and I am excited to shake things up a bit with some new (and old) friends. Stay tuned.
Now for some more general plastic surgery predictions.
2013 will be the phattest year yet for fat. Specifically, we will be seeing more research on how fat grafting to the breast can augment implants and breast reconstruction efforts, and more doctors will be offering fat for hand rejuvenation, facial plumping, and to naturally augment other areas of the body.
Aesthetic doctors will not cool on cryotherapy in 2013, either. Doctors will treat muffin tops, saddle bags, and other trouble spots, as well as hypertrophic scars, with freezing technologies, and cryotherapy may also give neurotoxins a run for their money when it comes to forehead wrinkles in 2013.
I have predicted the FDA approval of "gummy bear" breast implants for years now, and 2012 did see a form-stable implant approved in the US. I am going out on a limb again to say that we may finally see Mentor and Allergan's highly cohesive gel implants approved in 2013. I also think we will welcome the Ideal implants in early 2013.
I also foresee that you may see a lot more of me on panels at major industry meetings, as my dance card for 2013 seems to be filling up already.
Have a happy and a Healthy New
Year!