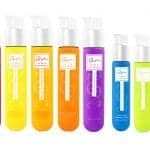 A serum replete with human epidermal growth factor may help improve undereye bags, atrophic acne scars, and purpuric lesions on the forearms, according to three pilot studies presented at the annual meeting of the American Academy of Dermatology.
A human growth factor bioengineered from barley, DNA EGF Renewal has also been studied for treating wrinkles and hyperpigmentation.
Rachel Seidel, a medical student at Georgetown University School of Medicine in Washington, DC, studied the impact of DNA EGF Renewal in 12- and 6-week treatment intervals with Ronald Moy, MD, FAAD, a clinical professor of dermatology at the University of Southern California Keck School of Medicine in Los Angeles and founder of DNA EGF Renewal, the company that manufactures the serum. A human growth factor bioengineered from barley, DNA EGF Renewal has also been studied for treating wrinkles and hyperpigmentation.
"Epidermal growth factor has the ability to thicken the skin both at the dermal and epidermal layers," Seidel says. "It does this by promoting collagen synthesis and the proliferation of epidermal stem cells."
In one pilot study, subjects applied the serum to atrophic acne scars for 12 weeks. In another, the serum was applied twice daily to infraorbital bags for 12 weeks, and in a third study, it was applied to forearms to improve the appearance of purpura.
Patients were asked to minimize application of other topical agents, such as retinoids, during the course of the trial to avoid effects like irritation and dryness.
Investigator assessments were used to evaluate study subjects, and assessments were significantly enhanced in all three trials. The 18 patients who received the serum for undereye bags were satisfied with treatment. Nine patients were treated for acne scars, and they reported that they saw improvement as early as 7.5 weeks post treatment. The number of purpuric lesions was counted at baseline and post treatment, and ultrasound was used to measure the difference in skin thickness. There was a statistically significant difference in the number of lesions among six patients who used the serum for 6 weeks.
"It likely won't be able to treat deep, ice-pick acne scars or hypertrophic scars," Seidel tells Plastic Surgery Practice. "It would be for atrophic or rolling scars."
The three studies all had small numbers of patients and treatment intervals were short, she says. Moreover, the duration of the treatment effect remains unknown, but Seidel is optimistic that the topical therapy could have wider applications.
"We certainly think that that any condition that stems from deficiency of collagen or thinning of the skin could benefit from topical epidermal growth factor," she says. "It could be applied to stretch marks."
The threat of tumorigenesis and the development of skin cancers with topical epidermal growth factor application is not a concern. "People are concerned that growth factor proliferates cells, leading to excess cell growth, raising concerns about increased skin cancer incidence," she explains. But "the literature shows the amount of growth factor used does not increase skin cancer incidence."
The theoretical basis for human growth factor is sound, but the degree of penetration of the product and the long-term effect remains unknown, says Murad Alam, MD, MSCI, a professor of Dermatology, Otolaryngology, and Surgery, and chief of the Section of Cutaneous and Aesthetic Surgery at Northwestern University's Feinberg School of Medicine in Chicago.
"They key issue is how much (topical growth factor) gets through the stratum corneum," he says. "That is an unanswered question, as is whether this is a product that has to keep on being used or whether it has long-standing benefit and patients can stop using it for a while but maintain benefit." In the future, the serum could be combined with energy-based treatments for an added boost.