Will Living Proof's Neotensil upend how we think about aging skin care? | Plastic Surgery Practice March 2014
By Denise Mann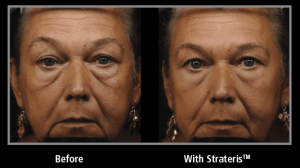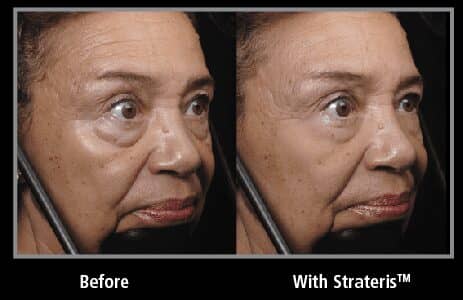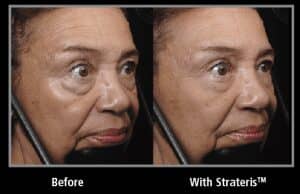 Living Proof, the company co-owned by actress Jennifer Aniston, is making business and beauty headlines.
The super chic hair care company recently partnered with Valeant Pharmaceuticals International Inc to develop, distribute, and commercialize products for aesthetic dermatology—a $75 million transaction that helps secure Valeant's already strong foothold in this space.
On the beauty front, Living Proof will roll out the first new product based on its novel Strateris™ technology at the 2014 American Academy of Dermatology meeting to be held in Denver later this month.
The new product, Neotensil, has bloggers and beauty columnists abuzz. Plastic Surgery Practice got a sneak peak of the cross-linked polymer film that reportedly reins in undereye bags in just 60 minutes, and it's hard to describe what Neotensil is without first describing what it isn't.
It's not a shot or a potion. It doesn't require laser or radiofrequency energy or even any nips or tucks, and you can't see or feel it if it is applied correctly.
So what is it? Neotensil is essentially breathable shapewear that compresses undereye bags. The benefits are evident within 1 to 3 hours, but they are not permanent, although there may be some cumulative effect. Neotensil can be worn for up to 24 hours, and it continuously hydrates skin for an added benefit
"It is in a category by itself. If you look at all of the topical preparations, there are tons of creams and lotions, but none of them have these properties," says Richard Rox Anderson, MD, the director of the Wellman Center for Photomedicine at Massachusetts General Hospital and professor of dermatology at Harvard Medical School in Boston. The Strateris platform involves a reshaping base followed by an activating layer that combine to create the invisible, cross-linking film.
A 7-week kit is expected to retail for $500, which is more expensive than some injectables but a lot cheaper than a lower blepharoplasty. The film can be worn daily or just for important occasions. It will be available via dermatologists, plastic surgeons, and eye specialists. No visit or treatment will be required, but the product works best when patients learn how to apply it from an in-office aesthetician.
The new product won't replace other facial plastic surgery or aesthetic dermatology procedures, either—just augment them, Anderson says. "It goes well with a lot of what we do in the
undereye area."
And it is safe, he says. "We have not encountered any side effects. It doesn't enter your body. It sits on the surface of skin in an elegant way."
"This is a major step forward in the care of older skin," says Barbara A. Gilchrest, MD, professor and Chair-Emeritus of the Department of Dermatology at Boston University School of Medicine. "It's the first truly effective noninvasive way to reduce the appearance of eyelid bags," says Brian S. Biesman, MD, the director of the Nashville Centre for Laser and Facial Surgery in Tennessee.
The undereye application is likely just the tip of the Strateris iceberg. The platform has the potential to help treat other cosmetic and medical conditions, including cellulite, and may even enhance wound dressings.
Stay tuned.
Denise Mann is the editor of Plastic Surgery Practice. She can be reached at [email protected].
Original citation for this article: Mann, D. Second skin: Will living proof's neotensil upend how we think about aging skin care? Plastic Surgery Practice. 2014; March: 20.