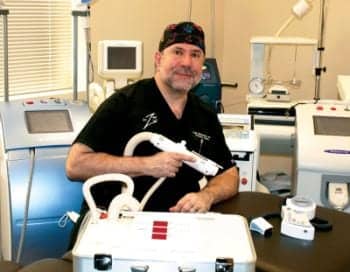 Dr Z prepares for another laser procedure.
I think Vegas is a Mecca for aesthetic procedures as well as for high-tech medicine," says Edward M. Zimmerman, MD, nicknamed "Dr Z" by his patients. He is a 15-year resident of Las Vegas, the medical director of Las Vegas Laser & Lipo, and the president of the American Board of Laser Surgery. He practices and operates in a new, state-of-the-art, 8,000-square-foot center, one of the first state-accredited "office-based surgical facilities" in Nevada. The new office is strategically located in Southwest Las Vegas, just off Interstate 215 which circles the town.
Zimmerman's new facility is the second he's designed and built in Las Vegas. His practice has expanded, and in Vegas he has sculpted a life that includes many of his passions: blending aesthetic lasers and light, music, art, and taking time to get to know and enjoy his patients.
TEAM WORK
It wasn't always such a perfect situation for him. At one time, his life bobbed around like a roulette ball before settling in the jackpot of his dream situation. Of course, none of this could work out without what he calls his "better two-thirds"—his wife, Marilyn, who runs the business end of his full-service cosmetic surgery practice.
"I'm surrounded by a terrific staff," Zimmerman says. "It's a practice shaped from the top down, so with my wife administering the practice, my RN for the last decade, Jayme, running the back office, and other long-time and newly expanded staff, we are a tight, cohesive, and talented family."
Zimmerman's teenage kids are involved, too. His son recently helped with scanning old files for digital storage and refinished furniture. His daughter designed his new Web site (www.lasvegaslaserandliposuction.com).
Zimmerman, born and educated in the Washington, DC area (Hopkins, Georgetown, and George Washington University), formerly practiced in Pittsburgh before the timing was right to seize an opportunity to go west. The door opened when he visited Las Vegas in the mid-1990s to teach a course on using lasers for both aesthetic and dermatologic conditions.
"Someone who attended the course got all excited about the new technologies for improved patient care and outcomes, and they offered me a job," Zimmerman recalls. "At that point, Western Pennsylvania was going through a transition from traditional care to managed care—or what I call 'mangled care'—and practices were selling out to hospitals, not far different from what's happening again today.
"I felt strongly that hospitals were buying medical practices as a funnel to pour patients into those hospitals, rather than just to leverage buying power and improve patient care. So, I was the dissenting vote among the initial core, multispecialty practice that I helped build back there, and the timing just worked out. I was between jumping into solo practice and looking to join a group somewhere else."
He responded by moving to Las Vegas, and when the job offer that lured him turned into more of a Copperfield-style illusion, he created his own niche. "I didn't have the money to go back to Pittsburgh, so it was a make it or break it kind of thing. With huge amounts of work, some luck, and a shoestring budget, we birthed an entirely different kind of practice—100% elective aesthetic procedures dedicated to education and enormously personal care that is a blend of technologies and art, delivered with a sometimes offbeat sense of humor."
These days, Zimmerman is proud to have taken the road less traveled. "Traditional medical service has become increasingly less personal, with brief interactions with physicians and their 'extenders,' and relying on tests to not just confirm, but make the diagnosis. I was brought up in a more hands-on, 'Marcus Welby' style of caregiving. I happened to be in the right place at the right time where I could build a completely aesthetic, safer practice and spend the time I needed and wanted to have with my patients, and to build a facility where I could learn from and educate my peers, too."
Even better, he could serve his patients while utilizing his other great love: lasers.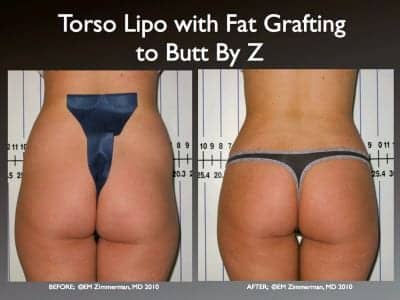 DEDICATED TO ALL THINGS LASER
Zimmerman is the president of the American Board of Laser Surgery, an international, nonprofit organization that was founded in 1984 to help clinicians utilize lasers safely.
"Candidates work through a comprehensive study guide that is continuously updated by talented physicians from all over the world," he explains. "Then they take a 2-day written exam to test their understanding of laser safety, physics, and tissue interactions, as well as ethics and current aesthetic technologies. After the candidates submit evidence of over 100 patient treatments, they can challenge the 1-day oral exam to become a Diplomate of the American Board of Laser Surgery." Later, after documenting significant further experience and education, they can even become a Fellow of the ABLS."
Zimmerman conducts many of the oral exams himself; when dealing with international applicants, he uses Skype or Oovoo to video chat. In this way, he has helped anchor a strong network of physicians internationally who share novel and tried procedure techniques and discuss aesthetic challenges.
"They send me before-and-after pictures and their versions of patient education and consent forms. Then we talk, and I learn stuff from doctors in Jordan, Singapore, Bangkok, Australia, France, and even Africa—all over the world," he says. "It's an honor, and it's also a fascinating educational tool."
As far as his own contribution to work with lasers is concerned, Zimmerman says, "I'm someone who helps bring modalities together. I've been a long-time advocate of putting a number of wavelengths at lower energies to get the best outcome for patients with the least risk.
"It's one thing to take a particular wavelength and turn the power up to try to get rid of a lesion. It's another thing to turn the power down and do several visits or use several different wavelengths to get the best outcome. If someone comes in and they have a very wrinkly, freckled face with broken blood vessels, no single laser will fix all those things. It's a combination of the optimal wavelengths and correct parameters being used with properly maintained technologies that allows you to get the optimal outcome for the patient, with the greatest safety and usually the least social downtime."
One thing stands out for Zimmerman when it comes to liposculpting. "Whether I am using traditional tumescent lipo; or power, laser, RF, or water-assisted techniques, the biggest thing that I've learned from studying both here and in Europe, South America, and Asia is that being able to mark the patient while they're standing, and then sculpt and sit or stand them up again so I can see how the tissue hangs under gravity, is a critical part of getting the best outcome."
His practice is very different from other practices where liposculpting is still performed under general anesthesia. "Las Vegas Laser & Lipo is dedicated to patient safety and recently has become one of the first state-accredited office-based surgical facilities," he says proudly. "Another nice thing about the new office is that we have plenty of room for doctors and medical students to observe. That keeps us at the top of our game, too."
OTHER SIDES OF DR Z
In addition to recently publishing chapters on botulinum toxin and conducting marketing Webinars, in 2011 Zimmerman presented on lasers, light, nitrogen plasma resurfacing, toxins, and CoolSculpting to peer-review venues including The Aesthetic Show, The World Congress on AntiAging and Aesthetic Medicine, the International Esthetics, Cosmetics & Spa Conference, and The 2nd Interactive Congress of Aesthetic Medicine in Colombia. He also hosts open houses and preceptorships in his office.
He is currently co-authoring a new book on laser procedures, as well.
What of Zimmerman when he's not at work? "My work is a large part of my identity," he says. "The way the patients flow through the facility, the art, restful music, and colors… It's my home away from home."
Zimmerman enjoys woodworking, all manner of tinkering in the house and garage, and drawing and building "cool presentations for open houses and teaching."
Another thing he uses to unwind is playing in the yard. "In Las Vegas, we have xeriscaping—building a landscape with water-conserving plants, various textures of sand, stone, natural elements, succulent plants. There's something blooming all year round. It's always changing, growing, and requires constant attention—sort of like a family or a medical practice"
All in all, it looks like taking a risk on Vegas has paid off for him. "I'm one of the few people in this world and this economy who gets to go to work and actually enjoy what they do," he beams.
---
Sarah Russel is a contributing writer for PSP. She can be reached at [email protected]