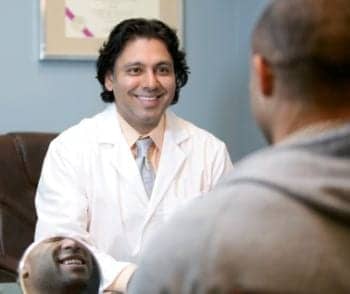 Board-certified cosmetic surgeon Amarpreet Singh, MD, believes in and has developed a unique holistic approach to aesthetic medicine that combines diet and nutrition with his surgical procedures.
He achieves this in his own life through a balance between his work and personal time, as well as between his two types of practices—his cosmetic practice in Mt Kisco, NY, which focuses on rejuvenation; and his academic practice in Manhattan, where he takes care of trauma, congenital, and cancer-related reconstructive procedures.
In addition to these practices, he holds an academic appointment as an assistant clinical professor of oculofacial plastic surgery at Columbia University, where he enjoys teaching residents from various surgical specialties. "Knowing that I have educational responsibilities to these young doctors forces me to keep abreast of the latest techniques and most up-to-date developments in my field," he says.
Part of being up-to-date is not only through offering the most cutting-edge equipment and technical innovations, but also by instructing his clinical nutrition team to develop simple, effective changes in his patients' lifestyles before, during, and after his procedures. These changes can lead to enhanced patient outcomes when compared to surgeons with no knowledge of this holistic approach. "Diet, exercise recommendations, bio-identical hormones and nutritional supplements are just some of the tools we use—each being tailored to a patient's specific needs," he says.
"The reason that I linked myself up with the integrative side of the Holistic Medical Spa is that I believe in treating a person as a whole, not just as a surgical candidate. My colleague, Dr Michael Wald, a double-board certified nutritionist and dietician as well as the spa's director of clinical nutrition services, searches each of my patient's biochemistry by looking at their blood to find ways to improve surgical outcomes. "He's actually called 'the blood detective,' because he uses his patent-pending computer technology that helps him personalize every recommendation that we give," says Singh.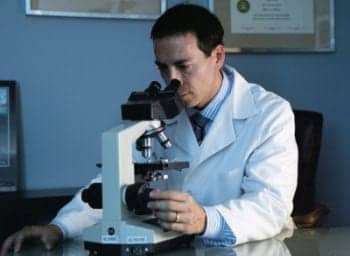 The "blood detective" Michael Wald, PhD, DC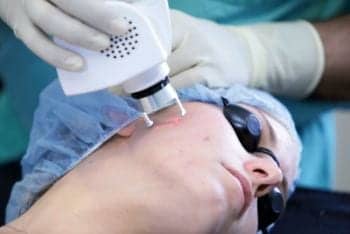 Singh uses the latest technology to give superior results.
"Before the procedure, if we notice that their Vitamin C level is too low, then we know that may impede wound healing," he continues. "If we notice that their sugars are too high, that may increase their recovery time. If progesterone or thyroid hormone levels are not just right, surgical recovery may be protracted. There is so much we uncover that, when corrected naturally, motivates and enhances our patients' lives after surgery.
"The fact that we can combine that with the latest surgical or technological innovations to help them heal better, is what helps me to achieve the level of patient satisfaction that I obtain."
Singh has found that with this approach patient scars look much better, they have less pain, and they recover faster.
Singh is very proud of the fact that he can provide a holistic approach to his patients. "We really want to take care of the person as a whole," he explains. "It's not enough for me to just take away a patient's love handles then set them free. We like to keep people engaged, and we like to make sure that they continue on the path that they started on, a path to a healthier lifestyle."
To Singh, his patients are not business commodities. "The litmus test for me is how do I advise those who are close to me? How would I treat my friends and my family? If I can't do the same thing for my patients, then I'm doing something wrong," he says.
Yet, at times, Singh will turn away patients. "Somebody will refer a patient to me and I'll say, 'You know, you don't really need that.' He remembers a conversation with one of his patients who was told she needed a facelift. "My reply to this was, 'What is it that bothers you the most?' She told me that it was her brows and the puffiness of her lower eyelids. I said, 'Although you would be a great candidate for a facelift, the lower part of your face doesn't even bother you. I would not advise you to treat an area that you don't have a problem with. We should focus on the things that are really bothering you.' We can limit the amount of intervention and fix what bothers the patient. Because their problems are as unique as their DNA, we shouldn't try to do the same procedure on every patient we see."
"It's in situations like this where I ask myself, if my mother were to come to me, what would I do?" he says. "I have to ultimately answer to my own conscience."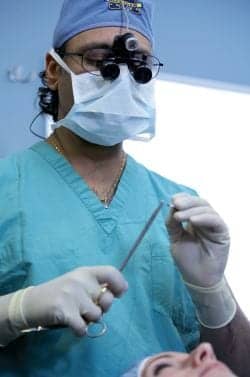 Singh combines surgical techniques from various fields for optimal results.
It makes sense that he would consider his mother, as she was a major factor in his decision to become a physician. "My mother was a nurse and my uncle, who is a strong guiding factor in my life, was a physician," he says. "Ever since I was a child, I was surrounded by very compassionate and giving people. Those values are still at the core of my personality. I always knew that I wanted to do something that would allow me to help people and make a difference in the world. As I grew older, I saw the satisfaction that the medical field brought to my family, and I knew that was the right path for me."
Where does he see the future of plastic surgery? "All signs point to the reduction of downtime in surgical procedures," he notes. "For example, I now perform a laser blepharoplasty, which is not common, as of yet. My patients receive great results with minimal downtime and less bruising and pain compared with traditional blepharoplasty with a scalpel."
Singh attributes another growing trend to the overall reductions in patient downtime: More males are getting cosmetic surgery and body sculpting procedures than ever before. "Men historically—as far as plastic surgery goes—haven't undergone a lot of procedures. I believe they thought it was associated with a lot of downtime and pain, which may have taken away from their personal and professional life. While this may have been true in the past, the side-effects and recovery time are now greatly reduced, in part, due to the technologies that we offer in our office."
GIVING BACK
Singh is involved in a variety of charitable activities. He is a member of Faces of Honor, a program sponsored by the American Academy of Facial Plastic and Reconstructive Surgery. The purpose of this program is to offer pro bono medical and surgical services to veterans and active duty members who were injured while deployed in support of the wars in Iraq or Afghanistan. "This is my way to provide a thank you to the brave men and women who have served and continue to serve our country," Singh says.
In addition, he frequently travels overseas as part of an international contingent of surgeons on humanitarian missions. They donate reconstructive facial surgery services to impoverished populations in the Third World. "During these missions, not only do we perform reconstructive surgeries on children and adults, but also train local surgeons on techniques to allow them to better care for patients in the future," he says.
Amarpreet Singh, MD
Holistic Med Spa & Laser Center of Westchester
495 E Main St
Mt Kisco, NY 10549
(914) 242-8844
www.holisticmedicalspa.com
As an attending surgeon at Harlem Hospital, a New York City-based hospital, he also provides reconstructive surgical services to many patients on a pro bono basis. "Part of my inspiration to be a physician was to help people. I believe that all people deserve quality health care regardless of their socioeconomic status," he says.
Dr. Singh is one of the select few surgeons worldwide who has trained in not only plastic surgery around the eyes, but is also a member of the American Academy of Facial Plastic & Reconstructive Surgery and the American Academy of Cosmetic Surgery. His training blends the best techniques from General Plastic Surgery, Facial Plastic Surgery, Eyelid Plastic Surgery as well as Liposuction Surgery. This allows him to fully evaluate each patient using a holistic approach and to tailor a custom plan for you."
---
Sarah Russel is a contributing writer for PSP. She can be reached at [email protected].