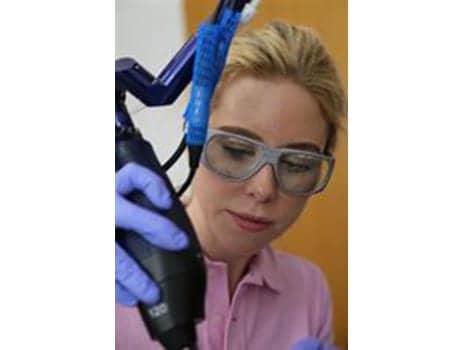 A study assesses the efficacy of fractional CO2-laser treatment to improve the cosmetic outcome of skin grafts.
The study, led by Elisabeth Datz, MD, was published in Lasers in Surgery and Medicine, the official journal of the American Society for Laser Medicine and Surgery Inc (ASLMS).
In the study, two independent investigators evaluated adaptation of treated and non-treated sides of skin grafts to the surrounding skin on an 11-point scale. Pigmentation, resizing, and roughness of skin grafts were also objectively measured as well as patient satisfaction with the cosmetic result. Two treatments with the fractional CO2-laser had significantly improved adaptation to the surrounding skin in comparison to untreated controls 8 weeks, 6, and 12 months after the two treatments, according to a media release from ASLMS.
"No evidence-based clinical data on improving the appearance of skin grafts by fractional CO2- laser resurfacing have been available so far," Datz says. "This is the first clinical trial that has shown that adaptation of the skin graft to the surrounding skin can be significantly improved with ablative fractional skin resurfacing."
"Patient satisfaction with the appearance of the skin graft is also significantly higher after graft resurfacing. Thus, fractional skin resurfacing can be recommended for patients wishing to improve the appearance of their skin graft," she adds.
[Source: American Society for Laser Medicine and Surgery Inc (ASLMS)]