"My practice is unique from the standpoint that I am probably the only Hispanic doctor in America who specializes in Asian cosmetic surgery."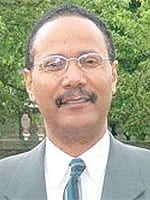 Adolfo Napolez, MD
Munster, Ind
Many times in a person's life, one experiences a revelation. Sometimes it is something that marks the beginning of a new or better stage; an important moment of change.
When Adolfo Napolez, MD, was a medical student and doing his rotation in plastic surgery, he saw the ability of some surgeons to help change patients' appearances for the better. "To me, this was the turning point in my education. From then on, I knew what I wanted to do," Napolez says.
Professional Life
Napolez earned his medical degree from Southern Illinois University, Southern Illinois University School of Medicine, in Springfield. He completed his general surgery schooling at West Pennsylvania Hospital in Pittsburgh and his burn surgery training at Cook County Hospital in Chicago. Napolez was chief resident when the hospital was considered the number one burn unit in the country.
Napolez completed a fellowship in general cosmetic surgery through the American Academy of Cosmetic Surgery, finishing his training in 2006. He is currently a member of the American Academy of Cosmetic Surgery, the American Society for Laser Medicine and Surgery, the American College of Phlebology, the American Society of Cosmetic Breast Surgery, the American Society of Liposuction Surgery, and the International Society of Cosmetic Laser Surgery.
"My practice is unique from the standpoint that I am probably the only Hispanic doctor in America who specializes in Asian cosmetic surgery," he says. "During my fellowship, I trained with one of the experts in Asian facial surgery, Jung Park, MD, PhD, FACS, creator of eyelid surgery procedures and author of many articles and a textbook on this type of surgery. I wrote a chapter in this textbook, Asian Facial Cosmetic Surgery," he says.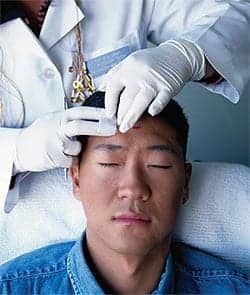 Park edited this book, which was published in 2006 by Saunders (an imprint of Elsevier Health) and covers cosmetic surgical procedures that apply specifically to the Asian patient.
It presents procedures for and pitfalls of cosmetic surgery in the Asian population and techniques, according to Napolez, such as the single suture technique and the debulking technique for double-eyelid surgery, anatomy for maxillofacial surgery, premaxillary reduction, and more.
Napolez's practice, the Center for Cosmetic and Laser Surgery, is located in Munster, Indiana. His office manager, Staci Choros, is a licensed aesthetician, and his two other staff members are trained in OR assistance and office work, as well.
Napolez is affiliated with Heartland Memorial Hospital, which is also located in Munster, a suburb about 30 minutes south of Chicago.
Napolez' list of procedures offered runs the gamut, including the following:
Breast augmentation;
Liposuction;
Blepharoplasty;
Chemical peels;
Acne treatment;
Male breast reduction;
Microdermabrasion;
Necklift, as well as surgical and nonsurgical face lift;
Rhinoplasty;
Sclerotherapy;
Body lift;
Laser-based lipolysis and laser skin resurfacing;
Lip augmentation;
Tattoo removal;
Cellulite reduction;
Tummy tuck; and,
Ultrasonic liposuction.
Notable Endeavors
Napolez invented an expandable breast surgery retractor, which is being developed by Marina Medical, Sunrise, Fla.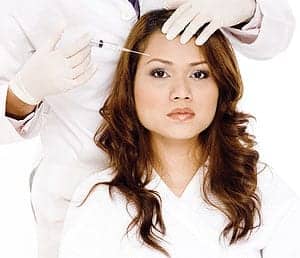 As Napolez explains, his breast expander has been designed with two to three blades that overlap one another when closed but open like a flower petal to expose the pocket in all dimensions rather than one dimension like the standard single-edge straight retractors.
Over the past 4 years, Napolez has written articles on topics such as a classification system he created for facial fat atrophy, as well as an article for PSP magazine on male postbariatric surgery (see "Male Postbariatric Surgery," by Adolfo Napolez, MD, in the February 2008 issue).
Other subjects have included breast pocket anesthesia placed in the OR and its effects on postoperative pain after implant placement. This particular subject was featured in a 2007 issue of the American Journal of Cosmetic Surgery, in a study that showed that bupivacaine (Marcaine®) is known to be an effective local anesthetic agent. The question was whether or not there was a role for placing this anesthetic into the breast implant pocket in breast augmentation surgery to achieve a greater degree of postoperative pain relief. The purpose of the study was to test the effectiveness of locally administered intraoperative bupivacaine into the breast pocket during augmentation mammoplasty.
A Case Study
A 37-year-old male from southern Indiana came to see Napolez about removing a large growth from his left lateral orbital region, which he had for more than 20 years.
"He had gone to other surgeons who told him they would not remove it unless he was able to pay an exorbitant fee," Napolez recalls. "I knew he was in no position to pay a large fee to remove this mass, which was affecting his vision due to its size."
Napolez removed the mass, which turned out to be a cystic structure that took approximately 1 hour to remove. The charge to the patient: $100.
Outside the Exam Room
Napolez, as with most physicians, needs a way to relax, refocus, and "recenter" on a regular basis. The best methods are often related to physical exercise.
Taekwondo is a Korean martial art. "Tae" means to strike or break with foot; "kwon" means to strike or break with fist; and "do" means way, method, or art. Loosely translated, it is known as the art of the foot and fist or the art of kicking and punching. It combines combat techniques, self-defense, sport, exercise, meditation, and philosophy.
There are two general branches of taekwondo—traditional and sport—which include blocks, kicks, punches, and openhanded strikes, as well as takedowns/ sweeps, throws, and joint locks, according to Napolez.
"I have a black belt and have been practicing for over 15 years," he says. "The patience and discipline required of the individual practicing taekwondo helps in daily life as well as in medicine, by allowing one to remain calm and focused."
The sport also brings about an inner strength and self-confidence that can be honed through years of taekwondo practice, he adds, stating that taekwondo develops strength, speed, balance, flexibility, and stamina.
---
Nina Silberstein is a contributing writer for PSP. She can be reached at [email protected].