Although Botox Cosmetic has been used off-label to eradicate moderate-to-severe crow's feet for years, the US Food and Drug Administration has just approved the toxin for this use. Botox Cosmetic is the only FDA-approved drug for lateral canthal lines in adults.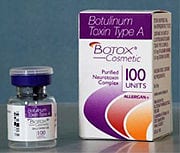 The FDA approved Botox Cosmetic in 2002 for the temporary improvement of glabellar lines in adults.
The new approval is based on two studies comprising 833 adults with moderate-to-severe lateral canthal lines who were randomly assigned to receive Botox or placebo. Those treated with Botox showed greater improvement than those who received the placebo injections.
"Botox for lateral canthal lines has been a mainstream treatment of cosmetic practitioners for the last 10 to 15 years," says Plastic Surgery Practice medical advisor Joe Niamtu III, DMD, a cosmetic facial surgeon in Midlothian, Virginia. "Now we have FDA evidence to support its effectiveness."
According to Niamtu, Dysport and Xeomin would likely be equally effective at erasing crow's feet. "Generally, in cosmetic surgery, by the time many things are cleared by the FDA, they have been in safe and effective off-label use for years. The FDA endorsement, however, is always a great thing for the specific company and the profession in general."
The most common adverse reaction associated with the use of Botox Cosmetic for treatment of lateral canthal lines is eyelid edema.
Botox Cosmetic is manufactured by Allergan Inc, based in Irvine, Calif.