When a new product or technology is being tested in the aesthetics space, there is buzz and then there is mega buzz. And Calabasas, Calif's KYTHERA Biopharmaceuticals' ATX-101 falls into the latter category. Enthusiasm has been brewing about this targeted fat-destroying injectable for years, and recently presented Phase III trial results will only serve to amp up this excitement.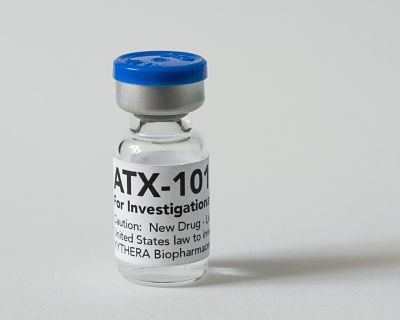 ATX-101 is a purified synthetic version of Deoxycholic acid, a naturally occurring molecule in the body that aids in the breakdown of fat. It is being investigated as a treatment for submental fat. Currently, there is no injectable drug approved by the US Food and Drug Administration (FDA) to reduce submental fat, known colloquially as the "double chin."
Top line data from the REFINE-1 and REFINE-2 Phase III clinical trials presented at the American Society for Dermatologic Surgery Annual Meeting in Chicago showed that the majority of individuals treated with ATX-101 were satisfied with the results, and noted improvements on visual and psychological scales assessing the impact of their treatment. Both doctors and patients noted reductions in submental fat after treatment. Specifically, 88.9% of REFINE-1 and 84.2% of REFINE-2 ATX-101-treated subjects were happy with treatment, compared to 37.7% and 43.6% of those who received a placebo, respectively.
"We not only met our primary and secondary end points, we hit them out of the park, demonstrating high statistical significance," says Frederick Beddingfield, MD, PhD, chief medical officer of KYTHERA, in an exclusive interview with Plastic Surgery Practice.
The company is now preparing data to present to the FDA. "So far, we are all on track," he said. "If all continues to go according to plan, we hope to see the product hit the market sometime in 2015."
FIRST, DO NO HARM
One of the questions that has plagued ATX-101 and other fat-melting or fat-freezing technologies since its earliest days has been, "Where does the fat go?" Some were concerned that it may build up in the arteries or elsewhere and cause harm.
But this is not the case with ATX-101, he says. Following injection, the targeted fat cells are destroyed and cleared from the treatment area as cellular debris. "Once the fat cells are destroyed, they are gone for good, to the best of our knowledge." In REFINE-1, 98.5%, and in REFINE-2, 98.9%, of side effects were mild to moderate and included injection-site reactions as well as swelling, pain, bruising, numbness, and redness.
If and when this product receives the coveted FDA nod, it will clearly be a game changer for many. Candidates will likely include the young and thin who have a genetic predisposition toward the double chin. "Many of these people are of modest weight, and they really can't exercise away this chin," he says. "You can exercise like a fiend and still have a double chin."
ATX-101 may also be attractive to the older crowd who have started to put on weight in their lower face, but who are not ready for something more invasive such as liposuction or a neck lift.
MORE TREATMENT NICHES
Male plastic surgery is also seeing a spike, and the submental region may be of concern to men who are looking to re-enter the dating game after a divorce or perhaps those who need to compete for jobs with their much younger and sharper-looking counterparts. Another possible niche for ATX-101 are the growing numbers of video chatters. FaceTime, Skype, and other video chatting technologies tend to accentuate the lower part of the face, as well as any submental scars. If approved, ATX-101 could help treat the fat under the chin, without leaving any evidence of
said treatment. (Read: No scars.)
Trials have also helped further define how the drug will be used. Some results can be seen in as early as 8 weeks, but full effects occur gradually. Individuals may need as many as six treatments of ATX-101 to achieve their desired results.
"For others, it may be closer to two to three," he says. This doesn't need to be decided upfront; it is more of a evolving process that can be tailored to the needs of the patient. "If you respond, more than 90% are still responding at 2 years and more than 80% are still responding at
3 and 4 years," Beddingfield says.
Cost is to be determined. The company plans to sell to the dermatology and plastic surgery communities. "If you have a practice doing injections, this fits in nicely," he says.
Stay tuned!