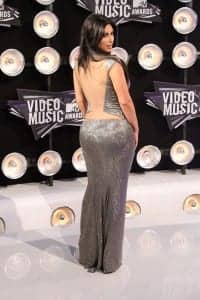 Brazilian butt lifts popped in 2013, according to the latest numbers from American Society of Plastic Surgeons (ASPS).
Last year, nearly 10,000 buttock augmentations with fat grafting were performed, an increase of 16% from 2012.
Call it the Kardashian Kurve, as the butt-boosting trend is clearly a reflection of some of today's more curvaceous pop culture icons including Jennifer Lopez, Beyonce, Nikki Minaj, and, of course, Kim Kardashian.
"There are cultural body differences and structural body differences, and instead of taking away material, some people benefit from enhancement," says Robert X. Murphy, Jr, MD, assistant chief medical officer of the Lehigh Valley Health Network in Allentown, Pennsylvania, and the president of the American Society of Plastic Surgeons. "Augmentation in ethnic rhinoplasty has been accepted and now it is equally accepted in the buttocks."
Overall, the statistics show that plastic surgery procedures are on the rise for the fourth year in a row. There were 15.1 Million Cosmetic Procedures in 2013; up 3% since 2012. In addition, 5.7 million reconstructive surgery procedures were performed last year, up 2%.
"This is definitely uplifting news," says Murphy. "They reflect the basic fact that people think that their appearance is a great investment," he says. "The economy is also on an upward trajectory, and individuals have more disposable income and access to credit."
Noninvasive Procedures Grow by 3%
According to the new numbers, noninvasive procedures reigned supreme in 2013.
Cosmetic minimally invasive procedures increased 3%, to more than 13.4 million procedures in 2013. The top five minimally invasive procedures were:
• Botulinum toxin type A (6.3 million injections, up 3%)
• Soft tissue fillers (2.2 million procedures, up 13%)
• Chemical peel (1.2 million procedures, up 3%)
• Laser hair removal (1.1 million procedures, down 4%)
• Microdermabrasion (970,000 procedures, no change)
Botulinum toxins, such as Botox®, Dysport®, and Xeomin, and facial fillers continue to be among the most popular cosmetic treatments in the US. In fact, botulinum toxin type A injections are up 700% since 2000. However, one filler, Hyaluronic acid, stood out among the crowd in 2013, with nearly 1.7 million procedures performed, up 18% from 2012.
Cosmetic Surgery Up 1% in 2013
Cosmetic surgical procedures rose 1%, to nearly 1.7 million procedures in 2013. The top five surgical procedures were:
• Breast augmentation (290,000 procedures, up 1%)
• Nose reshaping (221,000 procedures, down 9%)
• Eyelid surgery (216,000 procedures, up 6%)
• Liposuction (200,000 procedures, down 1%)
• Facelift (133,000 procedures, up 6%)
Neck lifts are becoming increasingly popular, with more than 55,000 procedures performed last year, up 6% from 2012, the new statistics show.
 Uptick Seen in Breast Reconstruction
Reconstructive plastic surgery increased 2% in 2013. The top six reconstructive procedures were:
• Tumor removal (4.4 million, up 5%)
• Laceration repair (254,000, down 13%)
• Maxillofacial surgery (199,000, down 5%)
• Scar revision (177,000, up 4%)
• Hand surgery (131,000, up 6%)
• Breast reconstruction (96,000, up 4%)
The fact that more women are opting for breast reconstruction suggests that grassroots and legislative efforts aimed at educating women on their options are taking hold. "This is a great endorsement, but there are still so many women who may not be aware of their options," Murphy says.
 About the statistics
ASPS members can report procedural information through the first online national database for plastic surgery procedures, Tracking Operations and Outcome for Plastic Surgeons (TOPS). This data, combined with an annual survey sent to American Board of Medical Specialties-certified physicians most likely to perform these procedures, results in the most comprehensive census on plastic surgery.