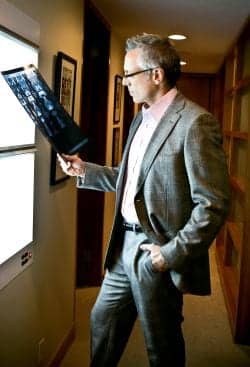 Steven J. Pearlman, MD, FACS, planning the day's procedures.
PHOTOS BY MONIQUE CARBONI
Steven J. Pearlman, MD, FACS's tony Park Avenue practice is bustling on a spring-like Tuesday afternoon in New York City. Receptionists discreetly answer phones as several current and future patients thumb through magazines in the waiting room. A slow-tempo version of Alanis Morissette's "You Learn" plays faintly in the background.
The frosted glass panel doors to the consultation and procedure rooms remain closed, but shadows of technicians consulting with pre- and post-op patients are visible within their panes.
By all counts, cosmetic surgery is showing signs of life after several years of a decline due to a faltering economy, and Pearlman's office seems to embody this trend. And from the surgeries he performs and his dapper wardrobe to the understated elegance of his office, Pearlman is all about style and panache.
He is as proud of his office décor as he is of the reputation he has built during 24 years of practice. Pearlman handpicked each and every item, from the antique French 1940s cherry wood desk he sits behind during consultations to the art nouveau prints that hang in the waiting area to the cream-colored molding on the top-secret VIP exit. (Yes, he has one of those!)
Nothing is over-the-top. All is tasteful and subtle, much like his signature surgeries—rhinoplasty, revision rhinoplasty, and Wow cheeks injectables.
And that is a good thing, as today's consumers crave subtlety over severity.
It used to be that many patients came in wanting tight-pinched, ski-slope noses, but this is not longer en vogue. "Everybody wants to look natural today," he says. "The plastic look is a rarity."
People want the kind of subtle improvement that causes friends to say, "You look great. Did you lose weight or change your hair? They don't want to look fixed."
Today, Pearlman's practice is more than 90% cosmetic, but he still does some facial reconstruction and skin cancer surgeries. He sees about 70 patients a week, including 10 to 15 new patient consultations. Pearlman is also involved in several charities that provide pro bono reconstructive surgery to abused women through Face to Face: the National Domestic Violence Project. He also donates his time and skills to helping children with congenital facial deformities and those who have been bullied via the Little Baby Face Foundation.
STUDENT TEACHER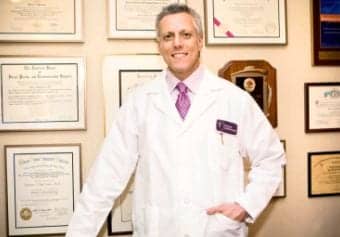 Pearlman's wall of professional accomplishments and accolades.
The past president of the American Academy of Facial Plastic and Reconstructive Surgery, Pearlman says his biggest referral source is word-of-mouth, which is bolstered by a strong online presence. Like many of his peers, he did dabble in the group discount world once, and likely won't do so again. Pearlman listed a deal for fillers and Botox on Gilt City, a high-end designer group deal site.
"I broke even, and a decent number of patients came back," he recalls. But in the end, it wasn't really for him. "If you do these deals too often you will become a discount house, and that will piss off your regular patients who pay full price and mark you as a commodity instead of an exclusive practice."
He is equally as candid in his advice to young surgeons just starting out: "Don't run out the door and start your own practice unless you have a fantastic offer; you can't have a high-end facial cosmetic practice right away," he says. "You need time to develop and learn. Do lots of surgeries. Take a job at Veterans' Affairs Medical Center or a teaching hospital to hone your surgical skills and assure that your hands can do what your brain has learned," he says. "This is more important than doing one nose job a month and a lot of Botox and fillers on your mother's friends."
Pearlman earned his stripes during his years as a otolaryngology-head and neck surgery resident at Mount Sinai Medical Center and as a fellow in Facial Plastic and Reconstructive Surgery at St. Luke's/Roosevelt Hospitals in New York City, often performing more rhinoplasty and facial procedures than plastic surgery colleagues at the hospital. He is Double Board certified by the American Board of Facial Plastic and Reconstructive Surgery and the American Board of Otolaryngology—Head and Neck Surgery.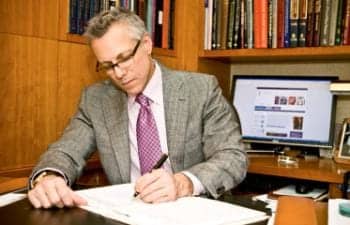 Pearlman behind the French 1940s cherry wood desk that he handpicked.
RHINOPLASTY REDUX
It was his experience in primary rhinoplasty that paved the way toward his prowess in revision rhinoplasty. It also works both ways. Pearlman realized that the concepts of restoring structure in revision rhinoplasty should be applied to primary rhinoplasty to obtain natural, long-lasting results.
"I learned a lot about primary rhinoplasty when doing revision rhinoplasty," he says. "With primary rhinoplasty, the operation is basically done after the initial examination. You know exactly what you plan on doing before you step into the operating room," he says.
Not true with revision rhinoplasty. "It is unpredictable, and you don't know what to expect. Oftentimes, you are correcting someone else's mistakes."
This unpredictability also involves frank discussions with patients to make sure their expectations are realistic and able to be met by the surgery.
Pearlman relies on 3D computer imaging to aid these discussions. "With primary rhinoplasty, it can be pretty accurate," he says. "With revision rhinoplasty, I can show patients what can and can't be done," he says. "With revision rhinoplasty, I tell patients that we can get you at least halfway between where you are now and where you would like to be. We can't turn a poor nose into a gorgeous nose. It is important to manage expectations."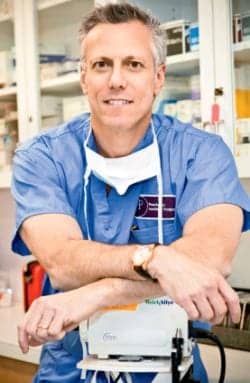 Pearlman reserves his scrubs for the OR.
The vast majority of his revision rhinoplasty patients are thrilled with their results.
But there's always one. Every specialty has its albatross, and the bane of the cosmetic surgeon is thinking you got a good result, yet the patient is still not happy, Pearlman says.
One surefire way to miss the mark is to try out a new surgery before you are sure you have the skills and experience to do it. There are always high complication rates in the days after major cosmetic surgery meetings because doctors run home to try all of the ground-breaking procedures they heard about in talks and lectures.
This type of cowboy behavior gives plastic surgery and plastic surgeons a bad name. "People feel like they have a right to denigrate plastic surgeons," he says. "Just like every other business, there are people who will stretch indications and don't know how to say no—especially to a celebrity."
Pearlman remains conservative and has little patience for overeager newbies. This includes mentoring operating room staff about the surgery so they feel part of the team. "I'll teach it to you. Don't fake it, and don't pretend you know it. Let me teach you."
As far as teachers go, Pearlman says he learned from the best, his then mentor and now good friend and colleague, William Friedman, MD. Friedman was Pearlman's fellowship director when he did a fellowship in Facial Plastic and Reconstructive Surgery at St Luke's/Roosevelt Hospital, New York City. "He taught me more than surgery and how to treat patients. He also taught style."
And Pearlman uses these skills every day. He reserves scrubs for the operating room, and sports only finely tailored suits to meet and greet patients. "Dressing well is showing respect to the patient," he says.
THE NATURAL
It is a mutual admiration society between Pearlman and his former mentor.
"He was an outstanding fellow," Friedman recalls. "He was very conscientious and very capable, but what stood out was how he just cared about his patients, his friends, his mentor, and his family."
Friedman says that Pearlman was a natural. "It was my job to polish Steve's technique because he was already a very good surgeon," he says. "Style is fundamental to the performance of good facial plastic surgery—and Steve had it."
Not just personal style, either. "Plastic surgery is not about fixing something that is broken. We are striving for a maximum level of beauty, and to some degree this is driven by the physician's concept of beauty."
Pearlman's style has evolved over the years, especially when it comes to the aging face. For years, he would fill nasolabial folds, but the results were too often met with satisfied sighs instead of elated 'oohs' and 'aahs.' That is why he decided to change things up a bit.
"If you fill in the cheekbones, the nasolabial folds look better," he says. "The key is analyzing the aging face," he says. The five components of facial aging are volume, skin changes, dynamic lines, loss of elasticity, and gravity.
WHY THE WOW?
After he fills in the cheeks, Pearlman will hand his patient a mirror and, without thinking, they say, "Wow!" And we are not just talking about any mirror, either. A keen eye for antiques, Pearlman collects antiques including silver, ornate mirrors, and they can be found in his office as well as in all of the exam rooms. "If you are going to spend $8,000 to $10,000 or more on a rhinoplasty or facelift, I can't see handing you a $3 plastic mirror," he says.
Pearlman likes the finer things in life. He even travels with his own sharps and instruments when he is performing surgery at a hospital. "I'm a perfectionist in everything I do. Just ask my wife."
FAMILY GUY
Pearlman has hit his stride at home as well as at work. He met his wife when he was 49, married her when he was 51, and became the father of twins later that same year.
He can't not smile when he talks about all three of his girls. His twins, Skye and Remy, are going on 5, and the high point of his week is Sunday morning. His wife sleeps in, and he makes pancakes for his girls while the Beatles plays on the radio from 8 am to 10 am.
An avid golfer, he also plans his tee times around his family. "I play golf on Friday afternoons and take the first tee-time on Saturday so I can be home by 11:30."
This sense of family has a lot to do with the 90-year-old father he reveres. Herbert Pearlman was a B-17 pilot who was held captive as a Prisoner of War in Germany during World War II. He landed his plane with no engine and saved his entire crew's lives.
"He worked hard, was a good role model. He always wanted to make sure his children did things for themselves." This is all he wants for his own children.
---
Denise Mann is the editor of Plastic Surgery Practice. She can be reached at plasticsurgery@allied360.com.