At this year's Plastic Surgery–The Meeting, the standing-room-only Hot Topics session included ?34 presentations and seven different discussions covering a range of topics, including stem cells and fat injections, noninvasive body sculpting, and the newest acellular dermal matrix (ADMs) lasers and radiofrequency devices, plus recommendations for pain management and thromboprophylaxis. Plastic Surgery–The Meeting is the annual scientific meeting of The Plastic Surgery Foundation and the American Society of Plastic Surgeons.
"Emerging Trends-Hot Topics is always one of the most exciting and well-attended aspects of the annual meeting, and this year was no exception. Hot Topics was again ranked by attendees as a highlight of the ASPS Chicago meeting," said Hot Topics co-chair, New York City-based plastic surgeon Alan Matarasso, MD.
The chair of the Hot Topics session, Kenneth Rothaus, MD, of New York Presbyterian Hospital, was joined by co-chairs also including Drs J. Peter Rubin, MD, FACS, the chair of the Department of Plastic Surgery at the University of Pittsburgh Medical Center; Michael Neumeister, MD, FRCS(C), FACS, chairman of the Department of Surgery at Southern Illinois University in Springfield; and Richard D'Amico, MD, FACS, an Englewood, NJ, plastic surgeon.
Here are some of the highlights:
Syringes & Stem Cells
San Diego plastic surgeon Steven R. Cohen, MD, FACS, presented his clinical experience with BellaFill™ (Suneva® Medical Inc, San Diego) for acne scars. BellaFill™, the trade name for ArteFill®, approved by Health Canada, contains 20% tiny, round, non-resorbable, smooth particles (PMMA microspheres) and 80% purified bovine collagen gel with 0.3% lidocaine, an anesthetic. The study was conducted using saline versus ArteFill® for rolling acne scars in all skin types.
"Results demonstrated continued improvement in scars," Cohen said. Approximately 100,000 patients have been treated with ArteFill® since the product came on the market in 2007.
Another topic that always receives a lot of attention is fat grafting and the fat survival controversy. Cohen described the current methods being used for graft preparation, including centrifugation and filtration.
"For fat graft survival when combined with facelifting, you need to harvest with low shear with minimal tearing," he said. "You don't want large particles. From the perspective of both the surgeon and the patient, optimal outcome following fat grafting requires an understanding of the predictable volume loss over time."
Cohen's technique involves taking fat from the abdomen or thighs to use as part of a facelift. "I use small-hole Tulip harvest and injection cannula of different sizes, and clean the fat with ringers lactate rather than normal saline that can kill more cells."
The average amount of fat injected is ?26 cc's for the entire face, he added. "We have a unique way of analyzing volume loss, but also in using fat for regenerative purposes, taking advantage of the large numbers of growth factors, regenerative, and stem cells found in human fat."
He also described his experience using the Puregraft® adipose filtration system for fat grafting, referencing a study published in the July 2014 issue of Aesthetic Surgery Journal. "The authors reported that the mean retention rate of 41.2% found in the Puregraft population was statistically significantly higher than the 31.8% found in the centrifuge-processed samples," he said.
Rubin presented an update on adipose-derived stem cells (ASC), stromal vascular fraction (SVF), and cell-enriched fat grafting that involves isolating ASCs from lipoaspirate and mixing them back in. "ASCs are promising for regenerating tissues and organs damaged by injury and diseases due to their high cell yield in adipose tissue and ability to secrete various growth factors. ASCs are a promising cell source for regenerative medicine, and current research is directed at the safety and efficacy of ASCs for a range of clinical applications. Many clinical trials using ASCs are being conducted worldwide, and this will provide important data for the medical community," he said.
William Austen, Jr, MD, chief of plastic surgery at Massachusetts General Hospital, presented some early work using Poloxamer 188 Assisted Fat Grafting as a method for optimizing fat preservation. Poloxamers have been shown to stabilize the membranes of damaged cells and protect against injury and apoptosis in numerous models.
Pain & Scar Management
There is an increased focus on improving the patient experience after plastic surgery, driven by expectation, demand, and the current economic climate in healthcare.
Martin Newman, MD, a plastic surgeon at Cleveland Clinic in Weston, Fla, stated that optimal management of postoperative pain relieves patient suffering and leads to earlier mobilization, shortened hospital stays, reduced hospital costs, and increased patient satisfaction, which are priorities for institutions and governmental agencies. Among the new alternatives is Exparel® Bupivacaine Liposome Injectable Suspension (Pacira Pharmaceuticals Inc, San Diego). Exparel is dispensed in a 20-mL single-use vial, has a 72-hour shelf life, slow release, and results in a reduction in the length of hospital stay and, therefore, costs. It is now frequently used for breast surgery, facelifts, and abdominoplasty.
Another innovation is the SPY Elite fluorescent imaging system for open surgery from Novadaq® Technologies Inc, Bonita Springs, Fla. This system provides clinically relevant real-time information that allows surgeons to make informed decisions in the operating room. After the procedure, surgeons use the scanner to determine if flaps are adequate or if adjustments are needed, which potentially reduces the complication and revision rate.
Boca Raton, Fla-based plastic surgeon Jason Pozner, MD, discussed his experience with the Keller Funnel™ implant delivery. Approved in 2009 as a Class I device, the clear, conical-shaped device helps surgeons deliver an array of prefilled implants with a "No-Touch technique" to reduce the risk of bacteria contaminating the surface of the implant shell.
"In a preliminary study, it decreased the number of reoperations for capsular contracture at 1 year postoperatively," Pozner said. The Keller Funnel™2 is a more recent upgrade for assisted delivery of breast, calf, gluteal, and pectoral implants, including those that are smooth round, textured round, shaped, or anatomical.
Rolando Morales, MD, a plastic surgeon from Houston, shed light on a new category known as Novel oral anti-coagulants. Among this category, rivaroxaban (Xarelto) and apixabean (Eliquis) are being touted for their safety, efficacy, and ease of use for both patient and physician. There is no antidote or test to monitor these medications yet, which may stymie their utility as chemoprophylaxis, but an antidote is under development.
Andexanet from Portola Pharmaceuticals, South San Francisco, is a reversal agent for all Factor Xa inhibitors, and it has been granted breakthrough therapy status by the US Food and Drug Administration and is currently in clinical trials. Morales explained that the ?oral Factor Xa inhibitor will eventually replace Enoxaparin sodium (Lovenox®). In a comparison of Xarelto versus Lovenox in body contouring procedures, there were twice as many hematomas in the Xarelto group, but a much lower deep venous thrombosis rate.
With a myriad of variations of technology in the market, the sessions on skin resurfacing, tightening, and fat reduction systems stimulated a lot of discussion.
Another topic that evoked interest is skin tightening using microneedling, radiofrequency, ultrasound, and combination therapies. Beverly Hills, Calif-based plastic surgeon Brian Kinney, MD, FACS, showed compelling results with Thermi-RF (ThermiAesthetics, Southlake, Tex) for subdermal skin tightening.
"By using temperature-controlled RF, we can apply high temperatures to certain areas as needed," he said. Initially developed for the neck and cheeks, experience is being gained in the arms, banana rolls, knees, back, bra strap, and various additional areas of the body, Kinney added.
"This is a single-treatment solution for skin laxity. All the patients presented underwent one treatment only, as opposed to many other devices on the market," he explained.
"Treating the neck takes about 16 minutes—8 minutes per side—and we are getting good jaw definition, which is what patients want. This complements the neck and submental tightening, contouring, and fat reduction we are consistently seeing in our patients." There has been a low complication rate in 6,000 cases to date, Kinney said.
Pozner discussed the new Halo® (Sciton, Palo Alto, Calif), a hybrid fractional laser system. "This is the best system for skin resurfacing for patients who want limited downtime. It works for sun damage, pigmentation, wrinkles, and pore reduction. One treatment is a weekend of healing time," he said.

Pushing the Needle
In the emerging microneedling category, Endymed™ Intensif, Syneron Candela®  Eprime, Lutronic®  Infini™, Jeisys INTRAcel™, and Invasix Fractora™ were all discussed and compared. These technologies work in a similar way to tighten skin and smooth acne scarring on the face, neck, arms, legs, and abdomen. Needles are of variable depths, and each system delivers results with differing degrees of discomfort, erythema, and bruising.
Rothaus described EndyMed Intensif (EndyMed, Israel) as having a motorized tip, bipolar with 25 microneedles of 0.5 to 3.5 mm in depth. "There is minimal to ?no downtime for the patient, and negligible pinpoint bleeding. The protocol is three treatments spaced 4 weeks apart, and it takes 3 months to see final results," he said.
Hair restoration technology is another exciting segment that is catching the eye of plastic surgeons with underutilized office space. Keith Jeffords, MD, DDS, from Atlanta presented his experience with NeoGraft®.
"Hair is a big growth area," he said. "These are high-income procedures. Four cases per month adds to the bottom line significantly."
Michael Wolfield, MD, a plastic surgeon from New York City, shared his experience with the ARTAS® Robotic System (Restoration Robotics, San Jose). "In our office, we exclusively use the ARTAS® Robotic System. The sharp blunt mechanism with robotic tip has significantly decreased resection rates," he said. The system can be used for follicular unit isolation, graft harvesting, and recipient-site creation, and he indicated that the next step will be graft placement.
Kinney moderated a robust panel on body shaping and skin tightening technologies that included discussions on ZELTIQ® CoolSculpting®, Syneron Candela® UltraShape, Alma Lasers™ VShape, SOLTAMEDICAL® VASERShape™, BTL Aesthetics Vanquish™, Zimmer Z Wave, Ellman PelleFirm®, Ultherapy®, Invasix Body Fx™, and BellaContour®. Several panelists suggested that for postliposuction procedures, these systems are beneficial to smooth out underlying tissues.
Most panelists report using multiple systems in their practices, and there was no one technology that stood out as a "one-size-fits-all" solution. Pozner is using the Zimmer Shockwave post CoolSculpting® because it kills more fat cells during the treatment. Toronto plastic surgeon Stephen Mulholland, MD, FRCS(C)'s cocktail of choice is to put patients on a 6-week program of one CoolSculpting, three UltraShape sessions, and three Body Fx treatments. "For old or lax skin, you need to use heat energy," he said.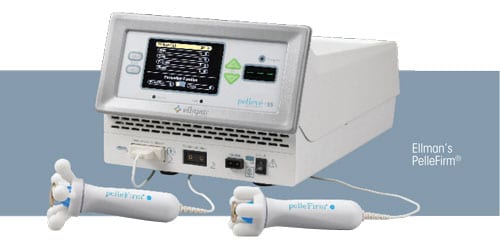 Miles Graivier, MD, a plastic surgeon from Roswell, Ga, described the Pelleve/PelleFirm® system as a "multimodality platform that is the most cost-effective system on the market." The system can be used for minor blepharoplasties, rhinophyma, telangiectasias, moles, as well as skin tightening and wrinkle reduction. "Before adding another system to our practices, we need to look at each new device to determine if it is additive or can help you treat or attract a patient population you are not already treating, such as men," Graivier said.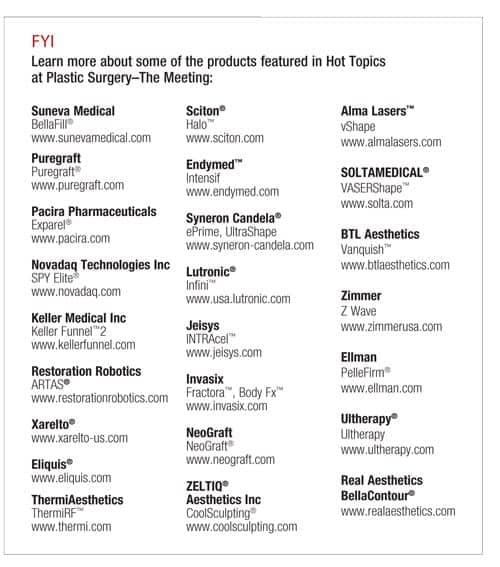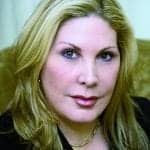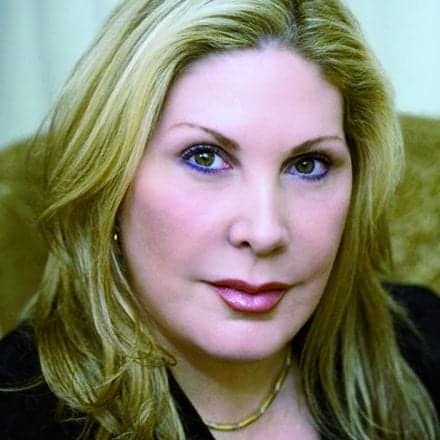 Wendy Lewis is president of Wendy Lewis & Co Ltd, Global Aesthetics Consultancy, ??www.wendylewisco.com, founder/editor in chief of beautyinthebag.com, and a contributing editor to Plastic Surgery Practice. She can be reached at wl@wlbeauty.com.