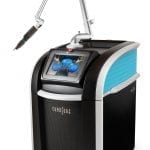 Picosecond lasers aren't just for tattoo removal anymore. These devices may also improve facial acne scarring, according to research published online in JAMA Dermatology.
In the new study, 15 women and five men with facial acne scarring received six treatments with a picosecond 755-nm laser with an optical attachment called a diffractive lens array. The device used in the new study was Cynosure's Picosure laser. It's US Food and Federal Drug Administration-approved to treat facial acne scarring, fine lines, wrinkles, and for tattoo removal.
Patients were satisfied to extremely satisfied with improvement in the appearance and texture of their skin at the final treatment and at follow-up visits 1 and 3 months after the sixth treatment.
Masked assessments of photographs by three dermatologists found a 25% to 50% global improvement at the 1-month follow-up, which was maintained at the 3-month follow-up, the study showed.
"Additional studies with larger sample sizes, specific scar subtype stratification, and histologic analyses are needed," the study author's conclude.