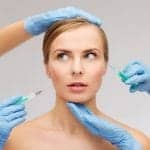 The UK's Royal College of Surgeons is rolling out new regulations that would require cosmetic doctors to be listed in a voluntary public registry. The group is also seeking to limit the procedures doctors perform to the areas of the body in which they were trained.
Among other things, the regulations would prevent general practitioners from performing nose jobs, which the College calls a "big problem" for the industry. The overarching goal, of course, is to improve patient safety by making provider information both transparent and accessible.
The Cosmetic Surgery Interspecialty Committee (CSIC), which was set up by the Royal College of Surgeons in 2013, proposes that patients considering paying for cosmetic surgery privately should have access to clear, unbiased, and credible information about their surgeon, care provider, procedure, and likely outcomes. The new regulations are out for consultation until March 6, 2015.
"We are determined to ensure there are the same rigorous standards for patients undergoing cosmetic surgery in the UK as other types of surgery," says Stephen Cannon, chair of the CSIC and vice president of the Royal College of Surgeons.?? "This consultation provides the next step in establishing clear and high standards for training and practice so that all surgeons in the UK are certified to the same level, irrespective of where they trained."
Currently in the UK, a surgeon must be registered and licensed by the General Medical Council (GMC) to perform such procedures, but there is no common qualification available for those performing cosmetic surgery because it covers a number of specialty areas.
Under the new plans, surgeons working in the private sector will have to prove they meet new standards of training to be certified and included on a register. The register will be publicly available to employers and patients.
To obtain certification, surgeons will have to be on the GMC's specialist register in the area of training that covers the operations they wish to perform.
They will also need to demonstrate they:
• have undertaken a minimum number of procedures within the relevant region of the body in a facility recognized by the health regulator;
• have the appropriate professional skills to undertake cosmetic surgery; and
• can provide evidence of the quality of their surgical outcomes.