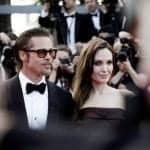 From Angie's lips to Kim Kardashian's eyes, celebrity-inspired facial plastic surgery requests are on the rise, according to annual survey by the American Academy of Facial Plastic and Reconstructive Surgery (AAFPRS).
Fully 13% of facial plastic surgeons surveyed saw an increase in requests for celeb-related procedures in 2014, up from 3% in 2013 and 7% in 2012.
Don't worry; none of the requests is as extreme as that of the man who paid $150,000 to look like Kim Kardashian. Instead, top requests were for Angelina Jolie's lips and cheekbones, Beyonce's facial structure, Kim Kardashian's eyes and jawline, Brad Pitt's nose, and Natalie Portman's nose, the survey showed.
The annual survey goes out to a select group of the Academy's 2,500 members.
Last year's survey saw a surge in requests for aesthetic procedures (especially in the under 30 sect) sired by "selfies" and social media, and this showed no sign of declining in 2014. In fact, the selfie stick—an extendable metal rod that attaches to a smartphone and allows for a wider shots and higher angles—was among the must-have gifts of this past holiday season.
What's more, using video clips instead of still images on social media is further shaking things up. Eighty percent of all consumer Internet traffic will be video by 2018, according to Cisco Systems Inc. This means that facial plastic surgeons can expect to see more requests to treat dynamic wrinkles.
Reconstructive Rundown
The incidence of skin cancer continues to grow, especially in younger people. Close to 90% of facial plastic surgeons surveyed see patients for reconstructive work related to skin cancer. In 2014, the nose was the most common site on the face for skin cancer facial reconstruction, followed by cheeks, ears, and forehead.
Overall, the top reconstructive surgeries performed in 2014 were nasal reconstruction (48%), skin cancer and Mohs surgery (33%), scar revision (10%), and facial trauma surgery (2%).
What Women Want
Women requested 82% of all surgical and nonsurgical procedures performed in 2014. The most popular procedures sought by women were rhinoplasties, facelifts, blepharoplasties, and laser skin resurfacing.
The most common nonsurgical cosmetic procedures among women are BOTOX® (Dysport and Xeomin) injections, Hyaluronic acid fillers, nonablative skin resurfacing, and peels or microdermabrasion treatments.
More men are embracing nonsurgical treatments. Among male patients, the most common procedures are BOTOX®, Hyaluronic acid, and rhinoplasty.  "Rhinopopularity" is still in effect. Rhinoplasty remains the most requested surgical procedure for both sexes for the fifth consecutive year, the survey found.