Use of soft-tissue augmentation in non-white patients is growing, partially because injectable filler materials, such as hyaluronic acid and calcium hydroxylapatite, produce in the naturally slower-aging skin of racial minorities—a result that can sometimes be the equivalent of a conventional surgical facelift.
However, the earliest clinical trials of filler materials mostly excluded sepia- and ebony-complected individuals from the study cohorts. Consequently, after injectable fillers began winning FDA approval, their safety and efficacy for dark skin types remained unclear.
It was left to investigators such as Pearl E. Grimes, MD, to rectify that deficiency.
"Patients with dark skin have a higher incidence of keloids and hypertrophic scars, and that is a cause for concern when performing multiple needle injections of the sort required in soft-tissue augmentation work and contouring," says Grimes, a private-practice cosmetic dermatologist who is founder and lead investigator of the Los Angeles-based Vitiligo and Pigmentation Institute of Southern California.
PRACTICE AT A GLANCE
Name: Pearl E. Grimes, MD
Location: Los Angeles
Specialty: Research and cosmetic dermatology
Years in practice: 12
Days worked per week: 5
Patients seen per day: 55
New patients added annually: 1,500
Days surgery performed per week: 2
Number of employees in practice: 9
Office square footage: 3,800
"Our look at Juvéderm was the first large-scale study into fillers where darker racial ethnic groups were included. In the course of that study and others subsequent to it, we asked the question, 'Would these agents cause keloids and hypertrophic scars?'" she adds. "The answer appears to be no."
Grimes also sought to ascertain whether fillers increase the likelihood that postinflammatory hyperpigmentation would develop at the injection site.
"It has long been known that for darker skin types, trauma induces hyperpigmentation," she says. "We've been able to demonstrate that, yes, hyperpigmentation in darker skin types occurs in mild form in a small number of cases as a result of the trauma of multiple needle injections. Yet, we were also able to show that this complication is not severe or common enough that it would mitigate against the likelihood of using fillers in darker skin."
Grimes, who also serves as a clinical professor at the University of California, Los Angeles, is a leading authority on the problem of vitiligo—the skin abnormality that is most aesthetically disfiguring in darker-skinned people.
Compelling Evidence
The disorder is caused by a loss of pigment cells (melanocytes) in the affected areas of skin. Until Grimes and other investigators offered credible findings to the contrary, the conventional wisdom on vitiligo was that it could not be treated and that patients would simply have to learn to cope with it.
Among the vitiligo treatments demonstrated to be viable by Grimes is topical application of tacrolimus ointment.
"Tacrolimus, marketed under the name Protopic, had been FDA-approved for treatment of atopic dermatitis, but I noticed it had properties that suggested it might be effective for vitiligo as well," she says. "As far back as the 1980s, I was of the mind-set that cellular immunity—in contrast to humoral immunity—played a significant role in causing the pathogenesis of vitiligo. Then, along comes this immunomodulator, tacrolimus, [which] alters the production of pro-inflammatory cytokines in the skin. So, as soon as it was approved by the FDA for atopic dermatitis, I began prescribing it for vitiligo patients."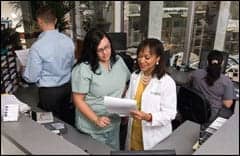 In 2004, Grimes moved from L.A.'s Hancock Park area to her current office, a 3,800-square-foot space on prestigious Wilshire Boulevard.
Within 30 days, she observed compelling evidence that tacrolimus would work on vitiligo.
"Once we saw that we were achieving repigmentation, we conducted a more detailed study where we analyzed biopsies at baseline and then again at the end of the study," she explains. "What we found was that we were able to decrease the elevated levels of pro-inflammatory cytokines in the skin."
Specifically, that cytokine was tumor necrosis factor-alpha. Importantly, an Italian-based study conducted around the same time demonstrated elevated TNF-alpha in the skin of vitiligo patients.
"That study confirmed what we were discovering here at the Institute," Grimes says. "After 6 months of Protopic treatment, TNF-alpha was the one cytokine of the several elevated types present in the skin that we were able to suppress."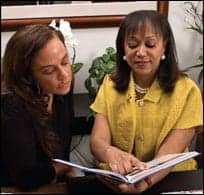 Approximately 70% of Grimes' patients are people of color.
Following the publication of this seminal research, tacrolimus has moved to the forefront of topical therapies for vitiligo, she notes.
A Love of Learning
Vitiligo research has been a facet of Grimes' work since her days as a resident at Howard University in the nation's capital.
"In 1979, near the end of my training at Howard, I was invited to participate in a National Institutes of Health-sponsored project to examine the epidemiology of vitiligo," she says.
The research was fascinating and whetted her appetite for more. "There has never been a point in my career since then when I have not been involved in research of one aspect or another of vitiligo," she adds.
Grimes completed medical school with the aim of becoming an ophthalmologist. After graduating from Washington University in 1974, Grimes began a medicine internship at Harbor General Hospital in Torrance, Calif.
By the end of that training, though, she became fascinated with skin disorders despite her commitment to start an ophthalmology residency. Subsequently, she decided to pursue a career in dermatology.
In 1984, Grimes took a position at Martin Luther King/Drew Hospital in Los Angeles, serving as vice-chairman of the division of dermatology, where she was responsible for the supervision and training of residents.
In this setting, she was given ample opportunity and funding to continue researching vitiligo, melasma, and other pigmentary disorders.
After 13 years, Grimes departed Martin Luther King/Drew Hospital to enter private practice.
"I decided the time had come to gain total control over my career, in order to be able to branch out into research areas that previously were closed to me as a member of a teaching hospital staff," she explains. "Now that I'm in private practice, I'm doing more research than ever. Being my own boss allows me to be more productive."
Her first office was located in downtown Los Angeles. She later gave up that site for an office a few miles west amid elegant Victorian-era homes and shops in the city's venerable Hancock Park district. That office measured about 2,400 square feet and included eight exam rooms, a small laboratory, and a section set aside for conferences.
In 2004, when that office became too small for her needs, Grimes pulled up stakes and moved a few miles west to a 3,800-square-foot office on Wilshire Boulevard—the prestige thoroughfare of Los Angeles (both before and after it passes through the heart of Beverly Hills).
The walls now are once again pressing in on Grimes and her Vitiligo and Pigmentation Institute, along with the VPI Cosmetic Center (the name of her cosmetic dermatology practice).
Prior to the move, she was seeing no more than 35 patients per day; now, her daily volume is up around 55.
Approximately 70% of her patients are people of color, such as African Americans, Hispanics, and Asians.
Rethinking and Building
Even with the demands for clinical services, research remains a major component of Grimes' day.
Grimes conducts many clinical trials in her practice.
"We do quite a bit of clinical trials for industry, and I have my own basic science projects that I'm interested in. If I can't obtain outside funding for these, the ones I think are most important I'll fund myself," she says.
Vitiligo is not the sole focus of Grimes' investigations. Over the years, her work has been instrumental in establishing scientifically supported protocols for using chemical peels on dark skin.
Moreover, Grimes has helped her colleagues understand how to repigment dark skin when patients suffer hypopigmentation brought about as a consequence of laser resurfacing.
Grimes recognizes that everything changes in the course of time: technology, procedures, preferences, and the base of knowledge underlying it all. For example, earlier this decade, she believed that hypopigmentation following ablative laser work was most likely the result of a suppression of melanogenesis in the affected areas.
"With further study, we found that the cause of laser leukoderma appears to result from suppressed melanogenesis and concomitant fibrosis," she says. "Originally, we thought some patients would repigment because of the reservoir of residual melanocytes in the skin. But, as it turns out, the more severe the fibrosis the less likely there will be successful repigmentation. This suggests to me that we probably need to use a type of therapy that minimizes the fibrosis in the skin, perhaps such as some of the newer nonablative lasers.
"But, still, something must be introduced to stimulate pigment production," she adds. "In early 2000, we were primarily using topical psoralen and traditional UVA light sources. Today's standard treatments involve more targeted light sources to concentrate the UV dose on just the affected area. I'm using a device called Theralight. [It] allows me to emit both UVA and UVB light. I'm also using the Excimer laser, which is UVB at a 308-nanometer wavelength. We may also graft when patients have minimal fibrosis in the area, in order to give them an additional reservoir of melanocytes. Then we will come back and treat with ultraviolet light.
"And, of course, we've moved beyond ablative laser resurfacing because of its complications. But now we're seeing patients with complications from some of the nonablative light, such as intense pulsed light," she says.
The research must continue—Grimes will see to that. It is what she is passionate about.
"I delight in delving into aspects of dermatologic care where others have been afraid to tread," she says. "Take chemical peels in ethnic cosmetic services. There are nuances to the procedure because of the special attributes of ethnic skin. Through research, I can continue contributing to the literature and help not only dermatologists but also plastic surgeons recognize and be equipped to utilize with confidence treatments that are efficacious for people of color."
---
Rich Smith is a contributing writer to PSP. He can be reached at plasticsurgery@allied360.com.
Fostering Hope
Children who have been placed in foster care and suffer from debilitating skin disorders and physical illnesses occupy a special place in the heart of Pearl E. Grimes, MD. So much so that, in 2005, she founded a charity to exert a positive influence in their lives and make a difference in their outcomes.
"I reached the point where I decided I had to give back to my community. It had bothered me for a number of years, the questions of what would be the legacy I leave behind when I depart this place and who's life am I impacting with my own," says Grimes, who believes in the biblical admonition that much is required of those who have been given much in this life.
Others who apparently agree with that philosophy have caught her vision. After the founding 3 years ago of the Coalition for At-Risk Youth (CARRY), her fund-raising efforts have attracted more than $500,000 in donations—not counting the value of the medical treatment she and other volunteers provide on a pro bono basis to the Los Angeles youth who are CARRY's intended beneficiaries.
With the cash contributions it receives, CARRY, which currently makes its home inside of Grimes' Wilshire Boulevard office, provides scholarships and underwrites some of the costs of sending its kids to summer camp.
Among the reasons for CARRY's success is that the people serving on its board of directors and volunteering at all other levels are leaders in their respective fields.
"We have talented, dedicated, caring people from corporate America, entertainment, government, and the legal system," Grimes reveals. "I can't speak highly enough of them."
Grimes' commitment to the foster kids helped by CARRY extends to her giving some of them internships in her dermatology practice.
"Mentoring is a big part of what CARRY is all about," she says. "The teenager I brought into my office a year ago has grown tremendously as a person because of this opportunity she was given."
In addition to her work with CARRY, Grimes has served on the board of both the American Society of Dermatologic Surgery and the Women's Dermatologic Society. She also lectures extensively.
In the summer of 2007, a textbook she edited—Aesthetics and Cosmetic Surgery in Darker Skin Types—was published under the Lippincott Williams & Wilkins imprint.
To paraphrase an old saying, all work and no play makes for a dull physician. Grimes, of course, is anything but dull, even if play is subtracted from the formulation.
Nonetheless, for her, play includes time at the gym working out with a fitness trainer.
"I also dabble in interior design. I handled most of the decorating of my new office myself," she says. "On top of that, I toy with video documentary scriptwriting. I love my friends and going out on the town with them. I also enjoy reading a great work of fiction at the end of the day."
—RS