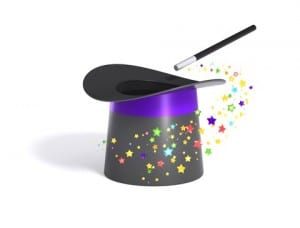 By Joyce Sunila
At a recent meeting,  the guest speaker was a doctor all the other facial surgeons called "The Magician." When I attended his lectures and saw his before-and-after photos, I understood why. Seventy-year-old women went under his knife and came out looking like 35-year-olds.
It was almost scary. What if they looked in the mirror and acted on what they saw? They might go out bungee-jumping and get themselves killed!
Almost as amazing as his results was the fact that he doesn't have a website! He doesn't advertise, either. He gets all of his business by referral.
Not for Everybody
Of course, this doctor's marketing strategy wouldn't work for everyone. "I've been doing this for almost 30 years now," he told me. "You need a lot of people enjoying the results you've given them to survive on referrals only."
Right. That and utterly miraculous results.
He went on. "I feel bad for the new doctors just starting out. They have to figure out this Internet marketing thing, which is hell on wheels. When I first started, professional meetings were all about medical sessions. Now, a huge portion is devoted to marketing."
A Tangled Web
I nodded, thinking about the surgeons I was seeing in the Practice Management sessions eagerly scribbling notes.
I know that they, like my clients, are scratching their heads over the new Internet demands. They're contemplating this vast Rube Goldberg system of interlocking parts: Facebook posts, Twitter posts, YouTube posts, blogs, online reviews, RealSelf comments, Facebook ads, PPC ads, Google Adwords, directory listings, etc, etc.
They're being told their success hinges on manipulating this cumbersome and expensive system just right.
Sounds logical, and why should they doubt it? Manipulating the system got them Internet visibility in the past. Why would it be any different now?
Actually, there's a good reason why it would it would be different now.
Search engine manipulation corrupted the Internet so much that it resulted in the Panda revolution. Now, everyone's scrambling to publish authentic content.
But what's "authentic content?" Google's head of webspam, Matt Cutts, defines it as the kind of writing you read in books — books you'd want to share with your friends.
Big problem. Book writers are not copywriters, and vice versa.
Bookwriters:
• search for truth.
• think about ideas for years before committing them to paper.
• re-work their writing endlessly to achieve sharpness and clarity.
Copywriters are the opposite:
• They're trained to obfuscate the truth.
• They have to churn out copy on demand.
• They avoid sharpness and clarity, which are mostly counter-productive when the goal is persuasion.
Most webmasters have no idea how to find and cultivate the kind of high-quality writers who could create authentic content.
And most businesses wouldn't pay for it anyway.
So while webmasters are talking a good game about the new content-centered Internet, they persist in their old ways. They search for new ranking manipulation ploys (now they're looking to social sites for a boost) and drone on about "big data," "rich snippets," and other contrivances. They seek out the Big Fixes – maneuvering and disingenuousness.
And a lot of them are adding insult to injury by asking their clients to supply the new high-quality content.
Ironically, the goalpost for the Internet's byzantine smoke-and-mirrors game is something very simple: word-of-mouth referrals, which the Magician conjures up artlessly, by practicing his craft with passion every day, oblivious to the latest news about the Internet.
About the author
Joyce Sunila is the president of Practice Helpers, a marketing company that offers e-newsletters, blogs, and social media services to aesthetic practices.