By Gail K. Naughton, PhD
The next generation of growth factors are changing the face of skincare.
Involved in regulating many cellular processes, growth factors signal proliferation and differentiation in cells throughout the body. Growth factors that are naturally produced by the skin, such as vascular endothelial growth factor (VEGF) and keratinocyte growth factor (KGF), have long been known to play an important role in wound healing and tissue regeneration.1,2 The study of these cell-signaling processes has led to the development of life-saving therapies based upon growth factors and other proteins, including treatments for severe burns and ulcerative wounds.
Recently, the role of growth factors in the aging process, and the ability of these factors to aid in the reversal of photodamage, has been evaluated. Topical products containing the proteins and growth factors produced by young skin cells have shown promising anti-aging results,3,4 and cell-derived ingredients have become increasingly popular during the past decade. More than ever, patients want to understand the ingredients in their beauty regimen and how they work to improve the appearance of their skin.
The Promise of Regenerative Medicine
After years of extensively researching the tissue-engineering process and seeing several cell-based products from concept to market, we have only become more fascinated with the ability of the body to repair itself. Regenerative medicine holds tremendous promise for a span of currently unmet medical needs, from stimulating our own skin and stem cells to repair a wound, to growing new human organs and tissues. Particularly interesting to us was the well-established finding that extensive surgeries can be performed in the womb, and the baby will be born without scars.5
The embryonic environment produces a unique set of proteins and growth factors that have been linked to rapid, scarless healing, as well as the stimulation of stem cells to regenerate tissues. To harness the capabilities of these stem cell-like proteins and growth factors, we looked to identify what is unique about the conditions of the womb. By growing newborn fibroblast cells under propriety conditions that simulate the embryonic environment, specifically low oxygen and suspension conditions, they are triggered to naturally produce a human multipotent cell-conditioned media (CCM) that is characteristic of stem cells, yet does not contain embryonic cells or animal components. Termed Multipotent CCM Complex™, the conditioned media is made up of cell-signaling proteins and growth factors, including follistatin and stem cell factor, as well as those related to skin rejuvenation.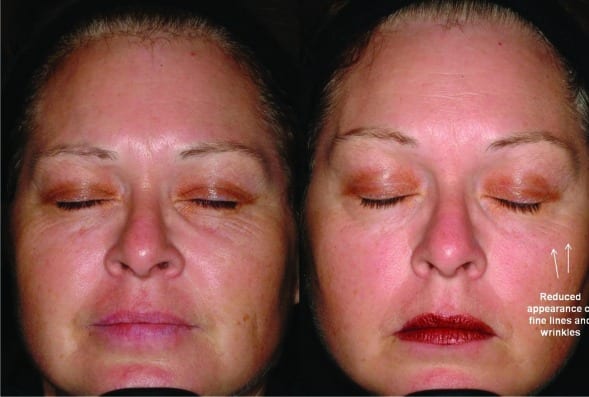 Baseline and 10-week time point.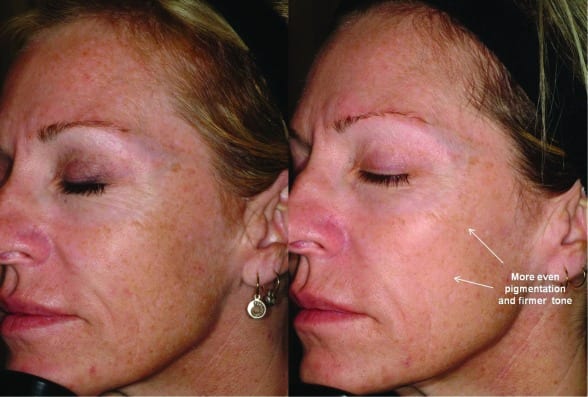 Baseline and 10-week time point.
Clinical Evaluation
Two controlled clinical studies have shown the ability of the multipotent CCM to aid in healing and accelerated re-epithelialization following ablative and nonablative facial laser resurfacing.6,7 Multipotent CCM was then incorporated into two skincare formulations, ReGenica™ Advanced Rejuvenation Day Repair SPF15 and Advanced Rejuvenation Overnight Repair (currently marketed by Suneva Medical, San Diego), to evaluate its potential to aid in the reversal of the signs of aging and photodamage, including fine lines, skin elasticity, and pigmentation. A blinded, two-site clinical evaluation of these topical skincare formulas was undertaken to examine the effects of the products when used twice daily over 10 weeks.
Application of skincare formulations containing multipotent CCM resulted in improvement across measurements of photodamage at 10 weeks. In self-assessments, subjects reported improvements in the appearance and texture of their skin within the first 4 weeks, with all subjects seeing reductions in at least one indicator of photodamage at 10 weeks. Ninety percent of subjects had a reduction in pore size, with 64% of users reporting more radiant skin.
Investigator assessments revealed statistically significant reductions in tactile roughness (p=0.004), as well as notable reductions in irregular pigmentation, redness, and fine wrinkling at 10 weeks, as compared to both baseline and the vehicle control. In addition to photographic analysis, subject self-assessments and investigator global assessments, bioinstrumental measurements of skin firmness showed an average increase in skin elasticity of 23% in the active group.
The Next Generation of Growth Factor Skincare
The unique multipotent cell-conditioned media produced through our proprietary technology process contains a potent and diverse collection of naturally secreted proteins and growth factors that are known to stimulate and support the epidermal stem cells that renew skin throughout life. Unlike other skincare products containing growth factors, the ReGenica skincare line with Histogen's multipotent CCM does not utilize embryonic stem cells, and does not contain genetically modified proteins or bovine serum. These next-generation growth factor products have been shown in controlled clinical studies to aid in healing post-resurfacing, as well as improve the appearance of aging and photodamaged skin.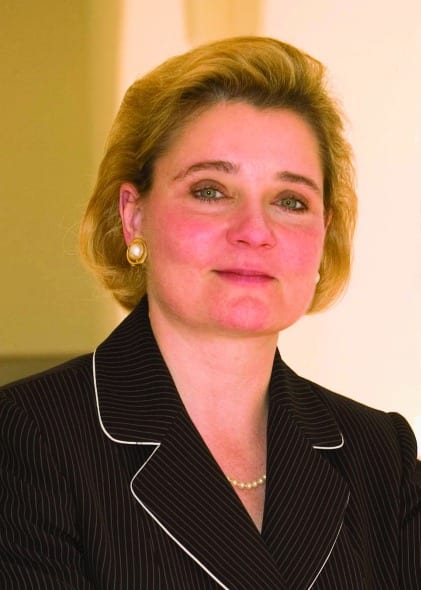 Gail K. Naughton, PhD, is the CEO and Chairman of the Board of Histogen Inc, San Diego. She can be reached via [email protected]
References
1. Werner S, Grose R. Regulation of wound healing by growth factors and cytokines. Physiol Rev. 2003;83(3):835-870.
2. Saaristo A, Tammela T, Farkkila A, et al. Vascular endothelial growth factor C accelerates diabetic wound healing. Am J Pathol. 2006;169(3):1080-1087.
3. Gold MH, Goldman MP, Biron J. Human growth factor and cytokine skin cream for facial skin rejuvenation as assessed by 3D in vivo optical skin imaging. J Drugs Dermatol. 2007;6(10):1018-1023.
4. Fitzpatrick RE, Rostan EF. Reversal of photodamage with topical growth factors: a pilot study. J Cosmet Laser Ther. 2003;5(1):25-34.
5. Adzick NS, Lorenz HP. Cells, matrix, growth factors, and the surgeon: the biology of scarless fetal wound repair. Ann Surg. 1994;220(1):10-18.
6. Kellar RS, Hubka M, Rheins LA, Fisher G, Naughton GK. Hypoxic conditioned culture medium from fibroblasts grown under embryonic-like conditions supports healing following postlaser resurfacing. J Cosmet Dermatol. 2009;8(3):190-196.
7. Zimber MP, Mansbridge JN, Taylor M, et al. Human cell-conditioned media produced under embryonic-like conditions result in improved healing time after la
ser resurfacing. Aesthetic Plast Surg. 2012;36(2):431-437.