Fat-destruction system receives long-awaited FDA clearance
May 2014 Plastic Surgery Practice
By Wendy Lewis
According to the American Society for Aesthetic Plastic Surgery (ASAPS), in 2013, 94,922 nonsurgical fat reduction treatments were performed, which is an increase of 23.9% over the previous year. An additional 14,628 cellulite treatments were performed in 2013 as well.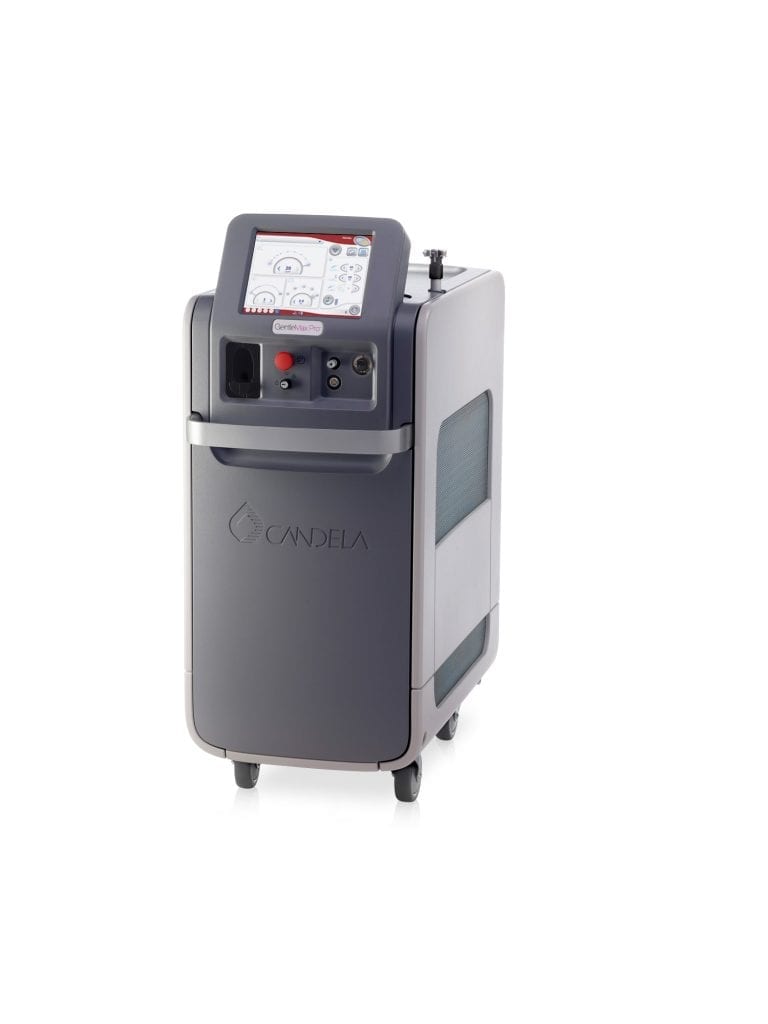 This growing patient demand for noninvasive body shaping solutions that offer minimal discomfort and no downtime is good news for Syneron-Candela, whose UltraShape® earned a nod from the FDA in April 2014 for abdominal circumference reduction via fat cell disruption. The UltraShape System is the first and only noninvasive body shaping treatment that uses pulsed focused ultrasound energy that precisely targets subcutaneous fat, while keeping the surrounding tissue, vasculature, nerves, and muscles intact.
The UltraShape procedure is based on a natural fat clearance process through which triglycerides and cell debris from the immediately destroyed fat cells are processed by the body's natural physiological and metabolic pathways. Results from a peer-reviewed, published multi-center controlled clinical trial and other independent clinical studies demonstrated that the released triglycerides do not accumulate to a clinically significant extent in the blood or liver.
UltraShape Medical Ltd was founded in 2000 by plastic surgeon Dr Ami Glicksman and physicist Yoram Eshelin in Yokneam, Israel, and UltraShape was granted a CE Mark in 2005. The company was acquired by Syneron in February 2012. To date, over 300,000 treatments have been safely performed in more than 50 countries in Europe, the Middle East, Canada, Latin America, and Asia, and the technology continues to evolve. The clinical efficacy and safety profile of UltraShape is supported by 20+ peer-reviewed, published multicenter controlled clinical trial and independent clinical studies of over
900 patients.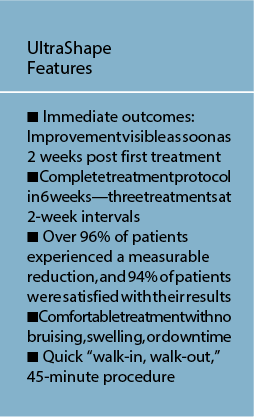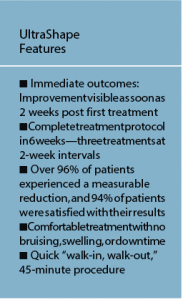 What is most unique about UltraShape is that the oscillating high pressure of ultrasound energy induces selective destruction of mechanically fragile cell membranes—resulting in fat cell destruction. This nonthermal effect translates into a safe and comfortable treatment experience for patients. According to Montreal Plastic Surgeon Arie Benchetrit, MD, FRCS(C), who has been at the forefront of this technology in Canada, "The UltraShape procedure has attracted a significant surgery-adverse patient population into my practice. The device paid for itself after 6 months. It continues to be one of the most popular and successful noninvasive procedures in my practice."
In a randomized, controlled clinical study of UltraShape, which was performed at three clinical sites in the US and one site outside of the US, a total of 150 subjects were treated and followed for up to
4 months. Overall abdominal circumferential reduction of 3.34 cm was recorded, (well above the end point set by the FDA) with an excellent level of statistical significance.
"UltraShape is a nonsurgical device that precisely delivers focused ultrasound energy strong enough to destroy fat cells while leaving neighboring tissue unharmed. The benefit of UltraShape is that each treatment can be customized to the individual patient; UltraShape uses nonthermal ultrasound, providing efficacy; and the nonheat-dependent energy is tolerated well by the patients," says Jeffrey M. Kenkel, MD, FACS, professor and vice chairman of the Department of Plastic Surgery at the University of Texas Southwestern Medical Center at Dallas, who served as one of the primary investigators in the multicenter IDE study.
According to William Coleman, MD, clinical professor of dermatology, adjunct professor of surgery (plastic surgery), Tulane University Health Sciences Center, and a principal investigator in the study, "The results demonstrated progressive improvement over time in circumference reduction of truncal fat, beginning after the first treatment session with UltraShape. The treatment was well tolerated, and in our practice, patients were very satisfied with the results."
ONE-TWO PUNCH FOR BODY SHAPING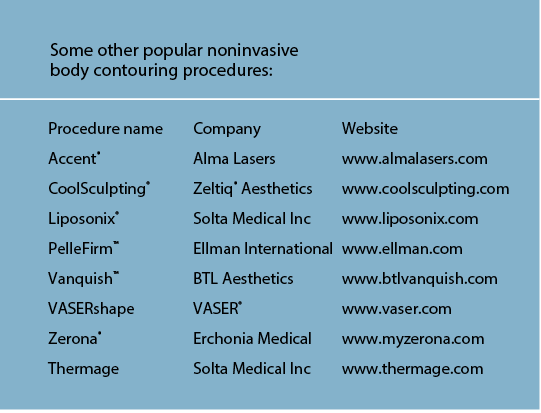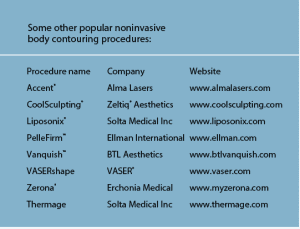 With two FDA-cleared body shaping platforms—UltraShape focused ultrasound for fat cell destruction and VelaShape® III el?s/ RF-based technology—Syneron now boasts the broadest range of body shaping indications, including circumferential reduction in various body areas and reduction in cellulite appearance.
VelaShape offers full body circumference reduction, cellulite reduction, and skin tightening, while UltraShape selectively targets and destroys fat cells in localized fat deposits in the abdomen, flanks, and thighs. Both technologies are noninvasive, no-downtime, and comfortable treatments with an excellent safety profile. These two modalities have already become effective building blocks in aesthetic practices in other parts of the world.
According to plastic surgeon Chris Inglefield, BSc, MBBS, FRCS(Plast), in London, who was among the early clinical investigators and has been involved in the evolution of the technology, "We now combine UltraShape and VelaShape in nearly all our patients. The technologies work synergistically to not only effectively eliminate volumes of fat, but also to tighten the skin envelope for an overall comprehensive body sculpting package. Patient satisfaction using this protocol is very high."
According to Syneron, the company plans to roll out UltraShape in the US in May 2014 with a limited initial launch to a select group of aesthetic physicians.
Wendy Lewis is president of Wendy Lewis & Co Ltd, Global Aesthetics Consultancy, ? www.wendylewisco.com, founder/editor in chief of beautyinthebag.com, and a contributing editor to Plastic Surgery Practice. She can be reached at [email protected].
riginal citation for this article: Lewis, W. Unveiling UltraShape: Fat-destruction system receives long-awaited FDA clearance. Plastic Surgery Practice. 2014; May 20-21.