Kevin Duplechain, MD, FACS, admits that he is a perfectionist. He enjoys planning surgeries, reconstructing and rejuvenating faces, and helping patients to look and feel their best. Therefore, when his patients were feeling discomfort after laser treatments, he began looking for some way to lessen their post-treatment complications.
That quest eventually led Duplechain to be the cofounder of Cutagenesis, a line of patented cosmeceutical products for antiaging and skin care.
Although Duplechain's life is busier than ever with the new company, he has not given up his work as a spokesman and educator for laser companies or decreased the workload at his Lafayette, La-based practice.
The key to managing it all, he says, is truly enjoying everything he does while keeping it simple.
Starting Cutagenesis may have been a new venture for Duplechain, but it is not his first time around the block as an entrepreneur.
Aside from his practice, Duplechain is the cofounder of Laser Skincare of Louisiana and a partner in Lafayette Surgical Specialty Hospital, a 20-bed private hospital with eight operating rooms and concierge services.
Next door to that hospital is Duplechain's new 4,000-square-foot office, with five exam rooms and a fully equipped operating room. When he isn't in surgery or consulting with patients, Duplechain serves as a trainer and national spokesperson for two laser manufacturers.
Importantly, though, it was Duplechain's investment in and involvement with another medical product that paved the way to cofounding Cutagenesis.
PRACTICE AT A GLANCE
Name: J. Kevin Duplechain, MD, FACS
Location: Lafayette, La
Specialty: Facial rejuvenenation,
rhinoplasty, and laser-based medicine
Years in practice: 17
Days worked per week: 5
Number of employees in practice: 7
Office square footage: 4,000
THE GENESIS OF CUTAGENESIS
Entrepreneurial endeavors are often started in response to a need in the marketplace, and Cutagenesis was no exception. For years, Duplechain had been searching for technologies that can be used by physicians and dispensed to their patients for cosmetic skin care. He has always been a strong advocate of CO2 lasers, but had been unhappy with post-procedure skin conditions that often developed after treatment.
Nevertheless, he did not give up on CO2 laser treatments; rather, he sought ways to help his patients' skin look and feel better after treatments.
Over the years, he consulted with Mark Rubin, MD, a Beverly Hills-based dermatologist and friend. The two physicians kept an open dialogue on different ways to improve skin care and appearance, but nothing completely satisfied them.
Sometime in 2005, they became found a new technology that may help with skin care. After speaking with the company, they were able to obtain samples and evaluated the cosmetic product with their patients. The results were promising.
"What I noticed was that my patient's skin really looked better," Duplechain remembers. "So, we decided that this product worked well enough to go ahead and make a go of it as a cosmetic company."
Duplechain credits his staff for helping him to stay on top of the demanding workload of his practice. He and Rubin obtained a license for the patented product and began to formally develop its first product, Cutagenix—a professional cosmetic skin care emulsion designed to soothe and calm the skin.
Duplechain does not see himself as an inventor, but as someone who saw the promise of an existing product. "We were the ones, I think very honestly, who recognized the application in the laser industry with laser resurfacing and how to use it," he notes.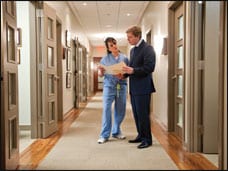 Duplechain credits his staff for helping him to stay on top of a demanding workload.
PRODUCT DEVELOPMENT
Recognizing the potential for an existing product was just the beginning.
The team set out to demonstrate its theory, adding the right moisturizing elements and figuring out the recommended amount, frequency of application, and other protocols that would be needed to bring the cosmetic product to market.
Patient volunteers from Duplechain and Rubin's practices were asked to use the new cosmetic product, with the physicians personally examining and photographing each patient. In addition to honing the product, they also performed studies that compared their results with other products.
"It was very labor intensive in the beginning," Duplechain says, "because we were the only ones doing the work." Their work finally culminated in the international launch of Cutagenix in November 2008.
THE KEY TO TIME MANAGEMENT: SIMPLIFY
Throughout the development of Cutagenix, Duplechain continued to juggle the executive-level responsibilities associated with his businesses, his speaking engagements, and his laser training-all while remaining dedicated to his practice. His time-management philosophy of "keep it simple" places a high concentration on patient needs.
Duplechain's time-management philosophy of "keep it simple" places a high concentration on patient needs.
His practice focuses on facial rejuvenation, rhinoplasty, and laser medicine. When he is not traveling, his typical schedule includes performing surgeries twice per week-on Mondays and Wednesdays-and seeing follow-up and injectables patients on Tuesdays and Thursdays. Fridays are reserved for meetings with new clients and consultations about procedures at the laser center.
Asked if his practice suffered while researching and developing Cutagenesis, Duplechain says he saw about the same number of patients, perhaps even more. "I incorporated the research into my practice," he says. "I'd take a Friday afternoon to treat five patients and then photograph them for a week and a half. I think if it was something totally different, I'd probably have slowed down, but because it was so much of what I do and liked doing, I found it pretty easy to incorporate [everything]."
In addition, Duplechain credits his staff for helping him to maintain business as usual when he is in town, as well as when he is away. However, he concedes that the workload has been challenging. "I don't think you can keep this pace up forever and have a practice," he says.
One piece of nonclinical technology that may have helped to reduce office visit time is the practice's touch screen computer terminals that provide waiting clients with "virtual information centers." Using this feature, patients can enter one of his exam rooms and operate the system as kind of a kiosk. "They can basically walk through a facelift, an injectable, or a rhinoplasty. When they touch the screen, the loop starts," he says.
The kiosks are not customized to the patient, but can give them general information about procedures, healing times, etc. The main advantage is that prospective patients receive valuable information before he sits down and talks to them," he says. "If they haven't had a chance to actually do any preparation before they come in, this will at least give them some [answers] and talking points about what we do."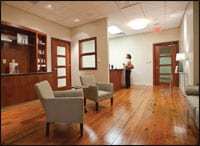 Duplechain's new office space is ergonomically state-of-the-art, and offers patients "virtual information centers" for educational purposes.
Though it appears as if Duplechain is all work and no play, he says he is still able to have quality time with his wife and three young daughters. He also keeps fit via early-morning cycling and the occasional round of golf.
His new office space is ergonomically state-of-the-art, offering patients "virtual information centers" for educational purposes. "There are no real shortcuts with your practice, [although] we look for them-in lasers, in anti-wrinkle creams and injectables," he claims. "But at the end of the day, you've got to put your time in to get that great result. So, if I'm going to be a really good doctor and take good care of this patient for whatever problem they have, I just need to take enough time and pay attention to what they're telling me, and listen. Nobody can do that for you. It's the same thing for my Cutagenesis work."
LOOKING FORWARD
Duplechain continues to develop the Cutagenesis product line with Rubin. Though separated by thousands of miles, both remain dedicated to conducting trials within their practices. In addition, they talk on the phone every week about their results for a certain application, formula, or frequency.
"We're licensed for the intellectual property, so we go back and work with different cosmetic formulations of products and see which gives us the best outcome for people who want to have their skin look better," says Duplechain. "From what we've seen in utilizing this cream—and we've used it on different applications—we've honestly seen amazing results on a lot of different levels."
Despite his excitement for the future of Cutagenesis, Duplechain accepts that there are challenges ahead. New cosmetic products mean new rounds of promotion and marketing, traveling to conferences, and presentations all over the world—while still maintaining his practice and his family life.
"We spend time every day talking to different people that are interested in [the products]. People that have now become customers have questions about it. My staff fields some of those questions; but honestly, I probably spend an hour or two every day working on [some aspect of] the company," he says.
Asked if he has any advice for future physician entrepreneurs, Duplechain says, "Prepare to work really, really hard. Particularly right now, the economic market for trying to start a new company is tough. It takes a lot of money."
One has to have a strong belief in the product, he adds. "I had an idea that I thought might work, and luckily, it looks like it does. But starting a company from scratch takes an incredible amount of commitment, time, and work. You really have to believe in it completely, because there are a lot of disappointments along the way."
Duplechain also remains optimistic about his practice in 2009. The Lafayette area has benefited from the oil boom years, but even with oil demand going down and a recession looming, Duplechain does not see his practice losing much business.
"At least to date, our practice is still growing," he says. "I think everybody's a little concerned, but I'm just going to do what I do. I'm going to go to work, work hard, and do a good job for my patients."
---
Tor Valenza is a staff writer for PSP. He can be reached at [email protected].