The ultimate goal of a public relations campaign is to generate exposure for your practice or brand by employing a variety of media vehicles to reach a specific targeted audience.
Media outreach can be a vital component of a practice marketing strategy. However, it cannot operate in a vacuum. If you do not have a complementary marketing campaign—which may include everything from e-mail marketing, Web optimization, internal marketing, and social networking, to community outreach and special events—your media outreach efforts will not be optimized.
The challenge with media outreach is that the results and, therefore, return on investment can never be fully controlled or guaranteed. A quote or passage in a feature article written by a journalist or blogger citing an expert source can be the result of PR outreach. Media offers you little to no control over how you are represented—or if they choose to use you in the story at all.
However, when a prospective patient reads a third-party article written about your products or services, or views coverage of you on television, it is seen as a powerful form of endorsement or confirmation of excellence.
A publicist or PR professional can generate exposure that can, in turn, build greater credibility for your brand in the long term. Becoming a media source, however, does not happen overnight. PR is only one component of a total marketing plan, and a minimum commitment of 6 months to 1 year is generally a baseline in which you can expect to get results.
CREATING A PITCH
A pitch is a story or angle that is presented to media in the hopes of securing coverage. For example, if you are sponsoring or participating in an event, you can send out a press release and the media might pick it up, but they may or may not cover or attend the event. A flurry of bad examples of press releases can be readily found on Google, Yahoo!, and others.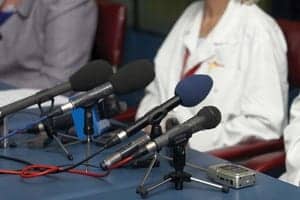 The pitfalls of these strategies are twofold. First, there is the common problem of a pitch that is not compelling, unique, or interesting, so that it will not be picked up by solid media outlets. Examples include, "Dr Jones launches a new Web site," or, "Dr Jones bought a new laser." Second, there are press releases that have a single key message that reads more like an advertisement. For example, "Look at me! I am Dr Jones, a board-certified plastic surgeon in Anytown, USA."
A release should outline the who, what, when, where, why, and how of the subject to be pitched. The intent is to give bloggers or reporters all the information they need to explain why the topic is significant or interesting. Include enough details and information about the subject, such as location, description, price, etc, in order to get your key messages across.
Using an expert quote from at least one individual who plays a central role is also vital, as this quote may be picked up by several media outlets and used in many ways. Add a brief description of credentials, such as board certification or accreditation that applies to the release topic or experts' quotes.
Finally, include contact information, such as your e-mail address, your phone and mobile phone numbers (and/or Skype), and your Web site link or Facebook page address. They are all useful for facilitating patient interviews or answering follow-up questions.
It is important to have a contact that is available to respond when media inquiries arise in a timely manner, or you will lose out on the opportunity when deadlines are short.
The reach of your PR efforts will vary depending on how relevant your story is to the various markets in which you seek to promote yourself and your practice.
National media will be less interested in practices and medspas that are located in smaller markets. It tends to focus on major media hubs, such as New York, Los Angeles, Miami, and Chicago. However, local media placements, such as an appearance on the evening news or a column in the local papers, can be extremely useful as they reach a more targeted audience.
Although a public relations campaign can deliver results in many impactful ways, the onus is on the physician and his staff to constantly consider meaningful news, developments, case studies, testimonials, milestones, and creative story ideas to make it work.
It is critical to maintain a database of patients who have expressed a willingness to be interviewed, photographed, and/or filmed by the media if such a request is made. Local, regional, and national media outlets have varying requirements for patient selection and some legal/privacy issues.
You can also use a wide range of free and fee-based newswire-based services to place your press release.
Drafting an effective press release that hits all of your key messages requires experience, and every single word counts. If you are doing this in-house, you will not have the time or expertise to follow up to the extent that is required to ensure maximum coverage.
Unless you enlist a professional PR firm that has current connections to the specific media outlets you are targeting, your release may not generate the quantity or quality of placements you need to achieve tangible results for your practice.
---
Wendy Lewis is president of Wendy Lewis & Co Ltd Global Aesthetics Consultancy and author of 10 books. She can be reached at .