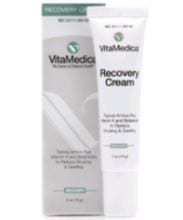 BOTANICAL CREAM
VitaMedica Corp, Manhattan Beach, Calif, introduces its new Recovery Cream, a topical botanical cream that helps to reduce postprocedure bruising and swelling. Recovery Cream complements the comprehensive Recovery product line that VitaMedica has offered to aesthetic practices and medical spas for more than a decade.
The active ingredients in Recovery Cream include Arnica Montana and vitamin K. It is also formulated with a number of botanicals to restore damaged tissue, such as Phytosome®, an ingredient produced by Indena SpA that reduces vascular permeability, edema, and swelling. Vitamin C ester, hesperidin, horse chestnut, comfrey, and grape seed extract strengthen capillaries and improve microcirculation to injured tissue.
VitaMedica Corp
(888) 367-8605
www.vitamedica.com
---
CDCR INSTRUMENT SET
Bausch & Lomb Inc, Manchester, Mo, offers the Putterman Consecutive Conjunctivodacryocystorhinostomy Set, designed for the consecutive CDCR procedure to form the conjunctivodacryocystorhinostomy osteum and place the bypass tube while avoiding withdrawal and reinsertion of instruments in each step of the procedure. The needle is designed to create the initial track with the trephine used to slide over the needle to create the osteum. Once the needle is removed, the Bowman-type probe can be inserted through the trephine. When the trephine is removed, the probe can be used to measure the distance from medial canthus to nasal septum.

The probe features marks in 5.0-mm intervals from the tip to 15.0 mm, in 1.0-mm intervals from 15.0 mm to 25.0 mm, and again in 5.0-mm intervals from 25.0 mm to 35.0 mm.
Bausch & Lomb Storz Opthalmics
www.bauschinstruments.com
www.storzeye.com
---
LED Light Panel
Lester A. Dine Inc, Palm Beach Gardens, Fla, introduces the new Dine LED Light Panel, designed to completely eliminate shadows in portrait, torso, and body photography. The high-intensity light panel provides a constant light, making it functional with virtually any digital SLR camera flash and eliminating back flash delay and synchronization issues.
The panel is lightweight and extremely thin, allowing it to be placed anywhere in the office, weighing 8 pounds with lighted dimensions of 33 x 21¼ inches and a thickness of 1½ inches. Unlike slave light boxes that need to be built into walls or occupy office space by extending outward, the flat light panel requires no elaborate installation and requires nothing more than wall space. Running on AC power, the product comes with a wireless remote control that allows users to control light intensity for a brighter or a more subtly lit background. The LED Panel can also be used to display x-rays, pans, and sephs.
Lester A. Dine Inc
(800) 624-9103
www.dinecorp.com
---
ANTI-WRINKLE CREMES
Carita Paris, Paris, has debuted a series of anti-wrinkle skin care products for reducing the appearance of fine lines and wrinkles.
The new Supreme Wrinkle Solution Filler (Pro3W) Deep Wrinkle Precision is an anti-wrinkle cosmetic alternative to hyaluronic acid injections. This ultraconcentrated formula is combined with a targeted application step to effectively reach deep wrinkles.
Supreme Wrinkle Solution Filler (Pro3W) Expert Care for Wrinkles, Dark Circle and Puffiness is a soothing eye contour that combines a high-performance formula with a cutting-edge applicator covered in a rare metal, in order to provide a refreshing application. This cream targets deep crow's feet and all wrinkle types (embryonic, superficial, and permanent). Immediate Supreme Wrinkle Solution Filler (Pro3W) Anti-Puffiness Expert Care is a unique undereye patch to immediately decongest the eye contour; erase the signs of fatigue; and leave the eye contour looking fresh, visibly smoother, and well-rested.
Carita Paris
www.caritadirect.com