Foremost among the things Loren S. Schechter, MD, FACS, likes to see in any new product he has under purchase consideration is sufficient science to support the manufacturer's claims.
"I want to see the evidence first," says the Morton Grove, Ill, reconstructive and aesthetic plastic surgeon. "After that, I look for product quality, good technical support to go with it, and assurances that I can get the product when I need it."
All this applies whether the item is a breast implant or an office fax machine. Or even an electronic medical records (EMR) system, such as the one he acquired less than 2 years ago.
"With my EMR, I'm running a more efficient practice, which means a more successful one," he says. "It's the basis for my being able to track many different metrics—everything from which procedures I perform most and least often to which ones are most and least economically advantageous. EMR also lets me decipher my physician-referral patterns and helps me better understand the circumstances of how elective-procedure patients first heard about my office."
Interest Piqued
Schechter says the impetus for acquiring an EMR system was his desire to be in a more knowledgeable position before making decisions on clinical and administrative matters. "Decisions have to be data-driven; otherwise, you're just guessing," he says, "because, whatever you think is happening in your practice based on anecdotal evidence often turns out to not necessarily match up with reality. Looking at hard numbers takes the subjectivity out of the decision-making.
Practice Profile
Name: Loren S. Schechter, MD, FACS
Location: Morton Grove, Ill
Specialties: Breast surgery; abdominal body contouring, complex reconstruction
Years in practice: 7
Number of patients per office day: 25–30
Number of new patients per year: 750–800
Days worked per week: 6
Days surgery performed per week: 3
Number of employees in practice: 4
Office square footage: 2,500
"But to make decisions that are data-driven, you need to be able to collect those data and do so efficiently, then be able to analyze them. That's where EMR comes in."
Interest in EMR was sparked after Schechter heard a discussion of the technology at a medical society meeting he attended. "The word was that EMR is coming," he remembers being told, "and that it wasn't going to be a matter of if you acquire this technology but when."
The "when" of acquisition can be a daunting question, he admits. "You wonder, if I buy my EMR today, will it be outdated in 3 years and make me wish I had waited a little longer because the capabilities of what will be offered down the road could be so much better? In my case, I found a system that not only meets my needs today but offers the capability of being upgraded so that it will continue meeting my needs for quite a few years to come."
Also important to Schechter in choosing an EMR system was the issue of which vendor would best support the system with solid, reliable service. (He says he believes that the brand he settled on offers good technical support.) Pricing was another consideration; he expresses confidence that he struck a respectable bargain—enough to justify buying a workstation for every room in his office.
Then came the rollout of the purchased system. "I introduced it in phases over the span of 1 year," he says. "It was a modular system, which made it very easy to gradually incorporate it. I started with a billing and scheduling package, then added other modules until I had full EMR functionality."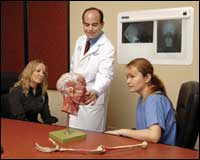 Schechter reviews a maxillofacial midface procedure with Alicia Granger, PA, (left) and Maria Korbel, RN.
Out on the Cutting Edge
Schechter's surgical services include facelifts and brow lifts, chin and cheek implants, rhinoplasty, hair transplantation, breast lifts and augmentations, breast reconstruction, body contouring, and arm and thigh lifts. He also offers nonsurgical alternatives, including hyaluronic acid, botulinum toxin Type A, chemical peels, dermabrasion, and laser resurfacing.
About one third of his cases involve purely aesthetic plastic surgery, while another third entail reconstructive work only. The remainder, he says, fall within a gray area between the two. But it is the reconstructive aspect that forms the common denominator.
"The principles of reconstructive plastic surgery are just as applicable in the case involving an injured extremity as they are in the case involving an elective facelift," he says. "Having to regularly apply those reconstructive principles keeps me on my toes, stimulates my thinking, and provides a motivation for me to stay abreast of developments in the fields of general surgery, oncology, and orthopedics."
The echoes of academia can be heard in Schechter's private practice: He is a member of the adjunct faculty at the University of Chicago, and medical students and residents participate in a rotation conducted in part at his office. "My relationship with the university helps push me out onto the cutting edge of clinical science," he says.
So does his involvement with several professional societies. These include the Illinois State Medical Society (Schechter serves on its governmental affairs and economics councils), the Chicago Surgical Society, and the Chicago Medical Society, where he is on the physician review committee. He also is active with the Chicago Society of Plastic Surgery, the Midwest Association of Plastic Surgeons, the American Society of Plastic Surgery, the American College of Surgeons, the American Society of Reconstructive Microsurgery, and the American Society of Maxillofacial Surgery.
"Participation in professional organizations is especially important if you're in private practice, because, once you complete residency and leave the university, it's very easy to become cocooned in your own little world," he cautions. "If you become cocooned, you can quickly fall behind on what's new in our profession, no matter whether you're talking about clinical techniques, insurance issues, government regulations, labor relations, or other administrative details."
Schechter is an enthusiastic supporter of several charities engaged in the fight against breast cancer, such as the Chicago Center for Jewish Genetic Disorders—its cancer genetics subcommittee has tapped him as a member—and the Lutheran General Hospital Development Council and Men's Association. "Some of the most exciting innovation in our field is coming from the realm of molecular medicine, especially as it applies to breast cancer genetics," he says. "Molecular biology and molecular genetics is the way medicine is going—and it's the way we in both reconstructive and aesthetic plastic surgery should also go."
It is not solely in molecular medicine that one finds intriguing developments these days. Schechter says advances and breakthroughs are showing up virtually everywhere in plastic surgery.
"The nature of our field is innovation," he says. "A lot of the innovation right now involves antiaging. That, of course, is not limited to plastic surgery, but we're certainly seeing our fair share of it. Even though antiaging is not a major part of my practice, I do look forward to some of the molecular- and genetics-based products that appear to be on the horizon."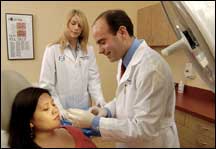 Schechter plans an injectible-filler procedure while Jennifer Yowell, RN, PA-C, assists.
Awareness Building
A goal of Schechter's, both as an association member and more so as a private practitioner, is to make as many people as possible aware of plastic surgery. "I'm committed to teaching and to providing quality clinical care," he says.
"I see myself as having the responsibility to be an advocate for patients, not just with regard to plastic surgery, but also surgery in general and medicine as a whole. The idea is to be able to set the agenda and shape the issues through that advocacy, rather than being forced into the position of having to react to change.
"I think right now is an important time because the field of medicine is in such a significant state of flux," he continues. "For plastic surgery in particular, a challenge is that many critics of the healthcare system see plastic surgery as an unnecessary service because of the aesthetic component. But that's not the totality of what we're about.
"We're dealing with all kinds of cases—children with congenital deformities, adults who need cancer reconstruction, cases where there are any number of quality-of-life concerns. It's our job to make people aware of this. It's our job to change people's perceptions."
When it comes to advancing his own practice interests, Schechter believes the best avenue is through direct personal interactions, rather than by using paid advertising. "I have zero budget for marketing and advertising," he says. "But marketing and advertising are things I do all the time.
"For example, when I go to the hospital to work on a case, to me that's advertising. When I meet with other physicians and the nursing staff there, that's outreach. I do a great breast reconstruction, and that's advertising."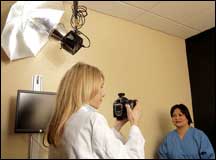 Jennifer Yowell, RN, PA-C, photographs a patient prior to surgery.
Moving In, Moving Up
In 2000, Schechter first hung his shingle by joining the Skokie, Ill, practice of a plastic surgeon who was nearing retirement age. The arrangement called for Schechter to put in 3 years as an employee and then tender a goodwill cash consideration, in exchange for which he would become the sole owner of the practice.
"In general, my 3 years working for the doctor amounted to a positive experience," he says. "It gave me instant entrée to the market, I was readily able to develop relationships with the community's referring physicians, and it provided an immediate steady stream of patients.
"But there were a few downsides to it. One was that some of the patients and referring physicians went away when the senior partner retired because their bond with him was so strong—dating back 30 years in some instances. Another was that because he would soon be retiring, the senior partner was reluctant to invest in technology and facilities the way he would have were he still trying to grow the practice."
After Schechter took the reins, he initiated a series of improvements to the practice. The biggest was a move to larger quarters in nearby Morton Grove. He also increased the size of his staff by hiring additional receptionists and an RN–physician assistant.
Skokie and Morton Grove are located but a stone's throw from Highland Park, another north Chicago suburb. That is where Schechter grew up.
"All my family and friends were here, so I decided that I wanted to practice close to Highland Park," he says, insisting that his choice of the suburbs perhaps was even better than if he had opted for space in the heart of Chicago proper. "The area I'm in has a high density of people who need and want plastic surgery services."
A Runner and a Golfer
Outside of his practice, Loren S. Schechter, MD, FACS, likes to get his mind in shape starting with his feet and legs.
"I'm a runner, and running is a great way to relieve the mental stress of the day," he says. "I participate in 10K runs from time to time—except when we have a winter like this past one in which the temperatures in Chicago were 25 degrees below zero; then I run indoors on a treadmill."
Still single, Schechter also enjoys the game of golf. "I haven't been able to play as much as back when I was in high school and had time for it," he says. "My low score in those days was 76. But I still like to get out on the links as often as I can. I play with a handicap of 10."
—RS
Youthful Ambitions
Schechter was a youngster when he first picked medicine as a career, determined to follow in the footsteps of his physician father. However, before locking in that choice, his father and mother both insisted he explore other possible careers to be certain that the swearing of the Hippocratic Oath was really what he wanted to do.
"During my college years, I landed summer jobs in various fields that I thought might be interesting to have a career in," he says. "For example, I worked one summer in an investment firm. But at the end of every summer, I'd always come back to the idea that medicine was a much more exciting and personally satisfying field."
Schechter began his college career in 1986 at the University of Michigan in Ann Arbor and graduated in 1990, having earned a bachelor's degree in economics. His senior thesis was an analysis of why Level I trauma centers seemed so often to prove fiscally unviable.
From there, he entered the Pritzker School of Medicine at the University of Chicago and graduated with honors in 1994. Time spent at the university's hospital burn unit— it was run by plastic surgeons—turned Schechter toward making plastic surgery his specialty. "For a time, I thought I'd become a cardiac surgeon," he recalls. "But my experiences in the burn unit were transforming."
In 1997, Schechter completed his residency in general surgery and, in 1999, his residency in plastic and reconstructive surgery, entirely at University of Chicago hospitals. One year later, he completed a University of Chicago fellowship in reconstructive microsurgery.
During his time in training, Schechter was inducted to the Alpha Omega Alpha national medical honor society, won the University of Chicago Department of Surgery award for outstanding performance in the field of surgery, and received a grant from the National Institutes of Health for research performed in medical school.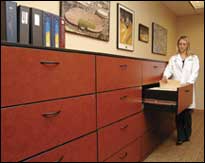 Receptionist Maggie Kikolska retrieves a file.
Keys to Success
The Morton Grove office takes in 2,500 square feet of a converted and remodeled warehouse that Schechter shares with several other medical tenants. Among them is a diagnostic imaging center and an ambulatory surgery center. Schechter's office is on the newly added second floor.
His attractively built-out corner features three exam rooms, a photography room, a nurse's station, and his own private office and consultation area. The exam rooms pull double duty as procedure rooms (they are equipped with halogen lighting and elevating tables).
However, only minor surgical procedures are performed in-office. He does not ordinarily use the ambulatory surgery center in his building for major procedures, preferring instead to operate on patients at the hospitals where he is on staff: Lutheran General Hospital in Park Ridge and St Francis Hospital in Evanston.
"In my opinion, the advantages of using a hospital outweigh those of an ambulatory surgery center," he says. "In a hospital, patients can be kept overnight if necessary, and the facility fees are comparable to what they charge at the outpatient center. Also, the hospital has many support services not found elsewhere."
Because his surgery patients recover in a hospital, Schechter makes rounds daily—often on Saturdays and not infrequently on Sundays as well. Mondays and Wednesdays in Schechter's office typically are reserved for consultations, which leaves Tuesdays, Thursdays, and Fridays for surgeries.
"I used to do a half-day in the office followed by the rest of the day in surgery, but I gave that up because it wasn't always possible to avoid running late in the office, which would then mean I'd be rushing to get to the operating room," he says. "And the opposite was true when I reversed the pattern and spent the first half of the day in surgery instead of in the office.
"The way I structure my days now is much more efficient and I don't have the problems of the split-days routine. I'm a big proponent of the idea that in order to be successful in a referral-rich practice, you must be flexible. So, if I need to squeeze somebody in for a surgery on a day devoted to office consultations, then I'll still try to accommodate that—either at the end of the day or between appointments. Ours is a service business, and service is what we must provide."
Good service, as Schechter sees it, can be summed up as quality of care. Broken down to its component parts, quality of care consists of satisfactory postoperative results, of course, but also physician accessibility and helpfulness.
"You need to treat people with the same respect, kindness, and understanding that you yourself would want if you were a patient," he explains. "You also need to avoid resorting to gimmicks to make your practice a standout. It will stand out on its own if you provide quality of care."
Schechter also is convinced that a standout practice is one that grows slowly and steadily. "You should never look at yourself as being in a race to the top, because that can lead to taking shortcuts you'll regret later," he says. "My philosophy has been to grow my practice one case at a time."
The slow and steady approach likewise has value when it comes to other aspects of growth, such as acquisition of facility space and technology for managing the practice. "Certainly in the early stages of building a practice, you don't know what curves may be thrown at you, so the best thing you can do is not sign any long-term office or equipment leases," he advises.
See also "A Helping Hand" by Loren S. Schechter, MD, in the November 2005 issue of PSP.
"You want to stay flexible so that you can take advantage of the changes that come your way. These days—for younger practitioners especially—changes seem as if they are coming faster than ever."
Rich Smith is a contributing writer for Plastic Surgery Products. For additional information, please contact plasticsurgery@allied360.com.