By Denise Mann
A novel expansion device may make implant-based breast reconstruction more attractive
Whether done immediately or further down the road, breast reconstruction following mastectomy or
prophylactic mastectomy can have positive effects on a woman's self-esteem and quality of life. Yet seven out of 10 women who are eligible for breast reconstruction following mastectomy are not told about their options.
Public awareness campaigns about these options are gaining traction, and other advances including a novel expansion technique may soon help sweeten the pot for some women who are considering implant-based reconstruction.
As it stands, the road toward complete reconstruction can be time-consuming. Expansion with saline injections can take up to 6 months to complete, but a patient-controlled investigational device, AirXpanders Inc's The AeroForm™ tissue expander, significantly cuts down on this time and gives control back to women.
Plastic Surgery Practice spoke with Jeffrey Ascherman, MD, the site chief of the division of plastic surgery at New York-Presbyterian Hospital/Columbia University Medical Center in New York City and the principal investigator of the US trial of the device, to find out why he is so excited about this new option, and what it may mean for breast cancer survivors and women at risk for breast cancer going forward.
PSP: Why have breast reconstruction uptake rates historically been so low?
JA: Lack of awareness has been a major barrier. Many women are not aware of or told about their options. There has also been some hesitance because women and their families were focused on treating the cancer and may not have wanted any additional surgery. Today, the surgeries are much improved, and we can create a natural-looking and feeling breast for so many of these women.
PSP: When it comes to expansion, what are the current options?
JA: Saline injections are the main method of expansion for implant-based reconstruction, although in some women immediate implant reconstruction is performed without expansion. Other women have flap reconstruction and do not
need expansion.
PSP: Tell us about The AeroForm™.
JA: It's a patient-controlled expander that gradually releases compressed carbon dioxide through a small internal valve to fill the expander. The patient inflates the expander at home up to three times a day via a small handheld remote-control device.
PSP: Carbon dioxide? Is that safe?
JA: So far there have been no significant safety problems related to the device in the trial.
PSP: What are the main advantages for women?
JA: It eliminates the need for frequent office visits to inflate the expander with needle injections. Saline expansion can take up to 6 months or longer, but the average time needed by women using the patient-controlled expander to reach full expansion has been less than 3 weeks in our ongoing US trial. It also gives women some degree of control over the process, which is particularly helpful as many women with breast cancer feel that they have lost control of their bodies. With this new option, we hope that many of the women who have chosen to forgo reconstruction may reconsider their decision once the device is widely available.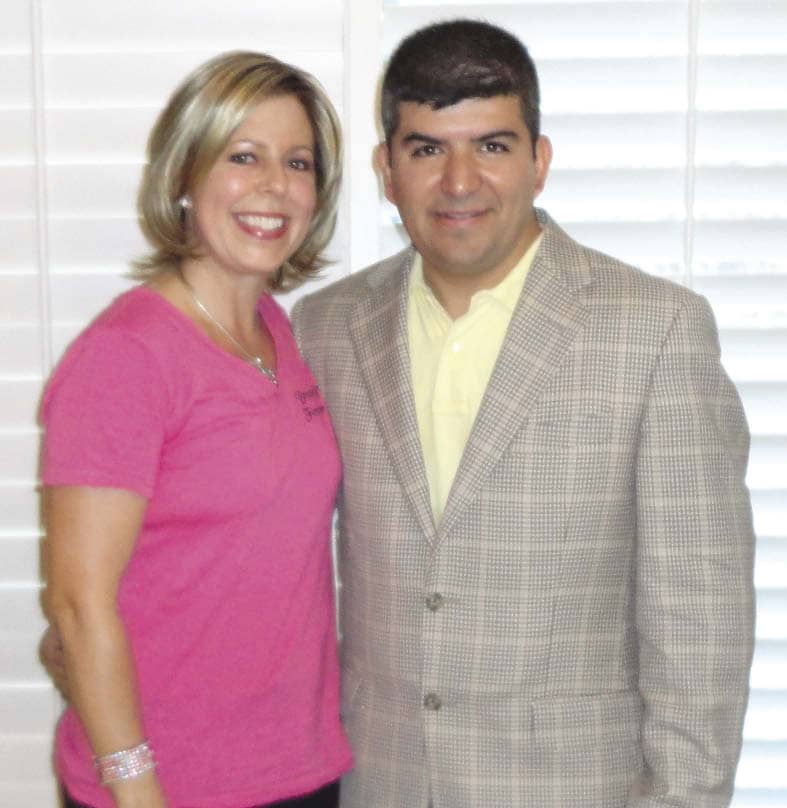 94% of women would recommend the device.
So far, women have been happy with The AeroForm™.
PSP: What do women think?
JA: The trial has not been finished, but so far women have been very happy with the device. Fully 100% of the participants have expressed high satisfaction with their experience and the convenience of the device, and 94% nationally have said that they would recommend the device to other women going through breast reconstruction.
PSP: What did the PACE studies show?
JA: The PACE studies were prospective, open-label, single-site, single-arm studies in an urban hospital setting in Perth, Western Australia. They enrolled a combined total of 40 women, including seven subjects in the PACE-1 study and 33 subjects in the PACE-2 study with placement of 71 expanders. All PACE trial participants who received the patient-controlled expander had a successful expansion and completed their reconstruction with placement of traditional breast implant(s).
PSP: What about the other pivotal trial, XPAND?
JA: XPAND is the US prospective, randomized, and controlled, open-label pivotal trial that is currently under way. The trial is taking place at 11 US hospitals to enroll up to 138 patients. The results of the XPAND study will be the basis for the company's 510(k) application with the US Food and Drug Administration
PSP: This leads to my next question. When may the device be commercially available?
JA: The company is planning for a limited-market release in Australia in April 2013, and hopes to get 510(k) clearance in the US by 2014.
Denise Mann is the editor of Plastic Surgery Practice. She can be reached at [email protected]