Many changes occurred in aesthetic facial surgery in the past 20 years. One outstanding change has been the attainment of volume restoration in the rejuvenative scheme.
For years, aesthetic facial surgeons have made patients look tighter but frequently not younger. Virtually every female facelift-consultation patient will tell her surgeon, "I don't want to look like Joan Rivers." Rivers actually looks pretty now, but in the past she has exhibited the stigmata of "tighter" but not "younger" rejuvenation.
What these patients are actually saying is that they want a natural-looking facelift. The hallmarks of a natural-looking facelift are skin tightening, soft-tissue repositioning in a natural vector, and the addition of volume in all the right places. If facelift surgery is the aesthetic "cake," then volume restoration would be the "icing." Simple corrections in volume replacement can make major differences in the final appearance of rhytidectomy patients.
There are many ways to achieve midfacial volume, including lifting procedures, osseus procedures, and injectable fillers, including fat and facial implants. There are pros and cons to all of the midfacial enhancement procedures, and surgeons experienced in midface-implant rejuvenation can verify that the pros greatly outweigh the cons.
Midface implants can be used as a sole procedure to provide midfacial rejuvenation, or they can be used in conjunction with virtually any other combination of aesthetic procedures. They can be placed in as little time as 10 minutes per side; they come in a vast array of anatomical shapes and sizes; and they are a permanent solution for augmentation—or perhaps more accurately, a long-standing solution. They also are reversible, and they can easily be removed or exchanged with a short recovery period.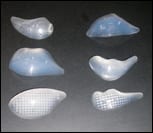 Figure 1. A variety of anatomic implant sizes and shapes are commercially available.
One area of confusion—especially for the novice implant surgeon—is which implant to use and where to place it. Again, modern cheek implants are anatomically well-designed and provide selective and regional solutions to midface volume replacement (Figure 1).
Patients with infraorbital (submalar) hollows benefit from augmentation of the anterior maxilla and may not require actual malar enlargement. For these patients, the submalar implant is indicated. For patients who have adequate submalar anatomy, but who lack lateral cheek projection, shell-type implants are preferable. Finally, patients who require both submalar and malar enhancement can benefit from the combined submalar implant.
This is a rather simplified scheme and, in reality, many other sizes and shapes can be used or customized by the experienced surgeon. The average patient may not realize the advantages of midface augmentation, but once he or she understands them, he or she is usually very receptive to the option.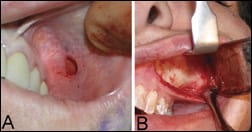 Figure 2. A: The minor incision necessary to place midface implants. B: The amount of access possible from the resilient tissues in this area after periosteal release.
Cheek-Implant Procedure
Cheek implantation with silicone implants can be performed with local anesthesia infiltration or blocks if it is used as a free-standing procedure. It also can be used to complement the usual multitude of other aesthetic facial procedures.
The implants are always placed in the subperiosteal plane. The anesthetic—5 mL of 2% lidocaine with 1:100,000 epinephrine—is injected intraorally or cutaneously across the hemimaxilla, over the malar eminence, and tapering over the medial zygomatic arch. Another 1 to 2 mL of the same solution is also infiltrated into the maxillary sulcus above the canine tooth. Incision is made through the periosteum. Only a 1-cm horizontal incision is necessary, because the mucosa and wound access can be easily stretched (Figure 2).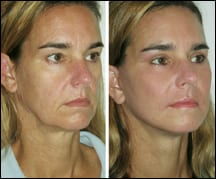 Figure 3. This 43-year-old patient underwent a minifacelift, a blepharoplasty, and placement of submalar implants. Although the soft-tissue procedures produced a positive result, the midface implants balanced the global facial harmony. She is shown before and 3 months after the procedures.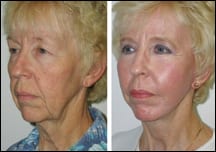 Figure 4. This 65-year-old patient received a facelift, a blepharoplasty, medium submalar cheek implants, and simultaneous CO2 laser resurfacing. She is shown before and 4 months after the procedures.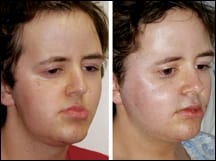 Figure 5. Customized silicone cheek implants were sandwiched and secured to augment this 16-year-old patient with radiation-induced growth deficiency from a rhabdomyosarcoma in infancy. He is shown before and 3 months after the procedures.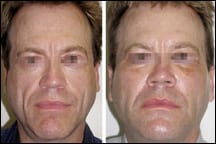 Figure 6. This 44-year-old patient presenting with lipodystrophy secondary to antiretroviral therapy was treated with extra-large combined submalar implants. He is shown before and 30 days after the procedures.
Once the subperiosteal plane is accessed, the dissection is performed on the anterior maxilla with care to protect the infraorbial nerve. The dissection also includes the malar eminence and tapers out over the medial zyomatic arch. The pocket is developed to be just slightly larger than the actual anticipated implant. There is generally no need to dissect medially to the periform aperture. The dissection may extend over the superior medial masseteric tendon, and it is not problematic for the implant to overlie this area in its final position. After the pocket is dissected adequately, the implant is placed.
Implant sizers are available to assist "try-in" implants to give an idea of the end point of midfacial augmentation. The implant should be passive in its fit and conform as much as possible to the curvatures of the zygomaticomaxillary complex. When the surgeon believes that the implant is passive, he or she should pull down the upper lip and place pressure on the cheeks. If this causes the implant to extrude from the incision, the surgeon should extend the dissection pocket or trim the implant to fit.
It also is important that, in tapered implants, the tails are not folded over themselves. Some surgeons prefer to secure the implant with a single fixation titanium screw. However, in my experience, if the implant is placed in a small pocket, this is unnecessary. Once the surgeon is satisfied with the fit, he or she can electively irrigate the pocket with antibiotic solution and close the incision with a 4-0 gut suture.
Hemostasis is imperative, because hematoma formation can increase complications and prolong healing. Patients are covered with a cephalosporin and analgesic; some surgeons prefer a tapering dose of oral steroids.
Moderate swelling is expected, and it can be significant in some patients. In most patients, their edema resolves adequately enough in the first week that they can resume social activities. In others, however, swelling can persist longer. Temporary infraorbital nerve paresthesia is not uncommon, and it usually resolves in several days.
Slightly dysfunctional animation (smiling and puckering) are frequently experienced from the disruption of the maxillary perioral musculature. This also returns to normal after 1 to 2 weeks.
Silicone implants heal with a distinct soft tissue–connective tissue capsule, and they are easily retrieved and removed if the patient is unhappy. In addition, a larger or smaller implant can be placed at the same time with less surgical disruption, edema, and healing than in the initial surgery.
Figures 3 and 4 show preoperative and postoperative views of silicone cheek implant patients.
Reconstructive Applications
Midfacial implants also are useful as reconstructive options for disease or trauma. Patients with lipodystrophy from antiretroviral therapy can be treated with facial implants, and this can be an attractive alternative to high-volume and repeated filler injection. Facial-trauma patients or postcancer-resection patients also can benefit from unilateral implant placement.
Figure 5 shows a patient who was diagnosed in infancy with a rhabdomyosarcoma and received subsequent radiation therapy. The treated side sustained retarded development, which in the growing child proved to be a reconstructive conundrum. Fat and filler injections benefited the patient but continually resorbed rapidly. The patient was treated with a customized off-the-shelf implant that was sandwiched with a smaller implant.
| | |
| --- | --- |
| | |
| Figure 7. A mandibular angle implant in place on a dried specimen is shown from the medial view to illustrate the shelf extension that in part provides angular re-creation. | Figure 8. A silicone mandibular angle is shown in place on the lateral left mandibular ramus. It is secured with a single fixation screw. |
CAD–CAM implant technology has long been available to create totally customized and conforming implants, but in the growing child it is less of an indication. Figure 6 shows a patient presenting with lipodystrophy secondary to antiretroviral therapy who was treated with extralarge combined submalar implants.
Mandibular Angle Implants
The aesthetic lower face includes a defined and prominent mandibular angle at the junction of the mandibular body and ramus.1,2 Common facial-growth disturbances such as high-angle class III skeletal malocclusions cause ill-defined mandibular angles. Degenerative and traumatic conditions also can affect the normal definition in this anatomic area.
Mandibular angle implants are available to re-create this juncture. These implants are placed through an intraoral incision with a lateral mandibular dissection. The implants have a ledge that is placed over the inferior border of the mandible to lock them in place, as well as to provide inferior augmentation of that area.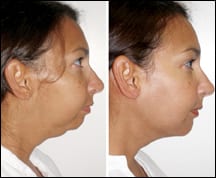 Figure 9. This 38-year-old patient presented with severe mandibular resorption secondary to rheumatoid arthritis. She was treated with mandibular angle implants to provide angle definition, combined submalar implants, and a large extended chin implant. Submental liposuction also was performed. She is shown before and 3 months after the procedures.
I prefer to fix these implants at the coronoid process base with a single titanium screw to prevent displacement by the powerful masseter musculature. Figure 7 shows the medial view of the implant shelf that extends around the natural mandibular angle. Figure 8 shows an intraoperative view of the implant in place on the lateral mandible secured with a fixation screw. Surgical stripping of the periosteum on the inferior border of the masseter and medial pterygoid muscles enables the implant to sit passively at the inferior border.
Figure 9 shows a patient with profile changes secondary to mandibular resorption from rheumatoid arthritis. The patient was treated with bilateral madibular angle implants, combined submalar cheek implants, and a large silicone chin implant and submental liposuction.
Volume replacement in aesthetic rejuvenation is appreciated by contemporary aesthetic surgeons. Silicone facial implants provide a permanent—yet reversible—way to provide customizable anatomic volume enhancement of the aging face. In addition, they can serve to normalize structures for reconstructive patients.
Joseph P. Niamtu III, DMD, is a board-certified oral and maxillofacial surgeon in private practice in Richmond, Va. He can be reached at .
References
Taylor CO, Teenier TJ. Evaluation and augmentation of the mandibular angle region. Facial Plast Surg Clin North Am. 1994;2:329–337.
Taylor CO, Teenier TJ. Alloplastic augmentation of the mandibular angle. In: Terino EO, Flowers RS, eds. The Art of Alloplastic Facial Contouring. St Louis, Mo: CV Mosby Co; 2000:183–192.