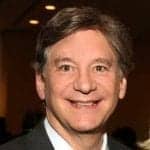 Neal R. Reisman, MD, JD, is the new president of the Aesthetic Surgery Education and Research Foundation (ASERF), representing the research and education arm of the American Society for Aesthetic Plastic Surgery (ASAPS).
"During my term in office, I hope to increase scientific awareness in evidence-based aesthetic surgery among plastic surgery residents and to facilitate practice management and research that will advance the safe practice of aesthetic surgery, ultimately improving patient safety and outcomes," Reisman says in a news release.
Reisman graduated from the Temple University School of Medicine in Philadelphia (where he completed his general surgery residency), and plastic surgery at the Eastern Virginia Graduate School of Medicine, with additional fellowships in Great Britain and Baltimore. He has pioneered the split-muscle natural breast augmentation and short-scar mini facelifts, and served as clinical professor of plastic surgery at the Baylor College of Medicine and chief of plastic surgery at St. Luke's Episcopal Hospital in the Houston area. Reisman obtained his law degree from South Texas College of Law in Houston.