This new device offers a single-stage thermal-assisted lipoplasty technique that employs radiofrequency energy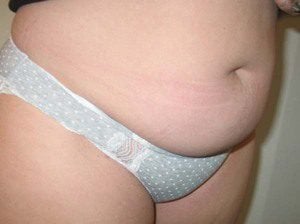 A female patient before treatment with BodyTite (above) and approximately 3 months post-treatment (below).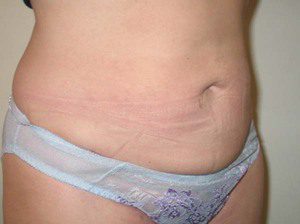 BodyTite™ is the brand name for a new skin-tightening and body-contouring procedure that works in tandem with traditional liposuction. In the context of body contouring, the procedure allows the surgeon to use liposuction simultaneously with radio frequency-based energy to internally heat connective tissue, which causes collagen contraction and creates connective tissue and skin tightening.
"It creates rapid uniform heating of the fat tissue," says Howard L. Rosenberg, MD, FACS, a plastic surgeon in private practice who has been involved in clinical trials using the BodyTite device. "[It] allows a new level of body contouring never before possible with ease, very little bruising and discomfort." With it, the surgeon can use traditional liposuction while simultaneously using radio frequency energy, he adds.
According to the manufacturer—Invasix, Yokneam, Israel—BodyTite's uses radio frequency-assisted liposuction (RFAL) technology that, in practice, combines adipose tissue and blood vessel coagulation, and simultaneous aspiration with precise dermal heating.
Rosenberg is a good one to speak to the recent leaps and bounds we have seen in liposuction and body contouring technology. In practice since 1976, he was the first physician in the United States to take liposuction training. He trained with a physician in Northern California who had traveled to France to observe the practice directly from Yves-Gerard Illouz, the surgeon who first utilized the procedure as a purely cosmetic technique.
Rosenberg received his BA from Johns Hopkins University; his MD from Johns Hopkins School of Medicine, Baltimore; and his surgical training at UCLA Medical Center, Los Angeles, and Stanford University in Palo Alto, Calif. A member of the American Society of Plastic Surgeons, the American Society for Aesthetic Plastic Surgery, and the California Society of Plastic Surgeons, Rosenberg is a Diplomate at the American Board of Plastic Surgery and a Fellow at the American College of Surgeons.
In addition, Rosenberg has previously served as associate clinical professor of plastic surgery, Stanford University.
PSP: What liposuction techniques have you found to yield the best results?
Rosenberg: There are a number of current techniques in liposuction. Virtually everyone has now converted from a dry to a wet, tumescent technique with mechanical liposuction.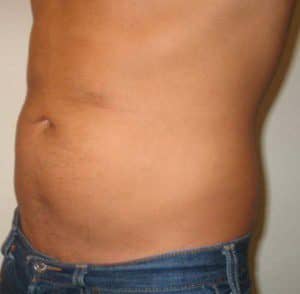 This male liposuction patient is shown before treatment with BodyTite (above) and then 3 months post-treatment (below).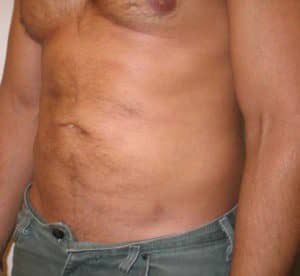 Surgeons flush the targeted area with a solution composed of a local anesthetic (lidocaine) and epinephrine diluted by a large volume of saline. Classically, the liposuction is performed using various-sized cannulae by hand that almost every patient has viewed on television. The metal cannula, attached via tubing to a high-vacuum suction machine, is introduced into the area to be treated through a small incision. Pretreatment with the tumescent fluid helps minimize bleeding and facilitates achieving the best cosmetic result.
A variation of that traditional method that I and many surgeons currently utilize is power-assisted liposuction. This mechanical device causes the cannulae to vibrate 4,000 times per minute. This is an extremely effective technique and is less fatiguing to do the procedure. This process makes liposuction more efficient.
Other physicians prefer ultrasound-assisted devices. However, all of these mechanical technologies demonstrate limited ability to produce and control skin tightening.
A number of laser companies now manufacture laser-assisted liposuction devices. While they have demonstrated skin-tightening ability, they have limited power capacity and are not precise in administration of their energy.
PSP: Why did you adopt the BodyTite technique?
Rosenberg: When this idea was presented to me of using radio frequency, it just made sense. It was clearly much more powerful in terms of wattage and energy level than laser liposuction, and the idea that it could potentially help cause skin shrinkage is what led me to believe in it. In addition, it was innovative—there are only about 30 of us in the United States who have the equipment and are presently using it. It is presently under an FDA trial; it is not FDA approved as yet. So, then, I went to see someone do it, I bought the machine, and then started doing it on my own. That was in October 2009.
PSP: How is the procedure performed?
Rosenberg: My patients and I prefer general anesthesia for this surgery. All are marked for the procedure in the standing position preoperatively, as with all liposuction cases. After proper positioning on the operating table, tiny incisions in various appropriate locations are made, and tumescent infiltration is performed. Then I go in with the BodyTite device. 
Prior to inserting the internal probe, you set the depth that you wish to treat the area.
In addition, the LCD display on the console allows the surgeon to set the energy level delivered to the tissues in watts, the range of impedance, and the skin temperature that you desire to achieve. The device will automatically shut off power when the set temperature is achieved. Both audible and visual cues are given as the device is used and the set temperature is reached.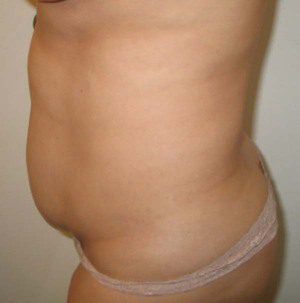 Another male patient is shown prior to the BodyTite procedure (above) and then 3 months postprocedure (below).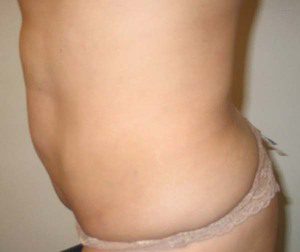 I also connect the hollow probe to low suction. I usually perform the procedure both at the deep subcutaneous fat level and closer to the skin surface to better direct the energy and therefore maximize the skin contracture I want to produce. After using the BodyTite device, I often follow with power-assisted liposuction to further remove liquefied fat.
PSP: What results can patients expect from BodyTite?
Rosenberg: A higher percentage of skin tightening means remarkably better results. Traditional liposuction uses the cannula instrument to suction out fat cells. BodyTite uses a slower motion than traditional liposuction but the fat is safely emulsified, which allows suctioning with greater ease and less trauma to the surrounding tissues.
This controlled heating creates connective tissue and skin tightening never before available to patients. It means that doctors can do more aggressive liposuction on areas where the skin is looser, because we know they can cause significant contraction to bring in that loose skin once it is emptied of unwanted fat.
It is better for inner thighs, upper arms, and loose tummies. There is less bruising and less downtime. And fat melting is particularly effective in areas like men's love handles and men's breasts.
PSP: What is the FDA's position concerning BodyTite?
Rosenberg: In order to use this device, the trial has to be approved by an institutional review board (IRB). You have to be approved to do it by the company. Then, you have to go through an IRB approval process, in which you must have an appropriate approved consent form and protocol. This is basically the same protocol required with most new medical devices. FDA approval is pending, and the device is currently being sold and used in Europe, South America, and Canada, where its use have been approved.
---
Cookie Lommel is a contributing writer for PSP. She can be reached at [email protected].