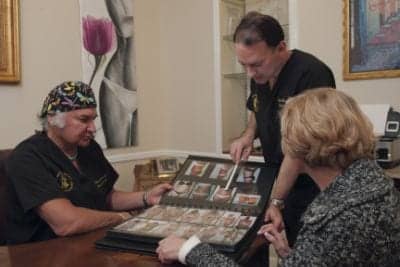 The Pelosis have a mutual respect and recognition of each other that is perhaps deeper and more nuanced than a nonfamily partnership ever could be.
Father and son business partnerships are almost cliché with law and accounting businesses, but less so in the medical world. Family partnerships can often dissolve for professional reasons or personal reasons—or both. However, that's not the case for Marco A. Pelosi II, MD, FACOG, FACS, FICS, FAACS, and his son, Marco A. Pelosi III, MD.
The Pelosis have not only grown their eponymous Pelosi Medical Center in Bayonne, NJ, in suburban New York City, but they have also co-founded a professional physician society that furthers the science and acceptance of cosmetic gynecology—or "cosmetogynecology."
The elder Pelosi, in particular, is a vocal advocate for allowing traditionally noncore practitioners, such as gynecologists, to have educational and career paths into the aesthetic medicine world.
To help make that path less arduous for colleagues, the Pelosis have done much to advance legitimate training in gynecological-oriented aesthetic procedures. The laser-based vaginal rejuvenation (LVR), for example, comprises a number of laser-assisted procedures designed to improve the appearance and structure of the vagina, labia, and other genital structures.
In addition to a successful professional partnership, father and son maintain a friendship, too. But their personal lives are not joined at the hip with a daily golf or tennis games. Rather, each Pelosi has his own unique passion(s) and family life outside of the Pelosi Center.
The secret to father-son harmony and success? Certainly, there is a great deal of common interest with personal and professional respect for each other, but there is also some lifelong due diligence.
"Most of the headaches in the group practices that many of my other colleagues work in are the result of mistrust and conflicting agendas," says Pelosi III. "We were on the same page from day one and had years to figure out that we get along well on a day-to-day level before we ever starting working together."
PRACTICE AT A GLANCE
---
Practice: The Pelosi Medical Center
Location: Bayonne, NJ
Specialty:Cosmetogynecology and advanced, minimally invasive pelvic surgery
Years in practice: Pelosi II, 35 years; Pelosi III, 15
New patients per year: (entire practice) 4,900
Patients seen per day: Pelosi II, 20 patients; Pelosi III, 20
Days worked per week: Pelosi II: 5 days Pelosi III: 5 days
Days surgery performed per week:Pelosi II, 5 days; Pelosi III, 5
Number of employees: 10
Office square footage: 10,000
A FAMILY OF ENTREPRENEURS
When the elder Pelosi II was a young man growing up in Peru, there was no such thing as cosmetogynecology, nor were there any Pelosi surgeons or gynecologists. Instead, family members were always entrepreneurs in manufacturing, real estate, and other industries.
As an adolescent, Pelosi says that he could not imagine himself spending the rest of his life in those industries. Medicine was an attractive and respected alternative. However, it wasn't until his wife became pregnant while he was attending medical school that Pelosi II became interested in gynecology.
"I began reading obstetrics and gynecology to educate myself on pregnancy," Pelosi II recalls. "The more I read, the more interested I became in the specialty."
However, Pelosi II also had a passion for the arts and considered specializing in plastic and cosmetic surgery. Ultimately, he chose obstetrics, seeing a future for its artistic potential. "I rationalized my choice of OB/GYN over plastic/cosmetic surgery," Pelosi says. "With the fact that in OB/GYN, I was going to perform surgery in females that would include some degree of cosmetic surgery anyway."
Years later, Pelosi II brought that vision to his practice, but he wasn't alone.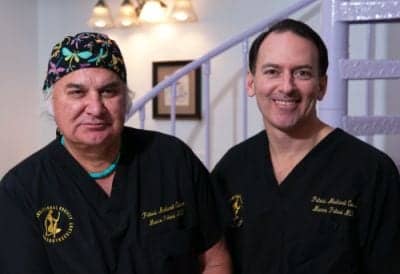 The Pelosis created the International Society of Cosmetogynecology (ISCG) to unify the top cosmetic surgical talent in the field of gynecology, recruit experts from other cosmetic specialties and surgical backgrounds, and stimulate cross-specialty collaboration.
NATURAL CHOICES
Pelosi III's path to OB/GYN—and ultimately toward cosmetogynecology—was a more natural progression than that of his father.
Exposed to his father's OB/GYN practice since he was a child, Pelosi III says that he was always attracted to the prospect of entering the field of medicine. He pursued a premedical college education. When he later became a medical student, he involved himself with surgical research.
Of all surgical specialties he could have chosen, why gynecology? Like his father, Pelosi III was attracted to the patient mix. "All of the surgical specialties provide the opportunity to treat disease and help people regain their well-being," Pelosi III says. "However, gynecology was the only surgical specialty that provided the additional opportunity of maintaining well-being and preventing problems in the first place—due to its unique primary care qualities. So, to me, it was the best of both worlds."
The other thing that father and son had in common besides surgery was a passion for research. When the Pelosis first expanded their gynecological services to include cosmetic surgery in the late 1990s, there were only of handful of geographically dispersed gynecologists performing what Pelosi III calls cosmetic gynecology procedures. "The level of training and experience of these physicians greatly varied, and they had little knowledge, if any, of each other," he says.
Active in clinical research in laparoscopic surgery, the Pelosis often met many of the new pioneers in the nascent cosmetogynecology field—physicians at conventions and meetings throughout the United States and overseas. They soon realized that a sense of unity and a platform for collaboration with like-minded surgeons were needed.
Eventually, as their cosmetic experience and arsenal of new procedures expanded, colleagues frequently asked them if they would be interested in providing cosmetic surgery training, as well. In response, the Pelosis created the International Society of Cosmetogynecology (ISCG) in 2004.
Their goals: to unify the top cosmetic surgical talent in the field of gynecology, recruit experts from other cosmetic specialties and surgical backgrounds to add diversity, stimulate cross-specialty collaboration, and create the opportunity for the development of multiple levels of quality professional postgraduate education in cosmetic surgery. Their initial target group was gynecologists, but they quickly found that many surgeons from other specialties desired similar training.
Pelosi III reports that the ISCG educational format took off immediately and that they were inundated with requests for training from around the world, as well as requests from the medical products industry for collaboration and from other societies interested in alliances.
"In essence, ISCG and its workshops became a 'clearinghouse' for cosmetogynecology surgery techniques and technology," Pelosi III says. "As such, we succeeded in instilling a sense of unity and purpose into a large group of surgically trained physicians focused on learning and perfecting cosmetic surgery in an unbiased format."
The Pelosis also believe that their efforts through the ISCG have created a public and professional awareness of cosmetogynecology as a growing trend in aesthetic medicine.
"Ten years ago, it was unheard of to see cosmetic surgical topics presented at gynecology meetings and conferences," Pelosi II says. "Now, it has become a topic of growing interest."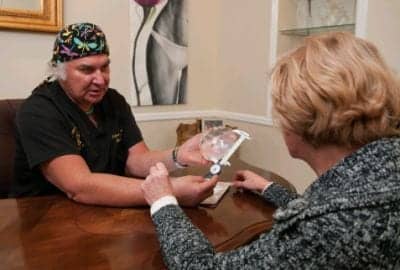 Despite his professional association with cosmetogynecology, the senior Pelosi finds the greatest satisfaction in performing traditional cosmetic surgery procedures, such as breast augmentation.
BEYOND LVR
Although the Pelosis are known for their cosmetogynecology techniques and advocacy, their practice is a comprehensive cosmetic surgery center, offering breast augmentation, liposuction, abdominoplasty, and body contouring procedures.
When asked about the procedures that give them the most personal satisfaction, both Pelosis list more traditional cosmetic surgeries.
For Pelosi III, breast augmentation and other traditional cosmetic surgeries gives him the most professional satisfaction because his patients tend to be at an earlier stage in their lives where the positive psychological aspects make more of an impact.
The elder Pelosi feels great satisfaction in learning about each patient's need—physically, psychologically, emotionally—and then using his skills to satisfy their perceptions of what they consider to be aesthetically appealing.
In addition, Pelosi II derives satisfaction from performing body contouring on formerly obese patients who have undergone bariatric surgery. "The surgery is very challenging and sometimes requires several liposuction sessions, combined with abdominoplasty, brachioplasty, thighplasty, mammoplasty, and other lifting procedures," he says. "I can achieve dramatic results, and the patients are extremely satisfied with their new bodies."
Marketing their practice and performance is less difficult than one might expect, given the sometimes-controversial nature of their cosmetic/gynecology practice. They market their practice to physicians like other gynecologic therapeutic practices and referrals are steady, as they were well known among physicians for the gyno-surgeries long before they started marketing cosmetic services.
As for their cosmetogynecology surgeries, their leadership position as teachers of LVR and other procedures attracts referrals from other physicians.
For their students, the Pelosis advise that new cosmetogynecologists not use overtly commercial and tasteless advertising strategies or high-pressure sales techniques. They caution that a few bad apples will reflect negatively on the entire profession and rapidly erode the public's trust.
Pelosi II also sees more general acceptance of cosmetogynecology surgeries in recent years among aesthetic practitioners and plastic and cosmetic surgeons. "I think what's changed over the years is really the expansion of media," he says. "Penthouse magazine, Playboy, reality shows, Dr. 90210. All of this media attention has created tremendous interest on this subject today."
As a result of this increased demand and public awareness, the ISCG continues to grow and the Pelosis continue to teach their techniques to surgeons from various fields.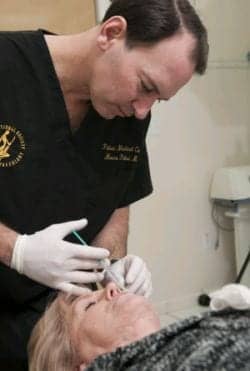 Father and son tend to work independently, unless a collaboration on combined procedures benefits the patient.
COLLABORATION, NOT COMPETITION
As with any practice partnership, father and son work independently, performing separate consultations and surgeries. However, they will also frequently collaborate on combined procedures when it makes practical sense for the patient and/or for their schedules.
Due to their surgical training classes, the Pelosis also work together when co-hosting a visiting surgeon who has come to learn about their techniques.
The Pelosi success dynamic is partially work-related. Both men are passionate about their work as cosmetic surgeons, but also as co-founders of the ISCG.
In short, they have a mutual respect and recognition of each other that is perhaps deeper and more nuanced than a nonfamily partnership ever could be.
"I strongly believe that the frequent failure of father-son medical partnerships is the result of a father's reluctance to recognize that the 'father knows best' philosophy must end when the child becomes an adult," the elder Pelosi says. "The father must learn and accept that his offspring has his own individuality, personality, dreams, goals, and different ways of thinking that may differ from his. These qualities must be respected and appreciated if the father expects to have a long, successful, and happy partnership."
Pelosi II adds that in terms of their business relationship, fathers who go into practice with their children should recognize that the child is a partner first, a friend second, and a son or daughter last.
"This fact must be made clear to the physician's office personnel from day one to avoid conflicts and friction created by the staff, who is accustomed to the father's way of practicing medicine," Pelosi II says.
FARM AND HORSES VERSUS SAND AND HORSEPOWER
While there is no question that the two Pelosis share a common professional life, their personal lives are very different.
Until he met his wife 16 years ago, the younger Pelosi was a New York City dweller. However, all of that city life changed when he met his future wife while horseback riding.
As a lifelong horse lover, Mrs Pelosi III infected her husband with her passion. Eventually, they bought a home and a horse farm in western New Jersey, where they are very involved in all types of equestrian sports and activities. A 9-year-old son (named Marco A. Pelosi IV) and a 7-year-old daughter, Gabriella, share in their equestrian pursuits, as well.
As for the senior Pelosi, he prefers the surf and city life. In addition to an apartment in Greenwich Village, the senior Pelosi maintains a primary residence at an oceanfront home, about a 45-minute ferry ride from the city. During the summer months, the home allows Pelosi to surf and provide a year-round gathering place where he can enjoy and entertain his family and six grandchildren.
Pelosi II describes himself as an avid collector of many interests. In addition to a lifelong collection of more than 500 wristwatches, he created the Pelosi Medical Museum, which consists of a collection of antique medical instruments and a medical library dedicated to the history of obstetrics and gynecology. Currently, it houses more than 2,000 printed works and approximately 800 medical devices, ranging in dates from the ancient times to the early 20th century.
Outside of collecting medical instruments and information, Pelosi II is a medical photographer and videographer, and, he reluctantly admits, a great admirer (and collector) of expensive muscle cars. Among his favorites are a 1965 427 Shelby Cobra, 1992 Ferrari Testarossa, 2006 Aston Martin DB8 convertible, 1963 12-cylinder race car Jaguar convertible, 1958 Chevrolet Impala convertible, 2009 Porsche 911 Turbo Cabriolet, 2003 Harley Davidson V-Rod … and a few others.
FUTURE PLANS
When asked about their professional plans for the future, both men point to working toward a broader recognition for cosmetogynecology.
"I'm happy that we've achieved many positive steps for ourselves and for our colleagues in the cosmetic surgical arena so far," Pelosi III says, "but unlike the plastic surgeons, the otolaryngologists, and the dermatologists, we have yet to fully integrate cosmetic surgery to the same degree of recognition within the specialty of gynecology. We're getting there little by little, and we've learned a great deal by studying the history of their efforts."
To further that goal of promoting cosmetogynecology, the Pelosis continue to offer monthly workshops in cosmetic surgery through the ISCG, as well as present at scientific and medical meetings and conventions.
"The acceptance, recognition, and integration of cosmetogynecology within the traditional practice of obstetrics and gynecology is our next goal," Pelosi II says.
---
Tor Valenza is associate editor for PSP. He can be reached at [email protected].