cover story
See Jane Lead
Jane A. Petro, MD, named first female AACS president
By Denise Mann
It has been about 5 years since Jane A. Petro, MD, last scrubbed in to perform surgery, but you would hardly call the Boston-based plastic surgeon retired.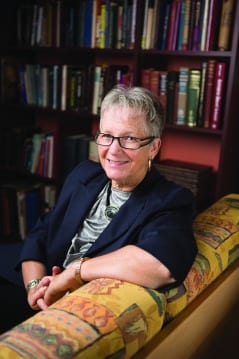 Instead, Petro is simply enjoying her second act. She officially becomes the first female president of the American Academy of Cosmetic Surgery (AACS) at its 2014 annual meeting—which corresponds with the group's 30th anniversary. Petro is also the editor-in-chief of the American Journal of Cosmetic Surgery, and in her spare time, she travels around the world on medical missions and teaching, most recently to Saudi Arabia.
She stopped practicing in 2009 when her osteoarthritis affected her hand function. Petro wanted to leave on her own terms before this degenerative joint and bone disease compromised her surgical prowess.
Does she miss performing surgery? A little bit, sometimes, but her new roles suit Petro just fine. "It's easy to criticize the fray when you are outside," she says. "I'd rather be a commentator than a football player." Now she can watch the field explode with the eye of a critic, and this distance has improved her perspective.
UNPLAIN JANE
Petro has seen many changes—some seismic—in this field since her career as a surgeon first began in 1979. During this time, microsurgery was in its infancy, plastic surgeons rarely dabbled in aesthetics, and breast reconstruction was considered fringe. Now, surgeons are transplanting faces, regenerating nerves and muscles, and printing body parts on 3D printers. "It's wild beyond belief."
Petro was largely a reconstructive surgeon up until 2000, when she first hung up a "cosmetic" shingle. "My focus was on burns and trauma, and it was a whole different ball game back then," she says. "The biggest change in the trauma field is that survival is so much better," she says. "With burns, the mortality was really high in relatively small burns, and now it is almost not a consideration due to advances in care. This has resulted in necessary extraordinary advances in reconstruction and rehabilitation."
The reasons she jumped from academics to cosmetics were simple. Petro is extremely pragmatic. "After more than 30 years, including residency and fellowships, and practice, in the burn center, doing trauma surgery, and the microsurgery, most of the time every other night on call duty, I was finding that the ER wasn't as much fun as it once was, and that I wanted to have more time with family, and to do more things like sailing and travel," she says.
This epiphany of sorts came to her after completing the Caribbean 1500, a cruising "race" sailing with friends from Hampton Beach, in Virginia, down to the Virgin Islands on a 65-foot sailboat called LULU. "I loved being out on blue water, and needed more than the weekends to really make the voyages I was dreaming about. I recently completed a 70-day sail from Panama to Tahiti that had to wait until retirement."
PRIVATE PRACTICE
"My partners in academia were unwilling to let me take more than the 4 weeks per year of meetings and vacation time, total, despite my offer to draw a lower salary," she says. Petro then spent 1 year in solo private practice, but she soon bonded with the doctors helping to cover her while she sailed the world. "I joined Plastic and Reconstructive Surgery PC, in Mount Kisco, at Northern Westchester Hospital," she says.
"We challenged each other in productive ways to be creative, innovative, and progressive," she says. The practice expanded to include breast surgeons and bariatric surgeons to offer a full range of services to massive weight loss patients. "It was a fabulous 9 years."
With this type of background, she naturally gravitated toward the AACS despite the bevy and pull of other professional associations and organizations. "I was attracted by the collegiality of the group," she says.
The AACS is a heterogeneous group of doctors, including dermatologists, gynecologists, oral and maxillofacial surgeons, otolaryngologists, and others who all have an interest in aesthetics. "To me, it's normal to not stand with a single specialty and say I am the only one qualified who can do that procedure," she says.
For example, craniofacial surgery involves neurosurgeons, otolaryngologists, and maxillofacial and plastic reconstructive surgeons, and microsurgery cuts across all the surgical specialties. "My
training and academic life required multispecialty involvement, so why wouldn't this phase? And when you watch some of my colleagues, like [former AACS President] Angelo Cuzalina, MD, DDS, operate, any question about whether
a 'dentist' can do something is completely put to rest. He is a brilliant surgeon,"
she says.
LET THEM CAST STONES
Many industry watchdogs are quick to comment that certain physicians who call themselves cosmetic or aesthetic surgeons just took weekend classes in liposuction or other techniques, and thus should not be permitted to operate.
To this, Petro says, what's your point? "There wasn't such a thing as endoscopic surgery when I was a general surgery resident, so I took weekend courses," she says. "Everybody learns that way once they leave their residency."
In her trademark irreverent style, she adds, "Nobody owns anything in medicine." History backs her up. Yves Gerard Illouz, MD, a French gynecologist, developed liposuction along with Pierre Fornier, MD, a French plastic surgeon, and then dermatologists took the ball and ran with it. Howard Kelly, MD, a gynecologist from Johns Hopkins University, invented the abdominoplasty. Jeff Klein, MD, a dermatologist, invented tumescent liposuction, making it a safer, more reliable procedure than nearly anything else.
"Nobody ought to own anything, and we all should be willing to teach what we know and how we do it," Petro says. "Expertise should depend on education, training, and experience, beyond your basic residency. No one should remain static in their field, and we need to find ways to permit a safe and credible way to permit a surgeon/physician's practice to evolve over time."
More power to her, says colleague and fellow AACS member Joseph Niamtu III, DMD, an oral and maxillofacial surgeon with a practice limited to cosmetic facial surgery in Richmond, Virginia. "She also does not let political boundaries interfere with education. She is a consummate teacher," he says. "She has some badger in her as she will not let anyone bully her. She will stand up with ferocity to defend what she believes is true or right."
Petro's Zen outlook plays nicely into some of her plans for the coming year. She is hoping to develop and introduce a Master's program in cosmetic surgery. "We are all traditionally taught by seminars and hands-on training, but many people moving from one field to another don't have time to do a residency. A standard Master's degree-level program in cosmetic surgery is possible," she says.
The Master's degree should help properly train physicians and go a long way toward satisfying critics. "This is a totally new model for surgical education."
The AACS recently announced a partnership with the Instituto de Estudios Superiores en Medicina, a private medical education institution in Mexico City for such a Master's degree program, and the next step will be to create one or more in the United States.
Petro also plans to reduce the barriers across borders and expand their reach internationally. "The cosmetic surgery standard is no longer national; it's international," she says. "We must not convince ourselves that the US is the sole site for safe and effective cosmetic surgery."
Many products and techniques are pioneered and introduced outside the USA long before they are approved here. Petro supports the federal Food and Drug Administration, though. "They have often saved us from disaster, she says, referring to the recent and ever-evolving French Poly Implant Prothèse (PIP) breast implant scandal. Still, "If we ignore the work that is going on outside the US, we risk becoming less skilled and offering less effective care. Brazil, Argentina, and the countries of the European Union all have made amazing contributions to medicine, and to cosmetic surgery specifically."
LEADING LADIES
She also intends to encourage more women to aspire to leadership roles. "I accepted the honor of being the first woman president of the AACS, but insist on recognizing the amazing women who were active in the group before me, like Jeanne Carruthers, MD, a clinical professor in the department of ophthalmology at the University of British Columbia, Susan Obagi, MD, an associate professor of dermatology at the University of Pittsburgh School of Medicine, and Dee Anna Glaser, MD, a dermatologist at St Louis University School of Medicine—one of whom might have had this role!"
Yes, she has set some lofty goals for her term in office, but Niamtu, for one, is betting on Petro. "Jane is a Renaissance woman. She has the unique ability to combine a classical education, surgical expertise, world traveling, sailing, being a journal editor, planning an annual meeting, sitting on numerous boards, and maintaining a great sense of humor."
Now it's time to sit back and see Jane lead.
Denise Mann is the editor of Plastic Surgery Practice. She can be reached at dmann@allied360.com.
Original citation for this article: Mann, D. See Jane lead, Plastic Surgery Practice. 2014; January: 12-17