You don't get much more high-brow than West Los Angeles—a section of Southern California that encompasses Beverly Hills (including the coveted 90210 ZIP code), the beachfront city of Santa Monica, and the gated communities in chichi Bel-Air. It stands to reason that many a cosmetic surgeon would set up shop amid these enclaves of the rich and famous.
And they certainly have, and continue to do so. Today, changes in reimbursement patterns are forcing many a doctor to throw their hat into the elective, fee-for-service ring, and where better to do so than West LA?
But at least one cosmetic surgeon—Mark Youssef, MD, surgeon and founder of YOUnique Cosmetic Surgery and Medical Spa in Santa Monica, California—isn't worried.
"There are more than 300 cosmetic and plastic surgeons in my vicinity. There aren't even half that many Starbucks," Youssef says.
Despite the market saturation, Youssef has managed to survive and thrive in West LA largely by doing what he loves. "Find something you like to do, and do it very well. This is the best way to protect your practice from competition and economic downturn," he says.
"If you have a good reputation and good skills, you shouldn't be intimidated by people entering the market." Yes, an influx of new doctors offering deals and steals on cosmetic procedures may make things a bit harder at first, but cream rises to the top. "I don't want physicians to start to compete on price, because that commoditizes cosmetic surgery. When that happens, no one benefits," he says. "Cosmetic surgery is an art, not a commodity."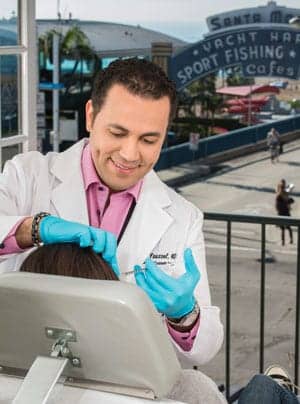 And it's an art that Youssef has mastered, but another reason for his success is his bedside manner. Youssef is all about five-star service, which always includes a parting gift for his patients (a plush, monogrammed robe or an eyelid cream and eyelash growth serum, depending on the nature of the procedure).
This royal treatment keeps patients coming back. "What's the difference between the coffee you get at the gas station and the coffee you get at Starbucks? It's the experience! It's the barista that remembers your name and how you like your coffee, and asks how your daughter did at her piano recital," he says.
"That's what my practice is doing with cosmetic surgery. Our patients will remember how they felt, especially how they were treated during their recovery," he says. "We all work together to make patients feel as comfortable as possible," he says of his staff of 14.
Richmond, Virginia-based facial cosmetic surgeon Joseph Niamtu III, DMD, agrees that passion and teamwork are the keys to success for aesthetic surgeons. "They must have a passion for what they do. Their vocation is their avocation, and they must have an exceptional cosmetic team at their office in hot pursuit of excellence," he says.
Making the Switch
Bonding with patients comes easy for Youssef, who began his medical career as an obstetrician/gynecologist, allowing him access to women during one of the most exciting times of their life—pregnancy. "I really enjoyed working with women and healthy people, but I wanted to use the creative and artistic side of my brain to treat patients who want to change or sculpt parts of their body."
And while he does do face work, Youssef is still very much a body man. Mommy makeovers, buttock augmentation, breast enhancement, and labiaplasty are among the procedures that he super-specializes in—all of which dovetail rather neatly with his ob-gyn background.
Youssef switched specialties by submitting 200 cases to the American Board of Cosmetic Surgery and sitting for a written exam—the experience route.* Fellowship programs are also available for doctors who want to specialize in cosmetic medicine (see "Raising the Bar").
"Because of my double certification, I'm able to really know the pelvic anatomy, which is why we are known for labiaplasty and buttock augmentation procedures," Youssef says. And these down-there procedures have become increasingly popular in recent years. Labiaplasty procedures increased by 44% during 2013, and buttock augmentation procedures increased by 58%, according to statistics compiled by the American Society for Aesthetic Plastic Surgery.
Some industry watchers cite the proliferation of pornography on the Internet as the fuel behind the growing labiaplasty demand, but Youssef credits greater awareness of options as well as a lessening taboo for its rise in popularity.
With many celebs like J Lo, Nicki Minaj, and Kim Kardashian flaunting their larger and more curvaceous backsides, there is no denying the influence of pop culture on buttock augmentation, he says.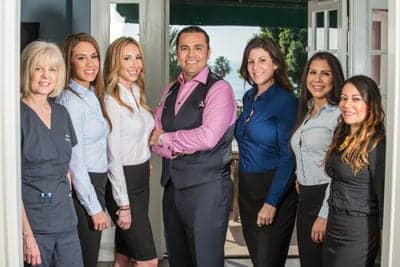 DR 90401
Youssef has had growing numbers of women show up with photos of Kim Kardashian and her backside (including the provocative Paper magazine cover photo). There are two main ways of enhancing the buttock region: fat grafting or implants. "If someone wants a moderate change, I recommend one to two sessions of fat grafting," he says. "Implants have more risks, and the buttock area is one of my least favorite places to place an incision."
Given the demographics of his patient population, Youssef also sees his share of patients who have unrealistic expectations or desires—many of which are driven by Hollywood's perception of perfection. "There are women who are 6 feet tall and weigh 98 pounds, and think they are fat because they have body dysmorphic disorder," he says.
These patients are typically looking for an external fix for an internal problem. "Even if you do liposuction and they are slightly thinner, they will still feel fat and never be happy because their problem is psychological. This will end up creating animosity in the doctor-patient relationship.
He often says no to such prospective patients. "I say, 'I'm sorry; I don't feel comfortable doing that,' and sometimes they get upset."
Will there always be another cosmetic surgeon who is willing to take these patients on? Absolutely, he says. "At least I can sleep at night."
And this integrity is yet another quality that sets Youssef apart from those who plan to dabble in aesthetics.
Denise Mann is the editor of Plastic Surgery Practice. She can be reached at dmann@allied360.com.