By Kamakshi R. Zeidler, MD
A defined neckline is a feature that many people agree is a sign of beauty and youth. There are many interventions available to address this area of the body, but as far as currently available options go, a gap exists between plastic surgery and non-invasive procedures. The Nuvellus Focal Contouring System, incorporating the Rotational Fractional Resection (RFR) technology in development by Recros Medica Inc, may fill that gap. The investigational RFR procedure hits a sweet spot: it achieves the type of results associated with a focused combination of liposuction and surgical skin excision in a single treatment and does it in a way that affords patients maximal outcomes with minimal downtime.
RFR uses 1.5 mm cylindrical rotating scalpels, called scalpets, to resect lax skin in combination with small cannulas to perform focal lipectomy. Essentially, tiny holes are created in the skin and those holes contract as they heal, resulting in significant contracture and tightening of the skin. Closure of the resected sites is enhanced by using an elastic adhesive membrane to assure rapid healing and the desired focal contouring effect. The procedure can be performed in-office using local anesthesia.
This procedure offers an alternative to the traditional surgical approach of liposuction combined with facelift and the more recent treatments for reducing adipocyte density, such as injectable chemical lipolytic agents or cryolipolysis. RFR was invented by Edward Knowlton, MD, a board-certified plastic surgeon whose earlier inventions (Thermage, Viveve) helped shape modern medical aesthetics. It is not a coincidence that it took a plastic surgeon to connect the appropriate dots that ultimately conceived of the concept of RFR. As a surgeon, he understands that removing skin is the only real way to get skin tightening. RFR provides a way to remove skin in a completely unique way, but with results that better match traditional surgical resection.
CONFORM Clinical Trial
As a clinical investigator in the CONFORM: Rotational Fractional Resection for Submental Contouring study, I have had the opportunity to lead a team of doctors and see our patients achieve remarkable results. This ongoing prospective, multi-center, non-randomized study was designed to investigate the efficacy and safety of RFR in patients with mild-to-moderate submental fat and mild-to-moderate submental skin laxity. When 31 patients were evaluated 30 days out, 84% of subjects were satisfied with their neck and jawline appearance and 97% of subjects were likely to recommend the procedure to others. The majority of subjects had at least a 1-grade improvement in investigator-evaluated skin laxity and lipodystrophy scales at the 30-day follow-up visit, there was minimal procedural and post-procedural pain, no visible scarring in 94% of subjects, and no severe skin-related adverse effects.
The patients who see the most effect from RFR are those who have fatty tissue with a lot of skin laxity right in the midline region of the neck under the chin; these are patients who have an obtuse angle rather than an acute angle in the neck from the side view. (Figure 1) Patients who have diffuse fullness are better suited to techniques more focused on fat removal.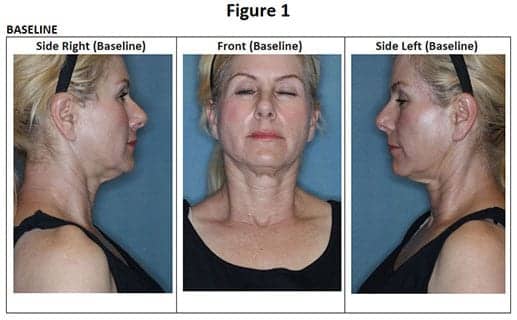 While I have been impressed with the results, my patients have been even more wowed, which ultimately is the aim of a procedure such as this. Among our patients who have undergone RFR, the angle that is created and the definition of the central portion of the neck is extraordinary. (Figure 2) These patients look at photographs of themselves and say they love the contour of their neck from both the side and frontal views. We had a set of identical twins interested in participating in the trial and one was excluded because she did not fulfill the trial's strict inclusion criteria. The twin who was excluded was extremely disappointed about being left out after seeing her sister's great results.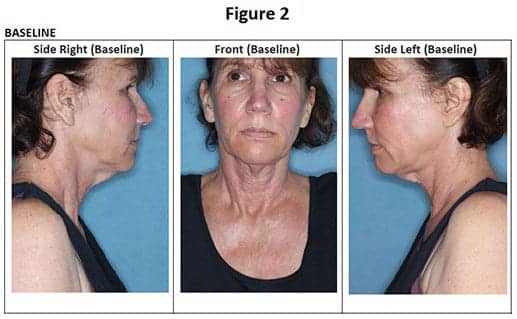 Seamless Integration
As a plastic surgeon who participates in a lot of clinical research on new devices and technologies, I am very selective about what I bring to my patients. Likewise, as the managing partner of a fully integrated plastic surgery and dermatology practice, I am very thoughtful about how new technology fits into the full complement of invasive and noninvasive procedures to treat the neck. After seeing the preliminary results that these early RFR procedures achieved, it reinforces our decision to offer RFR through the CONFORM trial. It is refreshing to work with a company whose technology was developed by a practitioner who really thinks the way that I do. Dr Knowlton understands the importance of skin resection in providing an improved contour to the neckline. A lot of the new technologies that have recently been introduced use heat and radiofrequency to create tightening, and in my view that kind of tightening is not comparable to the result that you get from skin excision.
The Nuvellus Focal Contouring System will comprise an integrated console, a reusable surgical handpiece, and consumable attachments, including the single scalpet for minor resections, scar revision and tattoo removal; the multi-scalpet array, for treatment of larger areas of skin laxity; and the focal lipectomy cannula for targeted fat extraction in small focal areas. Given the excellent results that we have seen so far with RFR for submental contouring, (Figure 3) I foresee this technology having the potential to integrate into our practice. I suspect that RFR will also act as a gateway procedure that attracts new patients who then become repeat clients as a result of their positive submental contouring experience. My ultimate hope is to see an expanded clinical trial to address other problem areas on the body where skin laxity can be addressed in a minimally invasive way. This could provide an alternative to invasive brachiaplasty and thighplasty for tightening the arms and the thighs, respectively.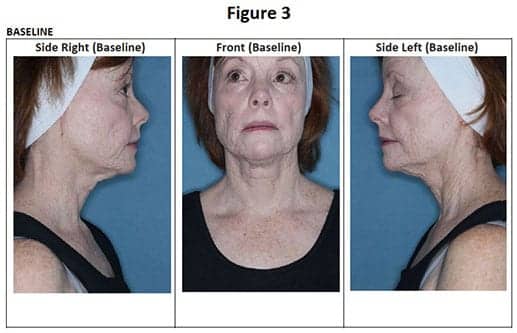 Kamakshi R. Zeidler, MD, is the co-founder and managing partner of Aesthetx, in Silicon Valley, Northern California. She also is a clinical investigator for Recros Medica Inc.