Last year, Babak Azizzadeh, MD, FACS, increased his visibility on the national stage by landing a guest spot on The Oprah Winfrey Show. He had been invited to appear for a segment about his patient, Mary Jo Buttafuoco, who garnered headlines in 1991 as the victim of a visage-shattering gunshot wound inflicted by her adulterous husband's jealous teenage paramour, Amy Fisher—the so-called "Long Island Lolita."
Buttafuoco became an Azizzadeh patient following an Oprah appearance of her own in 2005. During that episode, Buttafuoco discussed the facial paralysis and ear damage she suffered as a consequence of the attempt on her life 14 years earlier.
She told Oprah how painfully self-conscious she felt about having a face gone askew and rendered incapable of achieving so much as a hint of a smile. Azizzadeh subsequently became aware of Buttafuoco's plight and felt confident that he could help her.
PRACTICE PROFILE
Name: Babak Azizzadeh, MD, FACS
Location: Beverly Hills, Calif
Specialty:Facial plastic and reconstructive surgery
Years in practice: 5
Number of patients per office day: 25
Number of new patients per year: 600
Days worked per week: 5
Days surgery performed per week: 3
Number of employees in practice: 12
Office square footage: 3,000
Buttafuoco accepted Azizzadeh's offer of services on the strength of his expertise and reputation in the field of facial reanimation. He then assembled a surgical team and planned a complex reconstructive procedure.
"The bullet traveled through the temporal bone in Mary Jo's face, which partially severed the nerve that allows facial expression on the right side of her face," Azizzadeh remembers telling Oprah's viewers. "So, our first step was to perform an asymmetric facelift to restore Mary Jo's smile and even out her face.
"Next would be a surgery to widen her ear canal to improve her hearing and prevent infections. We also arranged for Mary Jo to undergo physical therapy to strengthen her facial muscles."
Months after the surgery, Buttafuoco was brought back onto the Oprah set to discuss the intricate reanimation wonders performed by Azizzadeh and his colleagues. Asked by Oprah how she felt about her new looks and newly functional face, a radiant Buttafuoco smiled broadly and replied, "I love the results." Judging by the applause, so did the studio audience.
Hybrid Approach
Azizzadeh is cofounder of Alpha Surgical Group, a five-physician aesthetic and reconstructive plastic surgery and otolaryngology practice in Beverly Hills, Calif. The highly collaborative team formed in 2003, and in 4 short years since then it has built an enviable reputation for delivering talk-of-the-town outcomes.
"Facial rejuvenation, rhinoplasty, and facial reconstruction—including treatment of facial paralysis—are the three major facets of my work," says Azizzadeh, who also is director of the Center for Facial and Nasal Plastic Surgery in Los Angeles.
Something that Azizzadeh believes has gone largely missing from facial paralysis treatment is recognition of the need to take a balanced approach. "In the past, facial paralysis has been addressed from the standpoint of either aesthetic surgery exclusively or reconstructive surgery exclusively," he says. "Both of those are valid strategies, but by themselves they are inadequate.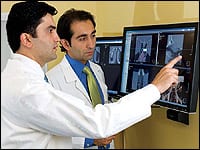 Azizzadeh and practice partner Babak Larian, MD, FACS, discuss the CAT scan of a patient who will undergo a rhinoplasty by Azizzadeh and sinus surgery by Larian.
"Taking only the cosmetic surgery approach does not give a good functional outcome, while taking only the reconstructive approach does not give a good cosmetic outcome. What works best is a blending of the two approaches: a hybrid approach. That's what I do with every type of procedure in my own practice—not just facial paralysis. I'm continually investigating new and better ways of combining cosmetic facial rejuvenation techniques with reconstructive techniques to deliver ideal ultimate results."
Azizzadeh—a prolific researcher and an assistant clinical professor of surgery in the Division of Head and Neck Surgery at UCLA's David Geffen School of Medicine—asserts that facial rejuvenation represents the most exciting facet of aesthetic plastic surgery. Just consider the scope of the armamentarium: noninvasive lasers and superior-performing injectables and fat-grafting techniques, to mention but a few.
"Volume restoration—I think this is probably the most important idea to take hold and grow in popularity over the past 5 years," he says, "because we now realize that aging is not just sagging skin but volume deflation."
Accordingly, Azizzadeh professes fondness for fat grafting, endoscopic mid-facelifts, and judicious eyelid rejuvenation, "basically any procedure that promises a swift recovery and ideal results. The short-flap rhytidectomy is one such technique I like because of its shorter procedure time, reduced risk of facial nerve injury, shorter postoperative recovery time, and less bruising.
"It's also appreciated by my patients, many of them being high-profile, super-busy professionals who simply cannot afford the conventional facelift's 3 or 4 weeks of postoperative downtime."
With every facial surgery procedure Azizzadeh performs, the critical objective is to "make patients look naturally refreshed without it being apparent that they've had any work done at all," he says.
Ever open to innovative technologies and techniques, Azizzadeh is an early adopter—but not so early that he gets out ahead of the substantiating scientific evidence. "I seek to develop as full a knowledge as possible about that new piece of equipment or new approach to treatment so that I can make an informed judgment as to whether it is both safe and beneficial for the patient," he says.
Decidedly Upscale Office
Azizzadeh works from a 3,000-square-foot office suite on the second floor of a sleek, low-rise building along Wilshire Boulevard, the main east–west artery that runs through the heart of Beverly Hills and terminates at the Pacific Ocean. Azizzadeh shares this space with his Alpha Surgery Group practice partners.
"You find two different types of plastic surgery offices these days," he observes. "One is in the classic medical style, which is somewhat compact and closed in. The other type of office is more of an elegant place with an airy feel and relaxed atmosphere.
"However, I think a problem for plastic surgery offices right now is that they're moving too far beyond elegant, airy, and relaxed. They're becoming too much like salons. Nothing against salons, but the problem with an office that looks like one is, I believe, that it lowers the level of seriousness of that office. You want patients to come in and feel that your office is a place where sophisticated medical services are provided."
The shell of Alpha Surgery Group's decidedly upscale office was brought to life by a professional interior design team. The designers specified abundant open spaces, oversized windows, and generous use of light pastel color schemes.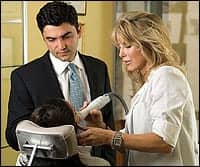 Azizzadeh observes as a patient receives a fractional laser resurfacing treatment from nurse Tracie Souve.
Azizzadeh recalls, "The challenge for the design team was to come up with a look for our office that would help patients feel comfortable and at ease, yet, at the same time, signal that this is the home of serious care. I think the team did an excellent job of meeting those two requirements. They've given us an office that perfectly blends the classical medical approach with elegance."
Gravitas is further signaled by the presence of a laser system, a computed tomography imaging scanner, and other high-tech medical equipment throughout the office.
Many of the surgeries, meanwhile, take place at a 5,000-square-foot ambulatory center a few blocks from the office; the remainder occur at nearby hospitals—chiefly Cedars-Sinai Medical Center, where Azizzadeh serves on the craniofacial team and in that institution's Head and Neck Cancer Center.
Azizzadeh is one of three managing partners of the ambulatory facility, which lists 23 physician investor–owners in total. "One of the strengths of this center is that the physician partners represent the finest Beverly Hills has to offer in their respective fields," he says. "They're top-of-the-line doctors—and we all, in effect, act as extensions of one another's practices.
"The facility is geared to accommodate plastic surgery procedures, but it's also designed for the kinds of cases our multispecialty partners bring in. The center offers two full operating rooms, and we're at present adding a pair of procedure rooms."
Found among the equipment inventory are a state-of-the-art surgical microscope that Azizzadeh uses routinely for nerve transplants in his facial paralysis patients and a computerized image-guided navigation system to permit greater precision in facial reconstruction work.
Logical Moves
Beverly Hills was the logical place for Azizzadeh to practice: He grew up there, and so he knew the town and and its residents well. A career in medicine was logical, too.
"I loved science, and I loved helping people," Azizzadeh says. "Medicine just seemed like the natural path for me to take in order to satisfy both my loves." He credits a childhood injury with pointing him in the direction of plastic surgery. "I took a fall and sustained a major nasal fracture," he remembers. "My nose was crooked from then on.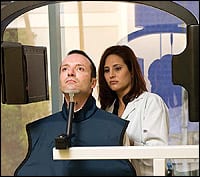 Medical assistant Angie Garcia performs a CAT scan on a patient for facial volume analysis.
"It stayed that way until I was in medical school, when I decided to have a rhinoplasty. The whole process of that rhinoplasty was exciting, and it's what convinced me to make head and neck surgery my area of specialization. That eventually brought me to facial plastic and reconstructive surgery."
Azizzadeh—who graduated summa cum laude in 1992 from UCLA with a degree in microbiology and molecular genetics—received his MD from the same university in 1996, where he also performed general surgery and otolaryngology–head and neck surgery training. In 2003, he completed facial plastic and reconstructive surgery training at Harvard Medical School.
With his clinical preparation behind him, Azizzadeh went on to gain certification from the American Board of Facial Plastic and Reconstructive Surgery and the American Board of Otolaryngology. For a time, he contemplated having a university-based tertiary plastic surgery practice that would be dominated by revision work and facial paralysis cases referred from other physicians.
"But what I discovered was that most of the academic programs would not allow me to grow my practice the way I wanted. So I decided instead to create a private practice that would be affiliated with—rather than based at—a university.
"That's why Beverly Hills worked out perfectly for me. It put me in the mecca of plastic surgery and right next door to UCLA and Cedars-Sinai Medical Center, allowing me to in effect have that tertiary practice, but also at the same time to have a conventional aesthetic plastic surgery office."
However, Azizzadeh did not begin his career as a solo practitioner. Instead, his debut came in partnership with Babak Larian, MD, FACS, a head and neck oncologist alongside whom Azizzadeh trained during residency. The third member of the group was voice-disorders specialist David Alessi, MD, FACS.
"We were a synergistic practice, but after the first year, it became clear that we needed to add subspecialists who could round out our group's capabilities," Azizza­deh says. "At this point, we decided to form Alpha Surgery Group with top-of-the-line surgeons in the various subspecialties of plastic surgery." Invited aboard were body-contouring and lower-extremity plastic surgery specialist Lance Wyatt, MD, and reconstructive ophthalmologist and oculoplastic surgeon Kami Parsa, MD.
Now Showing
Azizzadeh believes practices grow most vigorously when physicians and staff become fluent in the three A's of plastic surgery: ability, affability, and availability.
"If you can be excellent in the three A's, it will make a huge impact on both your physician referrals and patient word-of-mouth referrals," he contends.
Marketing is also important for practice growth. In Azizzadeh's practice, the most helpful outreaches have included his televised appearances on the Discovery Health Channel's reality series Plastic Surgery: Before and After. An interesting Azizzadeh case presented on that show involved a 22-year-old mortgage banker by the name of Grant Huang.
Huang, who is of Asian descent, believed his very pronounced Asian facial features hobbled him in business relationships. His stated hope was that Azizzadeh could surgically alter these attributes.
Azizzzadeh uses an injectable for nonsurgical facial rejuvenation.
"I proposed to Grant that we soften his appearance by creating for him a second fold in each eyelid. A misconception is that all Asians have a single-fold eyelid. Actually, only about 50% of the Asian population has a single fold. The remainder has a double-fold eyelid, very similar to the Caucasian eye.
"I told Grant that with subtle surgical enhancement it would be possible to make his eyes—which are the same size as anyone else's—look bigger and less narrow without making him look less Asian."
The double-eyelid blepharoplasty procedure entailed removal of underlying tissue and creating a surgical scar. It was performed with Huang only partially sedated—this so Azizzadeh could check for proper functioning and appearance of the new folds by having Huang open and shut each completed eye on command.
Performed under general anesthesia were two additional procedures Azizzadeh had recommended to balance the overall appearance of Huang's face—a rhinoplasty and a chin implant. "The rhinoplasty involved resculpting the tip of Grant's nose, removing excess cartilage to straighten his bridge, and then breaking the nasal bone to allow for narrowing of the bridge.
"Overall, we were very successful at giving Grant a much more elegant-looking face. I'm particularly pleased about the nice symmetry we were able to achieve."
Huang was pleased as well. Weeks later, the video crew caught up with Huang, who said of the results, "I've got a brighter look to my eyes, more energetic… I'm very happy with everything; it's complementing each other, and it's very subtle."
The Huang case smartly showcased how Azizzadeh blends aesthetic and reconstructive techniques to achieve remarkable outcomes. He has a compelling story to tell, and—thanks to appearances on the Discovery Health Channel, on Oprah, and in many widely read newspapers and magazines—all the world is now paying close attention.
Rich Smith is a contributing writer for  Plastic Surgery Products. For additional information, please contact [email protected].
…and in His Spare Time
Many plastic surgeons find it difficult to stop being physicians when they leave the office at the end of the day or the start of the weekend.
Babak Azizzadeh, MD, FACS, is no exception. But he wants it that way. The reason is that he is active in several humanitarian organizations, and his medical services are part of what he contributes.
The organization that receives Azizzadeh's greatest support is Medical Missions for Children. He functions as the West Coast coordinator for this group's nine or so trips each year to the developing countries of Eastern Europe, Africa, Asia, and Central and South America, where teams of physicians representing many fields conduct free craniofacial surgery.
Azizzadeh raises funds for these trips and annually participates in a few of them himself. "I usually accompany the teams to Ecuador and El Salvador," he says. "Importantly, our teams always visit the same places so that there is a continuity of care for those we help."
In addition to Medical Missions for Children, Azizzadeh also contributes time, talent, and treasure in support of the ROSE Fund, a national nonprofit organization aimed at helping women who have been the victims of domestic violence regain their self-esteem through services that can include no-cost reconstructive plastic surgery. He also is busy with the American Academy of Facial Plastic and Reconstructive Surgery's Face to Face project (similar to the ROSE Fund) and with the Los Angeles Free Clinic.
It was only late last year that Master Techniques in Facial Rejuvenation, a textbook authored by Azizzadeh, hit print— and now he's preparing to write another. "I was hoping to take 5 years off between books, but it looks like I'm going to be starting in on the next one much sooner than planned," he says, noting that the previous effort dealt with facial-rejuvenation techniques, whereas the upcoming book will address rhinoplasty in a manner that complements the earlier tome.
But all work and no play makes for dullness, and Azizzadeh takes care to invest a certain amount of his energy in enjoyable pursuits. Come winter and early spring, for instance, Azizzadeh frequently can be found spending his free time on snow-covered mountainsides with a pair of skis strapped to his feet.
"My favorite place to ski is Vail, but I also like Mammoth here in California and Whistler in British Columbia." Azizzadeh prefers to whoosh and schuss the advanced courses of those slopes, but he studiously avoids freestyle stunt maneuvers such as 360s, corkscrews, helicopters, half-cab mute grabs, and Zudnicks. "I just do normal skiing. I want to reach the bottom without breaking any bones. That's also why I stay away from snowboarding. Everyone I know who snowboards ends up breaking a wrist or something else."
Usually cheering Azizzadeh on as he winds his way down the mountain are his wife and two young children—a daughter, 4, and a son, 1.
—RS