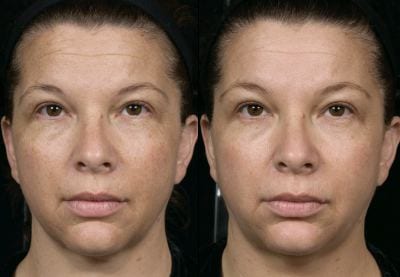 Clear + Brilliant® with SkinCeuticals CE Ferulic treatment, 1 week post six treatments. SOLTA MEDICAL
A PSP exclusive
While the last decade focused on injectables and aesthetic energy devices to provide patients with a rejuvenated appearance, the next decade promises to be the decade of combination therapies. This includes mixing and matching fillers, aesthetic energy devices, and topical regimens, especially those regimens that offer gentler, effective treatments with minimal downtime and recovery.
Older and increasingly younger patients seek out in-office laser treatments because they want to improve the look, feel, and tone of their skin and prevent the visible signs of aging, including fine lines and wrinkles. They also want to enhance and extend the results of their in-office treatment with an at-home skin care regimen.
This is where Solta Medical's Clear + Brilliant ® Laser System with SkinCeuticals' CE Ferulic ® come in.
Solta Medical and SkinCeuticals have joined forces to explore the synergistic effects of professional and home-use topical skin care products after fractional laser procedures. As lead researcher on this clinical study, I was intrigued by the opportunity to assess not only the effectiveness of this combined approach to treatment, but also the effect that it would have on patient satisfaction and compliance given the growing demand for fractional resurfacing treatments.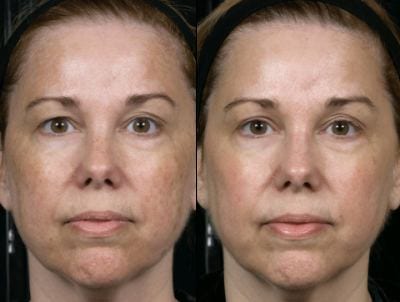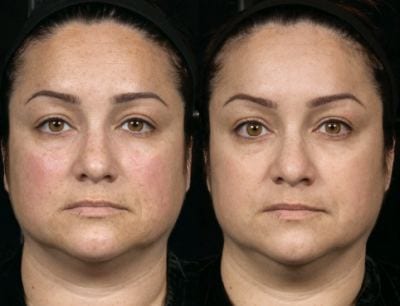 Clear + Brilliant ® Laser System with CE Ferulic improves results, minimizes downtime.
We used the Clear + Brilliant Fractional Laser System with an in-office and at-home regimen of SkinCeuticals CE Ferulic. Our study included 18 patients who received forearm treatment patches and 40 patients who received a series of six facial treatments with the Clear + Brilliant Laser System at pulse energy 5 mJ and 5% to 10% treatment coverage. The facial patients were split into two groups: laser alone and laser followed by the use of CE Ferulic. Fourteen days after treatment, forearm samples were histologically evaluated. Facial clinical efficacy was evaluated at 1 week, 1 month, and 3 months after the final laser treatment. A team of researchers rated improvements in fine lines, skin texture dyschromia, and overall appearance using a quartile improvement scale ranging from 0 to 4 (0 = none, 1 = minor/mild, 2 = moderate, 3 = marked, and 4 = very significant).
Our data suggest that a complementary approach will significantly reduce the duration and recovery time of post-treatment reactions, such as redness, dryness, peeling, and flaking, when compared with fractional treatments alone. In fact, the average duration of side effects in the laser plus topical group resolved 2 days earlier (by day 5) than the laser alone group (by day 7). This is an important finding for patients who want the benefits of a fractional laser treatment without the typical downtime associated with these treatments.
During the study, side effects including redness, swelling, and heat sensation for up to 7 days after treatment. We scored side effects using a 0 to 3 severity scale (0 = none, 1 = mild, 2 = moderate, 3 = marked). In both groups, 90% reported redness on day 1, 68% reported swelling, and 60% reported heat sensation. During this time, none of the patients reported any unanticipated or adverse events.
Overall, results demonstrated improvement in the signs of aging, including fine lines, firmness, and elasticity. Specifically, patients participating in the forearm histology showed complete healing at 1 day. Both treatments produced an outward migration of pigment with sustained pigment removal at 14 days post-treatment. The laser plus topical showed comparatively decreased inflammation and increased pigment removal. When looking at the facial results, we saw mild to moderate improvement in all benefit areas assessed, including fine lines, skin texture, dyschromia, and overall appearance when treated with both regimens. Patients who were treated with the laser followed by CE Ferulic also perceived a 29% reduction in recovery time, including redness, swelling, and heat sensation.
These findings were initially presented at the American Society for Laser Medicine and Surgery (ASLMS) 32nd Annual Conference.
The research helps us understand the benefits of combining laser therapy with a professional and at-home skin care regimen. We now have data to support our recommendations about best practices for patients to receive optimal outcomes and can feel confident that our approach is grounded in solid science.
---
Roy G. Geronemus, MD, is the director of the Laser & Skin Surgery Center of New York. He, graduated from Harvard University and got his medical degree at the University of Miami School of Medicine. Geronemus trained in dermatology at the New York University Medical Center. He is a clinical professor of dermatology at New York University Medical Center, and the director of the Skin/Laser Division in the Department of Plastic Surgery at the New York Eye & Ear Infirmary. He can be reached at [email protected].