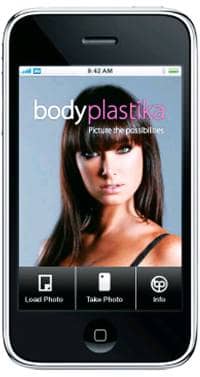 Body Plastika–Picture the Possibilities
Apps rule the world of smartphones, and the world of plastic surgery has certainly taken notice and jumped on this trend. The airwaves are chock full of smartphone apps from many surgeons and organizations that want to inform patients and potential patients about their aesthetic services and procedures.
Apps that are available for physicians may feature practice information, photo galleries, YouTube videos, and customization to achieve the look and feel of their practices' Web sites.
Most of the apps designed for consumers range from free to $1.99 to download to an iPhone, iPod Touch, or iPad, but some tools designed for surgeons may run into the hundreds of dollars. If your intent is to get rich from developing your own app, think twice. The upfront costs start at $20,000 to work with a developer, and Apple Computer Inc—the manufacturer of the iPhone, iPod, and iPad—takes a chunk of the download fees.
"Apps are the thing that is driving smartphones right now," says mobile app expert Simon Buckingham, CEO of Appitalism.com, a digital app superstore. "Every iPhone user downloads an average of 120 apps."
A simple search on Appitalism.com for cosmetic surgery reveals 279 entries, although many of those archived on the site seem a little redundant. Buckingham cautions that if an app contains imagery of nude body parts or the word "breasts" prominently displayed, it can be marked as spam or porn in some directories.
All of the apps intended for consumer use arrive with big disclaimers stating that they are not intended for guidance in medical procedures and that users should consult a physician.
This growing category of apps gives prospective aesthetic patients a lot of information. One might argue that some of these apps give patients too much information, such as the ability to digitally morph photos of their faces and bodies into a desired state of perfection that may not be physically possible even using a scalpel or syringe.
Now, in no particular order …
THE APPS LIST
Dr Shafer's Medical Tourism
*Free*Considered the pioneer in the plastic surgery app market, New York City-based plastic surgeon David Shafer, MD, was the first in this field to develop an app, Dr Shafer Plastic Surgery FAQs. It focuses on information for plastic surgery patients.
Shafer created the app for the high-tech information-seeking patient. It contains a dictionary and encyclopedia.
Shafer's app has grown to contain more than 1,000 frequently asked questions about plastic surgery, and if users don't see what they are looking for in the app then they can ask him to add the new information.
Shafer's latest app, Dr Shafer's Medical Tourism, is for patients who are interested in traveling to New York City for surgery. The app features frequently asked questions on plastic surgery procedures; animations of common surgical procedures; information on hotel accommodations; flight tracking; as well as links to medical associations, area hospitals, and major attractions in New York City.
The iSurgeon Game *$0.99 (lite version); $1.99 (pro version)*
Developed by Miami-based plastic surgeon Michael Salzhauer, MD, The iSurgeon Game allows users to modify their photos to see what cosmetic surgery results might look like. Created by the physician author of the controversial children's book My Beautiful Mommy, The iSurgeon Game's game lets users play doctor and perform surgeries, with the goal of emulating a certain result, accompanied by realistic sound effects.
BuildMyBod *Free*
Basically a database of potential surgeons, plans, and procedure costs, this app was created by Baton Rouge, La-based plastic surgeon Jonathan Kaplan, MD, MPH. It is intended for use by candidates for cosmetic and plastic surgery to acquire a wide range of practice-specific information. Cosmetic surgeons can subscribe to the BuildMyBod database and upload their practice data for consumers to review. Users can search by ZIP code for lists of area surgeons, procedure details, and pricing information.
Thin Me *Free*
Reportedly the first free iPhone app for those interested in significant weight loss, Thin Me was created by New Jersey-based bariatric surgeon Michael Jay Nusbaum, MD, FACS. The app allows users to learn about different weight-loss options for obesity treatment, as well as preview how their bodies might look after surgery or treatment using a sculpting tool. Thin Me shows users what results to expect with the help of before-and-after photos of other patients.
ModYourBod–Your Dream Figure at Your Fingertips *Free*
Developed by Navin Singh, MD, FACS, of Ivy Plastic Surgery Associates in Washington, DC, this is an interactive iPhone app that lets users upload a photo of themselves and make adjustments to see potential results of aesthetic surgery. The app then walks the user through the entire process and lets him or her schedule a consultation with the surgeons at Ivy Plastic Surgery Associates.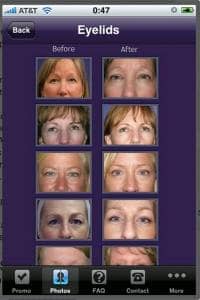 Plastic Surgery Simplified
Lift/Tuck *Free*
Developed by Beverly Hills plastic surgeon Garo Kassabian, MD, FACS, Lift/Tuck is designed to allow users to adjust the appearance of their face and body with a swipe of the finger. The app provides users with information about aesthetic procedures, as well as beauty and skin care tips.
Body Plastika–Picture the Possibilities *$1.99*
This app has a sophisticated twist: areas on the face and body can be molded to simulate liposuction, and images can be shared via e-mail, Facebook, or Twitter. The user uploads a photo and then selects to grow, shrink, or push certain features in order to see potential postsurgery results. For the face, the app can mold the nose, cheek, chin, jaw line, or lips. To simulate the effects of liposuction, the app lets users mold the neck, upper arms, chest, stomach, love handles, back, thighs, calves, and ankles.
Cosmetic Surgery Guide *$1.38*
This app specializes in giving an overview of body and facial plastic surgery procedures as well as tips to help users select a surgeon. Chapter topics include cheeks, hair transplants, tattoo removal, liposuction, breast surgery, body contouring and implants, weight loss, cellulite, antiaging, and more.
Facial Cosmetic Before and Afters *$0.99*
Created by Dallas-based facial plastic surgeon Samuel Lam, MD, FACS, this app shows before-and-after photos of his own facial plastic surgery patients. The app's videos and photos are taken from his Web site.
Cosmetic Facial and Rhinoplasty Surgery with Dr Philip Solomon *Free*
This app features information about particular procedures and before-and-after photos of real surgeries, from Toronto-based facial plastic surgeon Dr Philip Solomon. Users can perform "virtual plastic surgery" on their own photos to visualize potential results.
Dr Nassif Rhinoplasty and Cosmetic Surgery *Free*
Developed by Beverly Hills facial plastic surgeon Paul S. Nassif, MD, FACS, this app allows users to directly contact Nassif with questions regarding procedures they are considering. It also allows users to instantly visualize rhinoplasty, chin augmentation, and other cosmetic procedures using their own photos.
Plastic Surgery Simplified by Richard Pavese MD *Free*
Featuring before-and-after photos of surgeries, this app comes from Arizona plastic surgeon Richard Pavese, MD. In addition, the app streamlines the process for sending a photo to Pavese for a consultation.
Dr Philip Miller's Encyclopedia of Rhinoplasty and Cosmetic Plastic Surgery *Free*
This app features more than 100 before-and-after photos from actual facial plastic surgery procedures performed by New York City-based facial plastic surgeon Philip Miller, MD, FACS. It offers a comprehensive "pocket encyclopedia" of plastic surgery terms and a visualization tool that allows the user to see potential surgery results using their own photos.
Dr Man's Age Simulator By ModiFace *$4.99*
A vision into the future becomes a virtual reality with ModiFace's Age Simulator application. Boca Raton, Fla-based plastic surgeon Daniel Man, MD, uses this app to show patients how they will age with all the gory details of sagging, shrinking, and wrinkling. IPhone users can obtain a realistic glimpse into what they may look like in a decade or two (or three).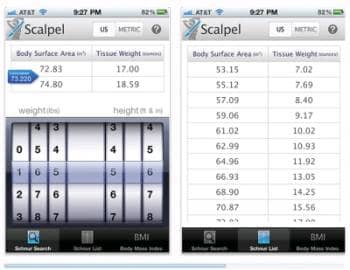 Scalpel's medical calculator for plastic surgeons
MyBreastAug by Sanjay Grover, MD, FACS *Free*
Beverly Hills plastic surgeon Sanjay Grover, MD, FACS, presents this iPhone-based morphing app for breast enhancement. Consumers can take a photo of himself or herself, clothed or in the nude, and simulate their own breast enhancement results within seconds.
PerfecT *$4.99*
This app, from SPATPS LLC, uses the golden ratio to estimate the appropriate size and location of women's breasts that are recommended for their physique. Users can take a picture with the iPhone camera or select it from the iPhone's library, move the lines as explained, and the application will show the ideal area size and position of the breasts. It will also estimate the breast implant volume in cubic centimeters needed to achieve the golden proportions.
Cosmetic Plastic Surgery *Free*
This iPhone app, intended for use by anyone seeking liposuction or other plastic surgery procedures, comes with a powerhouse of information that gives rankings and contact data for multiple surgeons across America. The American Society of Aesthetic Plastic Surgeons launched it.
Scalpel–Plastic Surgery Edition *$9.99*
This is the first and only mobile medical calculator and reference guide designed specifically for plastic surgeons. It is also the only iPhone app that offers the Schnur scale. It allows surgeons to enter patient information in metric or US units.
Arch Facial Plast Surg for Android *Free*
This Android app gives users access to the journal The Archives of Facial Plastic Surgery. It also allows users to see the current issue's abstracts, search for articles, sign up for alerts, and store their username and password for access to the full text of articles.
---
Wendy Lewis is president of Wendy Lewis & Co Ltd, Global Aesthetics Consultancy, author of 11 books, and founder/editor-in-chief of Beautyinthebag.com. She can be reached at .