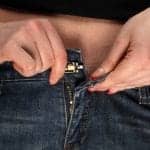 Neothetics Inc is launching an open-label study to evaluate the safety of multiple courses of treatment with its lipo-dissolving shot LIPO-202 (salmeterol xinafoate for injection) for the reduction of tummy bulges or spare tires.
This is a supplemental study that Neothetics expects to submit to the US Food and Drug Administration as part of the company's New Drug Application package for LIPO-202.
The new open-label study, dubbed LIPO-202-CL-22, will consist of three 8-week courses of treatment with LIPO-202 with a 3-month period between treatments in non-obese adult subjects who have central abdominal bulging. Each course of treatment consists of 20 subcutaneous, 1-mL injections of LIPO-202 (0.02 mcg salmeterol xinafoate/mL; total dose of 0.40 mcg salmeterol xinafoate), administered once a week. The study utilizes the same dose of drug to be used in Neothetics' pivotal Phase 3 safety and efficacy trials. Neothetics expects to enroll 150 subjects at multiple centers in the United States.
PSP recently reported that the company is planning to initiate two Phase 3 trials of the Lipo-202 in coming months.