Best Plastic & Cosmetic Surgeons | December 2013 Plastic Surgery Practice
Commitment to Education and Understanding
Christopher J. Saunders, MD, PA, Board-certified plastic surgeon
By Amy Di Leo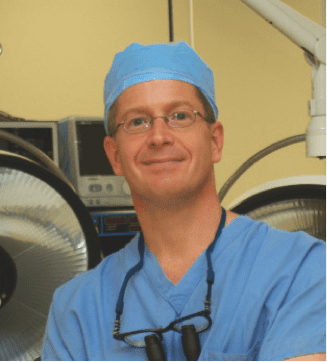 An award-winning doctor with a personal touch, or an award-winning doctor because of his personal touch? If you're talking about Delaware board-certified plastic surgeon Christopher J. Saunders, MD, PA, the answer is probably both.
Giving his patients his personal cell phone number so they can connect with him is one of the simple things Saunders does to provide a positive experience for his patients. That personalized style is what earns him consistent top honors in the "Best Of" survey in
The Delaware News Journal's "Best Plastic Surgeon" poll.
This year, Saunders was also voted "Best Cosmetic Surgeon" by his peers in Delaware Today's "Top Doctor" poll. But perhaps the most telling indication of Saunders' talent, technique, and attentiveness to his patients' needs is the "Readers' Choice Award" that he repeatedly earns (2004, 2005, 2009-2011, 2013) in the "Best Plastic Surgeon" or "Best Cosmetic Surgeon" categories in The Delaware News Journal.
"The awards show how hard I work for my patients," Saunders explains. "I strive to give the top service and best cosmetic surgery to my patients, working extremely closely with them to help them have a successful and very safe experience. My goal is providing the latest techniques with the best cosmetic skills so my patients have a cosmetic result that is wonderful, satisfying, and beautiful," he adds.
Saunders, who is a member of the American Society of Plastic Surgery (ASPS), practices cosmetic surgery exclusively, which is unique to just a small percentage in his specialty. He believes narrowing his area of concentration allows him to provide better care. That expertise encompasses breast surgery, body contouring, and facial procedures.
"My favorite procedure is facial rejuvenation," Saunders shares. "The techniques I use allow for artistic expression of the cosmetic process. Fat grafting has revolutionized many aspects of the surgery." He adds, "I also specialize in breast surgery and body contouring. Working closely with my patient, I am able to help her achieve the body and breasts she has always wanted. The mommy makeover, in particular, gives wonderful and attractive changes to a woman's physique."
Patient education is a big part of Saunders' philosophy. He works tirelessly to dispel patients' false expectations about cosmetic surgery. Saunders says he takes whatever time he needs to conduct thorough consultations with his patients. He's hoping his recently released book, The Tricky Fountain of Youth: Understanding Cosmetic Surgery (CreateSpace Independent Publishing Platform, June 2013), will provide insight and information about cosmetic surgery for anyone considering it.
"This second book underscores my commitment to patient education and providing top-notch care," Saunders explains. "Patients need to understand the truth about what cosmetic surgery can and can't do for them. Many magazines, TV, and other forms of media bombard people with unrealistic and incorrect information about cosmetic surgery. By learning the real truth, people will be happier with their outcomes and the whole experience," he adds.
Saunders' first book, A Woman's Guide to the "Real-Reality" of Cosmetic Surgery, (AuthorHouse, 2006), is an easy-to-read guide about the "real-reality," a term Saunders coined to refer to realistic options, realistic recovery, and realistic results.
With offices in Wilmington and Newark, Del, and a third location in Chadds Ford, Pa, which also houses his state-licensed surgicenter, Saunders has performed more than 30,000 surgical procedures over the course of his career. A lifetime learner himself, Saunders is always researching the latest surgical techniques, honing his craft, and sharing his studies about the field with others.
Studying is an integral part of Saunders' life. He graduated magna cum laude from Duke University with a Bachelor of Science degree. He obtained his medical degree from Jefferson Medical College in Philadelphia, where he graduated cum laude. His surgical training at University of California, Davis Medical Center included a fellowship in minimally invasive surgery.
Though none of his children have followed him to Duke yet, three are currently in college: Lexi at Princeton, Margie at Stanford, and David at the University of Colorado at Boulder. His younger son, James, a fourth grader, lives at home with Saunders and his wife, Alice.
Christopher J. Saunders, MD, PA
Lombardy Center
410 Foulk Rd, Suite 201
Wilmington, DE 19803
(302) 652-3331
and
Brandywine Cosmetic Surgery
1224 Baltimore Pike, Suite 100
Chadds Ford, PA 19317
(610) 459-1559
and
Medical Arts Pavillion 1
Suite 137
Newark, DE 19713
(302) 652-3331