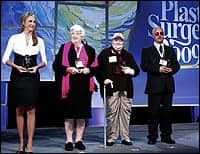 Figure 1. Left to right: Abigail Hardin, Jane Escher, Janet Smith, and Uday Hattem take to the stage at the 2009 ASPS Annual Meeting in Seattle.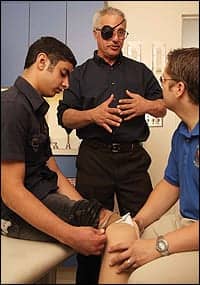 Figure 2. Uday Hattem was injured as he helped US troops during Operation Iraqi Freedom.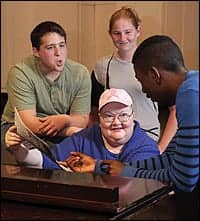 Figure 3. Janet Smith helps children in the music program at her local high school.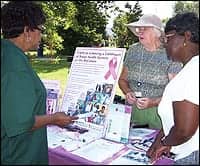 Figure 4. Jane Escher offers hope to those around her, especially young cancer patients.
Though plastic surgery can yield dramatic physical results, some patients undergo powerful emotional or psychological transformations as well. Those changes can be so extraordinary that it makes the plastic surgery process even more fulfilling for the surgeon. In addition, it is fulfilling when such changes compel patients to become community-minded and give back to society.
For the past 7 years, the American Society of Plastic Surgeons (ASPS) has created a venue for its membership to honor patients who have, as the organization claims, "endured numerous reconstructive plastic surgeries and use their experiences, strength, and determination to help others in need."
Recently, the ASPS honored the four newest "Patients of Courage" award winners at a ceremony at its annual national meeting in Seattle in 2009.
The honorees include an injured Iraqi citizen from New York, a port wine stain patient from Mississippi, a breast reconstruction patient from Ohio, and a skin cancer patient from Maryland.
WAR VICTIM
An Iraqi national, Uday Hattem, was injured as he helped US troops during Operation Iraqi Freedom in May 2003. He was shot at close range in the face, neck, and arm by combatants.
Kaveh Alizadeh, MD, FACS, of Long Island Plastic Surgical Group is Hattem's lead surgeon. Alizadeh says Hattem has required 10 operations to date, "to completely rebuild his cheek from scratch," Alizadeh explains. "We created a CT scan-derived 3D model followed by a microsurgical tissue transfer of his fibula to make the cheekbones, and create the eye socket, create and define the nose and palate. We used fat grafts and skin grafts to provide similar color and contour match with the opposite side of his face," he adds.
Alizadeh and Thomas Davenport, MD, who also works at the Garden City, NY-based practice, are performing all of the surgeries pro bono. Alizadeh says Hattem will likely need an additional operation for his eye prosthesis.
Hattem was brought to the United States by the Global Medical Relief Fund (GMRF), an organization that gets medical assistance to children who have been injured in war or natural disasters around the world. Grateful for all he's been given, Hattem gives back to those in need by actively participating in the GMRF efforts to bring Iraqi children—and others who have been injured during war—to the United States.
BEST SELLER
Abigail Hardin is only 19 years old, but she's already an accomplished author and philanthropist. Born with a right cheek capillary vascular malformation-port wine birthmark on her face, Hardin found out at a very young age about the challenges of growing up with a "deformity."
Hardin, from Clinton, Miss, recently published a children's book titled, Look at Me; I Am Just Like You (by Abigail Cole Hardin and Stacie Schneeflock; Pecan Row Press, 2009), about a hippopotamus who has a port wine stain on her cheek. "Lucie" is the subject of peer ridicule and ultimately teaches her classmates to accept and respect other children with facial and functional deformities.
A student at the University of Alabama, Hardin has traveled, reading her book to schoolchildren, giving both teachers and students the opportunity to increase awareness about the self-esteem and emotional issues facing children perceived as "different."
Hardin also started the Open My Eyes Foundation to promote character development in children. A percentage of the sales of her book support the ongoing mission of her foundation.
Over many years, laser treatments ultimately lightened Hardin's birthmark. Her initial three treatments were provided by Robert A. Smith, MD, of Jackson, Mich, when Hardin was 4 years old. Four years later, David W. Low, MD, continued Hardin's treatments at the Children's Hospital of Philadelphia. She then received her final four laser therapy treatments from A. Jay Burns, MD, at Children's Medical Center in Dallas.
The physicians used the Candela pulsed yellow dye laser for Hardin's treatments. In his nomination of Hardin, Low wrote, "At a very young age, she has already made a major impact on helping us all to be more sensitive and accepting of others with physical and functional differences."
CANCER SURVIVORS
Janet Smith's story is unique because of the aggressiveness of her breast cancer.
Smith, of Canton, Ohio, was diagnosed with infiltrating ductal carcinoma of her left breast and underwent a lumpectomy. After chemotherapy and radiation treatments, she developed inflammatory carcinoma invading the skin and lymph nodes. She was given 10 additional cycles of chemotherapy and a poor prognosis.
Smith's physician, Steven Carp, MD, of Carp Cosmetic Surgery Center in Akron, Ohio, says a latissimus dorsi flap was unsuccessful and instead resulted in a massive chest wall wound. "I performed soft-tissue flaps and skin grafts to obtain closure of the chest," he says. "Shortly after, she developed cancer in the opposite breast. Together with her general surgeon, we performed a mastectomy and complex closure of her chest wall wound."
Despite Smith's poor prognosis, her spirits remained high throughout the numerous procedures and therapies, Carp says. He nominated his patient because she has been volunteering her time to help children in her community by volunteering for the music program at her local high school.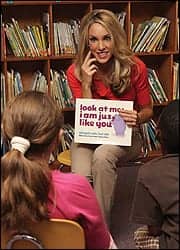 Figure 5. Abigail Hardin is a published author of children's books.
In addition, Smith leads the FACES of Stark County, an agency of parents who have been successful navigating the various systems for children. Carp adds, "no matter the odds, no matter how she felt physically, she would not let this stop her. She has shown courage in the midst of defeat."
Not many 82-year-olds are concerned with missing work, but when Jane Escher, of Easton, Md, was diagnosed with an aggressive basal cell carcinoma on her nose, that was her initial reaction. Escher helps uninsured women get access to life-saving cancer screenings as an outreach nurse for the Shore Regional Breast Center.
Because she had successfully fought skin cancer twice already, Escher offers hope to those around her, especially her young cancer patients, as they are inspired seeing her tackle the difficulties of her cancer battles and reconstructive surgeries.
According to her plastic surgeon, Marwan R. Khalifeh, MD, of Ivy Plastic Surgery Associates of Chevy Chase, Md, this cancer was more widespread than initially believed. After her Mohs surgery, she was left with a large nasal defect that ended up requiring extensive surgery.
"The defect comprised the majority of the external lining of the nose," Khalifeh says. "The classic way to repair these defects is via a forehead flap, which is what I performed. This was performed in three stages. The first stage transferred the flap, the second stage the flap was thinned, and the third stage the pedicle was cut." Escher was back to work a week after her surgery.
STEPPING UP TO THE PLATE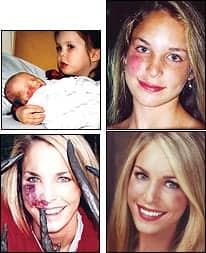 Figure 6. Abigail Hardin shown from infancy through her teenage years. The three physicians who worked with Hardin used the Candela pulsed yellow dye laser for treatments to remove her port wine stain.
"Patients of Courage: Triumph Over Adversity" is a program of the ASPS, the largest organization of board-certified plastic surgeons in the world. It is supported by Ethicon Inc, a Johnson & Johnson company, which donates $5,000 on behalf of each of the honorees to four nonprofit organizations providing reconstructive plastic surgery services to people in need.
Meantime, the Academy of Facial Plastic and Reconstructive Surgery (AAFPRS) has recently established a foundation to offer pro bono surgical care for soldiers fighting in Iraq and Afghanistan. The brainchild of AAFPRS President Donn Chatham, MD, a Louisville, Ky-based facial plastic surgeon, the "Faces of Honor" program is intended to aid war veterans injured in the line of duty by offering free surgical care.
"We designed 'Faces of Honor' to show our unwavering support for those who protect America and other countries against terrorism threats," Chatham says. "Our sons, daughters, husbands, and wives are fighting selflessly on this front, and they have inspired us to take action. We aim to work alongside VA [Veterans Administration] caregivers whenever possible, but sometimes veterans may be geographically removed from specialty surgical care."
With 20% of the survivable injuries suffered in the Iraq and Afghanistan conflicts involving the face and neck, the program is intended to complement existing medical care provided by the VA and other military facilities, Chatham says.
More than 200 AAFPRS member surgeons from across the country have signed on to provide their services for "Faces of Honor."
---
Amy Di Leo is a contributing writer for  PSP. She can be reached at plasticsurgery@allied360.com.