Kentucky facial plastic surgeon Donn R. Chatham, MD, gives back | Plastic Surgery Practice June 2014
By Amy Di Leo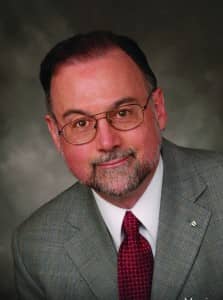 Donn R. Chatham, MD, has made a living out of helping others. The facial plastic surgeon with offices in Louisville, Ky, and New Albany, Ind, participates in medical missions around the globe, including visits to the Malaysian island of Borneo, Croatia, and Guatemala. Some of the missions are through "Face to Face," the humanitarian arm of American Academy of Facial Plastic and Reconstructive Surgery (AAFPRS).
Chatham, a past president of the AAFPRS, is also a VIP at the annual Vegas Cosmetic Surgery (VCS) multispecialty conference, now in its 10th year. He recently sat down with PSP to discuss the importance of collegiality between the four "core" aesthetic surgery specialties, among other things.
Here is what he had to say:
1. Tell us about your involvement with the VCS.
I participated in the annual Newport Beach facial cosmetic surgery meetings in California directed by facial plastic surgeon Randy Waldman, MD, of Lexington, Ky, and plastic surgeon George Brennan, MD, of Newport Beach, Calif. Dr Waldman envisioned an even larger multispecialty forum in a location that would be accessible and accommodating to more participants and specialties—thus, the formation of the Multispecialty Foundation/VCS. I have served each year on the advisory board, primarily as "creative consultant," and for the past couple of years as one of the co-directors along with Renato Saltz, MD, a plastic surgeon in Salt Lake City and Park City, Utah.
2. Why a "Multispecialty Foundation?"
During my year as president of AAFPRS, leaders and members of the four core specialties were brought together to share information in a nonpolitical environment. We all learned that we have more in common than we have differences. Now, sharing our in-depth knowledge free from competitive political issues makes each of us a better surgeon and ultimately enhances patient care. We also make new friends.
3. What charities are you involved with?
Helping the less fortunate, especially children, both born and unborn, is a priority. I also like the Academy's "Face to Face" programs to help those affected by domestic violence and wounded military veterans. I support foreign missionary efforts by going on medical missions and supporting them with donations. Sometimes I send contributions directly to the villages I visited.
4. What procedures do you perform most often?
Septorhinoplasty along with aging face procedures (blepharoplasty and facelift) are common, but I also perform reconstructive procedures related to skin cancer surgery and trauma.
5. What marketing strategy works best for your practice?
Word of mouth.
6. What is your personal mantra?
To treat every person I meet with respect and compassion, to forget my resume and focus on my legacy, and to try to make a difference with the brief time I have.
7. How do you balance all of your responsibilities?
It is always a struggle to balance work, family, play, and rest. I succeed sometimes better than other times. My wife is very tolerant.
8. What technology could you not do without?
Besides my smartphone, because you never know when you need to take a new selfie or tweet at a moment's notice, our vascular 532 Varilite laser is very effective in treating brown and red lesions with very little discomfort for the patient.
9. What is your healthiest habit?
I live adjacent to a Franciscan community and spiritual center with 400 acres and miles of trails. I hike there several hours each week, surrounded by nature, away from people and decision-making. It's very rejuvenating.
10. What is one of your guilty pleasures?
College basketball—University of Louisville and University of Kentucky. I try not to get too involved, but at tournament time, it's not easy! Basketball around here is a religion!
Amy Di Leo is the associate editor for Plastic Surgery Practice magazine. She can be reached at [email protected].
Original citation for this article: Di Leo, A. Doing his part: Kentucky facial plastic surgeon Donn R. Chatham, MD, gives back Plastic Surgery Practice. 2014; June, 34.