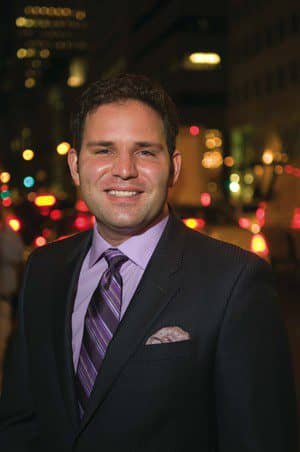 One is not born knowing how to be innovative. Just ask David Shafer, MD, a Manhattan-based plastic surgeon and one of the hottest new aesthetic practitioners in the Big Apple. Innovation is part training, part intuition, and part natural ability—not just thinking "outside the box," but also creating new boxes.
As a resident at the Mayo Clinic, Shafer learned about innovation in a place where physicians and scientists developed and applied innovation in the form of myriad surgical techniques and new technologies. In other words, he has been where medical history was made.
Back in New York City, Shafer reflects on another facet of his learning: the down-to-earth, daily dealings with his patients. How could he best serve them using a combination of innovation and human interaction?
"When I first started practicing, I found that there are very common themes in patient questions and inquiries," Shafer says as he contemplates the magnificent Manhattan skyline from his East 53rd Street office window. "I was looking for a way for patients to have a quick reference for frequently asked plastic surgery questions. At the same time, I was a proud owner of a new iPhone and was fascinated about the capabilities of the device."
Shafer created an interactive database application for the iPhone. His iPhone app started as a resource for beauty enthusiasts but has since grown to more than 1,000 frequently (and not so frequently) asked questions about plastic surgery. If users don't see what they are looking for on the Shafer Plastic Surgery app, they can ask him electronically. Shafer monitors incoming questions and will either answer confidentially or add new content to the app as questions are asked.
Shafer, along with New York City-based Fusion Creative Studios, the technical creator, has been tweaking the app for use with the iPad, Android, BlackBerry, and other smart phones. Additionally, Shafer would like to see his app used as the basis for other medically oriented applications. Although other plastic surgery-centric apps are available, Shafer says his was the first of its kind, remains "dynamically different," and has received "an incredible amount of international attention."
PRACTICE AT A GLANCE
Practice: Shafer Plastic Surgery, David Shafer, MD
Location: New York City
Specialty: Aesthetic surgery
Years in practice: 3
New patients per year: 500-1,000
Patients seen per day: 10-15
Days worked per week: 5
Days surgery performed per week: 2-3
Number of employees: 4
Office square footage: 2,200
Apparently, that attention has translated into new business for Shafer. He claims the app—coupled with an article in W magazine, in which he was featured shortly after he started his practice in 2008—has probably contributed to his widespread appeal.
Today, "Some patients come in from overseas several times a year for noninvasive procedures while in Manhattan for business or pleasure," he says. "Others plan their travels around more significant procedures, such as abdominoplasty, liposuction, and facelifts, with consideration of recovery time."
JOY IN THE JOURNEY
With a 100% cosmetic surgery-based practice, Shafer says, "My focus is restoring the body to its youthful or rejuvenated state through the manipulation of the skin and underlying soft tissues." His plastic surgical training at the Mayo Clinic included all things breast, body, and face; his fellowship at the Manhattan Eye, Ear and Throat Hospital (MEETH) concentrated on the cosmetic side of plastic surgery, something he was not always sure he wanted to do.
Facelifts Meet Fat Grafting
David Shafer, MD's practice has been transformed by fat-grafting techniques and technologies—and his patients love it, he says.
As an aesthetic surgeon in private practice for only 2 years, Shafer realizes that he may have an advantage with some procedures because they were ingrained in him throughout his education.
"Fat grafting has been around as I've been going through my training, so it's been very natural for me," he says, adding that he uses fat grafting alongside 90% of the facelifts he performs. "It doesn't add bruising or swelling because you are already manipulating the tissues. Fat grafting is a great procedure for people just starting out, especially if you're not combining it with a surgery. You can do it under local anesthesia in the office. It's cheap; there are no product costs, just equipment costs."
That equipment could be special strainers or other devices, but Shafer says he uses a basic centrifuge. There is no standardized method for dealing with extracted fat, but physicians have several options available. "You just have to do it the way you do it, knowing what results you get," he states.
With fat grafting, Shafer has noticed around a "70% take rate," and that some patients need a touch-up at a later date. Studies are showing that if the fat-grafting treatment lasts several months, it will probably last forever, he adds.
The downside of fat grafting, he says, is that "the fat continues to act like the fat from where you took it. If you always gain weight in your thighs and they took the fat from your thighs, if you gain weight then your face is going to gain weight. That fat will always act like thigh fat."
—AD
"As a child I enjoyed watching the show M*A*S*H, and found the OR environment as they portrayed it very intriguing," he says, adding that he also spent a lot of time with his grandmother, who was a nurse during World War II. "She had surgical instruments from the war and would explain their utility, which I found fascinating. From an early age, I knew I wanted to be a surgeon, but originally I thought general surgery and trauma. When I started with my plastics training, I quickly realized that was the natural fit for me. I am very visual, and I enjoy seeing the finished product; I also enjoy my professional relationships and interactions with patients.
"I am trained in all aspects of cosmetic and reconstructive surgery," he continues. "I really enjoy the combination of art and science that is involved in cosmetic surgery—taking technical skills to a new level and earning the trust of patients."
Shafer has no "signature technique" that some plastic surgeons use to market themselves. Instead, he says he tries to incorporate all aspects of his training to individualize each procedure for each patient. "Instead of concentrating on individual body parts, I look at the patient as a whole and work with them to achieve their goals," he notes.
"I remember reading once that, 'If you think you have invented anything in plastic surgery, it just means you haven't read enough of the history books.' I do feel like my approach to surgery blends my experience base," he says. "This means the efficiency and resourcefulness developed during my days as a general surgery resident at Maricopa Medical Center and the Arizona Burn Center, fundamental principles of plastic surgery from Mayo Clinic, and innovation and business savvy from some of the great minds of plastic surgery during my fellowship at MEETH." He reminisces that his training was a very hands-on experience in which he saw many complicated cases.
"My fellowship training certainly fostered a greater appreciation for aesthetic surgery. Facial rejuvenation surgeries are a favorite because they make a huge impact on the patient's sense of self—the face is the most visible way the patient presents themselves day-in, day-out, regardless of season. A combination of surgical facelifting, volume replacement with autologous fat grafting, and selective chemodenervation with Botox can produce dramatic results."
In addition, Shafer enjoys working on multiple areas, "where I can improve the overall body individualized to that patient—some combinations include everything from the neck and arms to the breast and belly, and everything in between. In some cases, patients want to take it one step at a time, while others want a total body makeover. I do not push a particular procedure on a patient, but work with her in an attempt to exceed her expectations."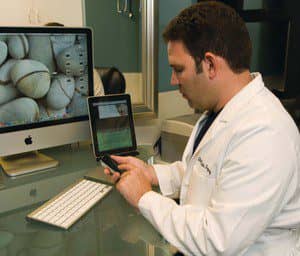 Shafer's iPhone app is a user-friendly resource for patient questions about aesthetic procedures.
Noninvasive treatments using Botox Cosmetic and hyaluronic acid-based dermal fillers were just hitting the market during the early stages of Shafer's training. "[They] are very ingrained into my approach," he explains, "and also reflective of attitudes of my patient demographic who don't jump into facelifts as a first-line treatment. Rather, they are seeking prophylactic and strategic stage-gating to looking their best at all ages."
INTERNATIONAL CLIENTELE
As with many New York City aesthetic surgeons, Shafer's patient base not only includes everyday people but also Manhattan socialites, fashion designers, television personalities, and CEOs. His practice is in the HarperCollins building in Midtown, rather than the more stereotypical digs on Park Avenue. He claims that his location not only allows his patients easy access to him in an approachable setting, but enable them to enjoy the view of Manhattan from every room of his 25th-floor practice. But Shafer says only half his patients are from the New York City metro area.
"From a geographic perspective, the other half travel nationally and internationally as part of our 'Fly In Program,' " Shafer says, also nothing that the popularity of his iPhone app has helped to attract an international clientele. "Many patients have planned business trips in Manhattan and stay an extra few days to have a procedure or even just Botox or dermal fillers. I am also developing our Fly Out Program to where we bring our surgical team to the patient, which we did with great success earlier this year in the Middle East."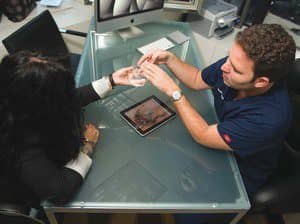 Some patients come in from overseas several times a year for noninvasive procedures while in Manhattan for business or pleasure.
With a stream of movie premieres, A-list parties, and opportunities to rub elbows with the rich and famous, Shafer's exciting professional and social life is a far cry from his training roots. Yet, excitement of one type or another seems to have followed him throughout his career. For example, his 5-year stint as a general surgery resident at the Maricopa Medical Center and Arizona Burn Center found him caught in the middle of a real gunfight outside the hospital one night.
"At a level-one trauma center, I was immersed in the middle of what we called the 'gun and knife club,' due to the overwhelming number of penetrating traumas admitted to our hospital from gang violence," he says. "Part of my training involved the treatment of massive open wounds, which required complex plastic surgical procedures. While we all wish that there were less violence in the world, this environment proved to be an exceptional learning experience."
During that residency, Shafer received three awards—the only three given to residents: Intern of the Year, Rick Weimer Ambassador of Medical Ethics, and the Harry W. Hale Jr Award for the resident who represents the ideals of an outstanding surgeon.
Shafer is no stranger to receiving professional accolades. In medical school at Michigan State University College of Human Medicine (in his hometown of East Lansing), he was awarded the Trump Surgery Scholarship, which is presented to a medical student who "demonstrates strong clinical performance, leadership, and overall excellence." In addition, Shafer graduated Summa Cum Laude from the University of Michigan in Ann Arbor.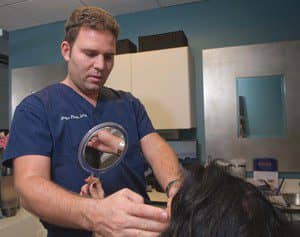 "Where I can improve the overall body individualized to that patient—some combinations include everything from the neck and arms to the breast and belly, and everything in between."
INNOVATING AT AN EARLY AGE
At the University of Michigan, Shafer the undergraduate received a unique Honor's Biology Program. "I was involved in designing, performing, and analyzing neurology bench research projects involving synaptic vesicles and neurotransmission," he recalls. "As part of these projects, I would synthesize radioactive tracer molecules to perform the studies. My research work and honors thesis earned the distinction of graduating with the highest honors." Besides the coursework, Shafer was still able to root on Michigan basketball—he still cheers for both Michigan and Michigan State's sports teams.
Currently, Shafer is also a teacher, working with residents and fellows on cosmetic surgery cases at MEETH and Lenox Hill Hospitals. "I work with the residents in their evaluation of patients, give advice on patient care, and monitor them in the operating room," he says. "They also assist with my cases, which serves as a great teaching environment. I also arrange several teaching sessions per year on Botox and dermal fillers, where we have test patients come in and the residents and fellows can practice their injection skills."
Though his practice is "all cosmetic," Shafer is on call at Lenox Hill Hospital four times a year, where he deals with traumas and other reconstructive cases. He enjoys this aspect of his work, he says. "Especially because I am in private practice, taking plastic surgery calls has been a great way to maintain contact with the hospital and staff while putting all those years of trauma training to good use. It also provides a good means of interacting with a broader community of patients." He continues follow-up treatment in his private office at no charge for the uninsured patients he sees in the emergency department.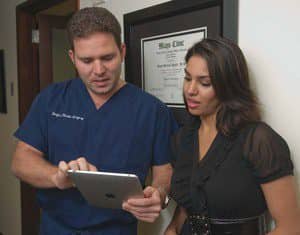 During training at the Mayo Clinic, Shafer learned very successful patient care strategies that he now employs in his private practice.
Pro bono projects are near and dear to Shafer—his taste for overseas pro bono work when he was a plastic surgery resident at Mayo Clinic involved travel to Hanoi, Vietnam, as part of the Global Health Organization's cleft lip and palate program. "I would like to go back someday," he says, wistfully. "I have pictures from this trip throughout my consultation rooms as a steady reminder to myself, and my patients, of how fortunate we are to reside in First World nations and how important it is to help others."
Shafer credits the Mayo Clinic with shaping much of his values as a private-practice physician. "The primary philosophy [at Mayo] is comprehensive care with close coordination of medical experts," he explains. "For 'executive physicals,' patients fly in from all over the world and are seen by many departments—cardiology, medicine, dermatology, etc—within a day or two. And they even get surgery, if necessary. This way, the process is streamlined and the patient is addressed as a whole."
Although patients are not flying to his Manhattan office to address multiple medical concerns, he says he still uses Mayo Clinic's guiding philosophy to help coordinate and streamline his patients' care.
GOING BACK TO HIS ROOTS
In June 2010, Shafer returned to the Mayo Clinic during graduation weekend to give lectures about opening a private practice. He also gave a teaching session in the cadaver lab on plastic surgery techniques. He hopes his words of wisdom may strike a note with the young students much the way certain doctors affected him as a student and resident.
One of Shafer's mentors, Salvatore C. Lettieri, MD, FACS, a plastic surgeon at Maricopa Medical Center and Mayo Clinic, "was the first to expose me to the infinite possibilities of plastic surgery," he explains. "He helped me understand the concept that there is no 'correct' answer for a surgical case in plastic surgery. Rather, plastic surgeons use the building blocks of their training in general surgery and the refinement of their skills in plastic surgery training to approach unknown and complex cases with creativity and ingenuity. While he is one of the best reconstructive surgeons in the world, his lessons apply just as aptly to complex cosmetic cases."

On The Web!
See also "Surgeon In the Hood" by Sarah Russel in the May 2010 issue of PSP.
Shafer believes he has had incredible training and considers the resources of Mayo Clinic unmatched. Because the physicians are on salary, he says, they are not pressured for time when teaching. He adds that the knowledge he gained working in the cadaver lab, meeting with experts in every field, from patent attorneys, to those designing research projects, to people securing funding for medical mission trips, etc, was extremely valuable.
"Standing in the hallways of surgical 'giants' is both humbling and enabling," he adds. "I am often reminded of the concept by Bernard and Newton as well as others—that if I happen 'to see a little further, it is by standing on the shoulders of giants.' "
---
Amy Di Leo is a contributing writer for PSP. She can be reached at .