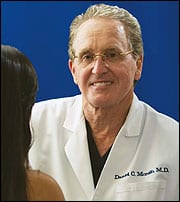 Can an experienced aesthetic plastic surgeon maintain two practices a thousand miles apart in different states and still enjoy his life and have a profitable practice? If you ask Daniel C. Morello, MD, FACS, the answer is absolutely.
Morello is literally jet-setting between his suburban and metro New York City practice and Jupiter, Fla, practice, where he enjoys many warm days of golf while attending to a boutique plastic surgery practice. But if you think you'd like to live and work in the same manner, don't pack your bags just yet—Morello is the first to admit that his personal lifestyle and business choices are unique and not for everyone.
Asked if a plastic surgeon still growing his practice with a wife and family could do what he does, Morello answers, "I think that my situation is so unusual, I don't know how anybody would make that work. It's almost an invitation to disaster, isn't it?" And yet, there is no sign of disaster in Morello's life or his two practices. The secret of his success is part experience, part lifestyle choice, and, he admits, some good luck, too.
TWO PRACTICES, FOUR LOCATIONS
When one listens to Morello describe his professional infrastructure, one would find it difficult to believe that his life could be enjoyed, let alone that he could have a profitable practice in this economy.
PRACTICE AT A GLANCE
Location: White Plains, NY, and Jupiter, FL
Specialty: Aesthetic surgery
Years in practice: 34
New patients per year: 250
Patients seen per day: 20
Days worked per week: 4
Days surgery performed per week: 3
Number of employees in New York practice: 10
Number of employees in Jupiter practice: 4
Office square footage in New York: 7,000
Office square footage in Jupiter: 3,000
Morello maintains two locations in each state's practice. His White Plains, NY, headquarters has two on-site operating rooms that he shares with five other partners, but he also maintains a satellite office in Manhattan.
Down in Jupiter, Morello's second practice (a legally separate entity from his White Plains office) includes a single operating room that he shares with one associate. In addition, he has a satellite office at the well-known Anushka Cosmedical Centre Spa & Salon in West Palm Beach, Fla, where he serves as medical director.
How does Morello do it all and still play golf and have a social life with his wife?
First, Morello has been in business as a plastic surgeon for 30 years. His mainstay is facial aesthetics and aesthetic breast surgeries—a focus that will always be in demand in New York and Florida. It is a well-established practice. His referral base is solid with minimal outside marketing costs.
Second, Morello has no ambition to be the most prolific plastic surgeon in New York or in Florida. His goal is to enjoy both his professional and personal life in balance. And yes, Morello does have a personal life. He's happily married with three grown children who no longer live at home.
Another factor is that Morello had been living part-time in Florida for 10 years before he started his second Florida practice. It was only after receiving many requests from his Florida social circles that he considered getting his Florida license and opening a second practice that would essentially trade New York professional time for Florida professional time.
"This was a quality-of-life decision," Morello says, speaking from his White Plains home that overlooks the Long Island Sound. "I was already spending time in Florida and I wanted to spend more time there, but I also didn't want to part with the creativity of what I do. I would miss that with more time spent down there. So, I looked to fulfill that aspect too."
As a lifestyle choice rather than a practice growth choice, Morello felt free to choose his days, hours, and locations—as well as make practical business choices.
Technically, Morello has four offices in two locations, but he does not own that Manhattan office. Instead, he subleases it from another physician.
In addition, he only spends one afternoon a week in Manhattan for consultations; and he performs all surgeries and gains most of his clients in White Plains, an affluent community where he has practiced for decades.
Similarly, while Morello is indeed the medical director of the Anushka spa, he spends one or two afternoons a week at Anushka for consultations. His main office and operating room remain in Jupiter.
"After you've been around for a long time, you get to practice the way you want," he says. "You get to be selective, you get to choose. You get to like the people you're dealing with."
MANAGING TRAVEL, PATIENTS, AND PRACTICE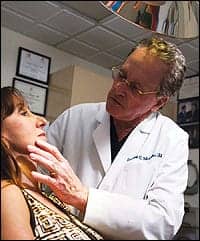 Morello's mainstay is facial aesthetics and aesthetic breast surgery.
As for the time split between the two states, Morello says he spends about 70% of his time in Florida and 30% of his time in New York during winter months; in warmer months, he spends more time in New York, depending on his bookings.
Time is also very set and scheduled. That is, during the winter, Morello spends 3 weeks in Florida and 1 week in New York, or more evenly during the summer months. If he's booked more heavily in one location, he adjusts; but he prefers to be predictable, which helps his staff fill his schedule and his patients to have clear expectations of his time in a single locale.
Another important time-management aspect is that both the White Plains and Palm Beach airports are a short car ride away from his homes. Having only a 2-hour and 45-minute flight between airports, Morello can be at either home in an afternoon. Having two homes and two offices also allows him to travel only with carry-on bags, so there is little time wasted packing and unpacking or waiting for luggage.
Managing his travel is only one part of a successful dual-state practice. As a founding partner at his White Plains firm, Morello earned the ability to hand over the majority of his practice-management responsibilities to others.
Similarly, in Florida, many management responsibilities are shared with his associate, David Rankin, MD, a former solo practitioner who shares overhead costs.
If there was one thing that originally stood in the way of Morello having two separate but equal homes or practices, it was his concern about leaving patients after surgery.
"I always went to Florida with the idea that if something happened with one of my patients while I was in Florida, that I would fly back. I've never had to do that yet, but that was my attitude," he says.
To mitigate these concerns further, Morello schedules his surgeries on Mondays or Tuesdays and stays through the rest of the week, often following up on Friday and then leaving on Saturday or Sunday.
Perhaps the most important decision was finding an associate he could trust in Florida. Not only did having a second surgeon help share overhead expenses, but it also allowed him to leave for New York knowing that stitches and splints could be removed by someone reliable.
As for New York, Morello already had four excellent partners in his White Plains practice to handle follow-up coverage there. Would his patients accept him leaving shortly after surgery?
Wishing to be fully transparent, Morello's patients were informed verbally and in writing that he traveled often and that there was a chance that another physician would handle their follow-up appointments. Any patient who had a problem with that was scheduled during a longer block of time when he would be in that particular location.
Even so, Morello says he rarely left immediately after surgery for Florida until he discovered that his patients were actually OK with his dual life.
"They said to me, 'As long as you operate on me, I'm totally comfortable being with your associates. Somebody else can take the stitches out. I just want to make sure you operate on me.' So, it was the patients who convinced me that it was OK, but normally I'd take 2 or 3 days without operating before I would go."
FROM A SECOND HOME TO CREATING A PRACTICE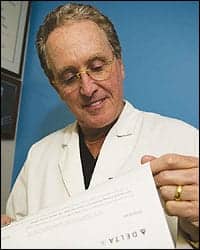 Although Morello's "jet-setting" lifestyle puts him in New York and Florida every week, he still has time to enjoy his family and some golf.
Morello and his wife had been flying back and forth for years before he decided to start a practice in Jupiter. Deciding to practice and creating a practice are two different experiences, he notes.
Florida's physician licensing laws require so much paperwork and jumping through bureaucratic hoops that Morello started and abandoned the idea for 4 years prior to deciding to go through the maze again.
The second time around, he had some of the paperwork in hand already and hired a service that managed much of the bureaucracy for him.
After receiving his license, Morello got staff privileges at a local hospital and began doing minor outpatient procedures such as Botox and fillers. Eventually, people started asking him about surgery.
He never expected that he would "build it, and they would come," but that's where the luck came into play. Around the same time he was expanding, the Anushka owners reached out to him through social connections.
"For Palm Beach, I had no existing referral base from which to draw," Morello explains. "The Anushka Spa was a well-known name in New York City for years, and brought their concept of high-end beauty center and spa services to Palm Beach, servicing both a local clientele and a wintering New York clientele. It was a natural extension of their services to provide access to cosmetic surgery information and consultations, preferably from someone with the New York cachet. They were looking into associating with New York-based plastic surgeons when I came to their attention."
The association with Anushka provided a good fit for both parties, and it helped him jump-start his practice in Florida. "I think this is an important concept for a plastic surgeon thinking about making this kind of move," he says. "Jump-starting, with a built-in referral base."
In addition, Morello does not seek a 5-day, 40-hours-per-work week of surgery and consultations. It's quieter in Florida, especially with the recent economic downturn. However, between Anushka, word of mouth, social connections, and working with his Florida associate on cases, he has enough work to sustain his practice and enjoy his Florida lifestyle.
YOU WANT WHAT I HAVE?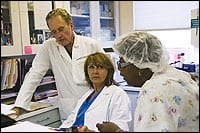 Morello maintains a satellite office in Manhattan, which complements his White Plains, NY, headquarters.
Throughout PSP's interview, Morello said that his decision was not an ambitious expansion decision, but a lifestyle decision. Nevertheless, he is often asked advice from other physicians about how to go about having two practices in different states. His recent advice to a younger surgeon is philosophical, if not practical.
"I told him that when he leaves his practice to go to Florida, he's going to have a millstone around his neck, fundamentally. He's got to keep his employees occupied; he's got all of the hard costs. You really need to control that aspect in terms of whether you're going to have someone use your facility or you're going to bring in an associate."
Also, aside from finding another good plastic surgeon to associate with and cover while out of town, they should determine ahead of time how much time they really want to put into their second practice.
"I don't think there's the option of sitting back if you really want to have a growing, very busy, almost independent practice in a secondary location—which would then become the primary location, by the way. I think the advice would be different in that regard," he adds. "You'd have to really go at it. I think it would be very difficult to just be half-time."
As for marketing, Morello has a Web site and uses selected Internet physician referral services, but that's about it beyond his Anushka position.
"You get to a point where you don't need to keep chasing this," he says, referring to finding clients. "You take what comes in on the normal routes. To a certain point, when you've been in practice for a long time, there's a certain measure of your practice that becomes self-sustaining, and you can rely on referrals from within your patient base."

On The Web!
See also "Manhattan Cowgirl" by Amy Di Leo in the December 2008 issue of PSP.
CONTINUING THE DUAL LIFE
Morello says he feels very fortunate to have the luxury to do what he does, and plans to continue his jet-setting life for a while.
"I have a number of friends who are practicing at 71 or 73, and I think they're almost in peak form because they're capitalizing on their vast experience, which is almost a larger factor than having 'golden hands.' Golden hands with a bad plan don't do so well. A great plan with moderate hands does great."
---
Tor Valenza is an associate editor of PSP. He can be reached at [email protected].