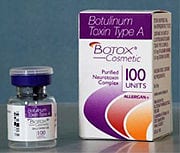 Botox Cosmetic has recieved national marketing authorization from the British Medicines and Healthcare products Regulatory Agency (MHRA) for the treatment of moderate-to-severe crow's feet.
The new approval specifies the temporary improvement in the appearance of moderate-to-severe lateral canthal lines seen at maximum smile, either alone or when treated at the same time as glabellar lines seen at maximum frown, in adult patients where these facial lines have an important psychological impact.
This marketing authorization is specific to Allergan's botulinum toxin type A product and is based on the company's Phase III clinical trial program. Botox for the treatment of glabellar frown lines was previously approved by the MHRA. The US Food and Drug Administration approved Botox Cosmetic for canthal lines in September 2013.
[Source: PR Newswire]