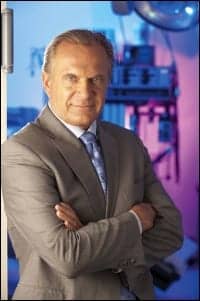 What is it like to be a television star and a plastic surgeon running a successful practice in three cities? Andrew Ordon, MD, FACS, star of CBS-TV's The Doctors, loves it, but he is quick to point out that it is not for everyone.
"The biggest challenge has been how to manage my time," says Ordon, who is relaxed, tan, and quick to flash an ingratiating smile as we chatted in his Rancho Mirage, Calif, office.
He tapes a week's worth of The Doctors installments in 2 days. "According to the people that we work with, very few, if any, have tried to tackle that big of an undertaking.
"Plastic surgeons, in general, want to just sit here and be cool, calm, and collected, the voice of reason—and when you try that approach on TV, it doesn't work," he adds. "You have to be more on the edge of your seat and more engaging, which I learned. So, it was a little bit of a learning curve and keeping the energies up. The challenge is that I'm new to TV. They're not asking me to do anything different other than be myself, be a plastic surgeon, and share my information. From that point of view, you wouldn't think it would be too hard."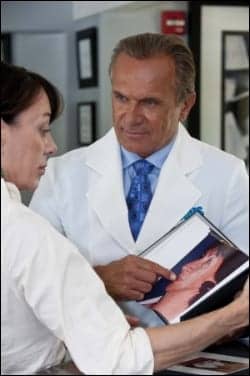 Ordon relies on his long-standing staff to help organize his workload.
Maintaining a high energy level is helped along by Ordon's sheer passion for the subject matter. The goal is to project that energy and passion while the camera's red light is on, he says. The approach seems to be working.
How did Ordon find himself challenged in this way in the first place? "I had a little advantage. My son and Dr Phil's younger son went to school together in Los Angeles," he says. "They played Lacrosse together, so we were both Lacrosse parents. My son also met Jay McGraw, who's our executive producer. He came up with the concept of The Doctors, which is basically a spin-off of Dr Phil—a kind of medical version. He looked at the concept as an informational talk show with a little personality, kind of patterned after The View. He saw it as a group of people with four different specialties, just throwing things back and forth and then having specific segments that relate to our specialties."
Ordon auditioned for the show. "I had done some TV, not a lot. One of the caveats was that you had to be willing to give up some of your practice time. TV takes up 60% of the week. It's 30 years for me now, doing plastic surgery, and I'm the senior statesman of the group. My joke with Jay McGraw is, as long as there's Botox I'm going to keep doing the show. Kidding me, he says, 'There's not enough Botox to keep you going 10 years.' I said, 'You want to bet?' "
Ordon has been doing the show for 2 years, and CBS-TV has renewed it for another 2 years. "I don't know the business, but they tell me if we got two more it may be, in fact, two more on top of that. They'll be trying to sell even more shows starting next year," Ordon says. "We were nominated for an Emmy last year. We didn't win. With Dr Oz on the scene it may even be tougher this year, but we assume we're going to be nominated again."
As this article went to press, Ordon and his on-screen colleagues learned that they did indeed win a 2010 Daytime Emmy for their work on the TV series.
PRACTICE AT A GLANCE
Practice: Andrew P. Orden, MD, FACS and Ritu Chopra, MD
Location: Beverly Hills, Calif; Rancho Mirage, Calif; New York City
Specialty: Plasic and reconstructive surgery
Years in practice: 30
Patients seen per day: 10
New patients per year: 500
Days worked per week: 5
Days surgery performed per week: 5
Number of employees: 5
Office square footage: 2,600
SENIOR STATESMAN
Ordon's private practices are located in New York City, Beverly Hills, and Rancho Mirage. He received his medical degree from USC School of Medicine, and completed surgery and head and neck surgery training at USC, UCLA, and Loma Linda University (Calif). He completed his training program in plastic and reconstructive surgery at Lenox Hill Hospital/Manhattan Eye and Ear Infirmary program in New York City.
"I did half of my medical school studies at the University of Lausanne, Lausanne, Switzerland," he says. "It was the early 1970s. [The Vietnam War] was still on, and I got drafted with a low lottery number. I had to move on medical school. University of Lausanne was founded in the 13th Century, with a very rich history and tradition. I had studied French and all my classes were in French, which was a challenge. I tried to get up to Verbier to ski as much as I could. It was a great time to be in Europe as a student and got a superb education. I remember sitting with my medical books at the outdoor cafes, drinking espresso, overlooking Lake Geneva and the French and Swiss Alps. Got me well prepared, took Medical Boards and transferred to USC where I graduated."
Ordon is a member of the American Society of Plastic Surgeons (ASPS), the American Society for Aesthetic Plastic Surgery (ASAPS), the California Society of Plastic Surgeons, and the International Society for Aesthetic Plastic Surgery (ISAPS).
The physician-cum-television celebrity has nothing but positive remarks about the television show's impact on his life. "It's opened doors for me," he says, highlighting the opportunity to work with Dr Subodh Kumar Singh, the well-known Indian plastic surgeon featured in the Oscar award-winning documentary Smile Pinki, which tells the story of a young Indian girl born with cleft lips and her subsequent treatment.
"I got to go to India; did a couple of days with him, visiting kids he had done," Ordon beams. "I scrubbed in with him, and did a refresher with the guy who's doing more than anyone in the world. I got to do my own 'Pinki,' and we'll be using that for an upcoming episode."
It seems the smiles are contagious. Ordon says that by virtue of his association with the television series, he has gone places and worked with people he otherwise would never have met. The opportunities have opened him up to a sense of charity—and now he is hooked. "As I move a little later into my career, I don't ever want to stop doing this work for the Smile Train," he notes.
His family members have also benefited from the new open doors in his life, including taking his daughter with him to Haiti during the recent earthquake relief effort. "Again, it was the show that opened up an opportunity. She's graduating Georgetown this year."
He can't hide his pride for her as he quips modestly, "She wants to be a doctor, too. I don't know why."
HOW HE IS VIEWED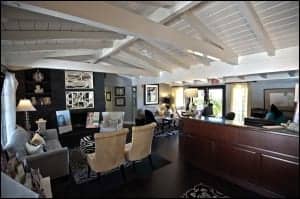 Ordon's Rancho Mirage, Calif, office and surgical center is a remodeled desert ranch estate that was designed and decorated by his wife.
When it comes to The Doctors, Ordon gets a mixed response from colleagues. "In general, because I haven't let it change me, in most cases it's been very positive—'You're doing a good job on TV, you deserve it, and I'm happy for you.' I would say there's more of that. But then I sense with some people a little bit of something else. I'm guessing that it's got to be jealousy. You know plastic surgeons. You know our egos. We think our office is best, we think we're best, we're cutting edge."
Is there any element of the television presentation of plastic surgery that should not be attempted in the first place? Ordon leaned back in his chair and tapped his fingertips together. "Well, we live in Southern California, and there's a lot of interest in plastic surgery. The public wants to see and hear about it. That's why Jay McGraw decided to cast a plastic surgeon. They want me to talk about it. I'm not 100% comfortable, and I try to say that—'You know, I don't like to talk about someone's plastic surgery—it's an individual thing—but if someone comes forward and talks about it, then I'm going talk about it.' And if it's somebody who obviously has had drastic changes—like Meg Ryan, for example—then I always say on the air, 'I'm not her doctor, but it would seem to me based on these photos that you're showing me, it looks like this or that was done.' "
Apropos of that sentiment, he is careful about what he says on the show. "I've never been the kind of person to say, 'You need to fix that nose.' So, my rap on TV is, he or she legitimately has something that's bothering them, they're doing the surgery for the right reasons, and they're doing it for themselves and not somebody else. They are not expecting it to make them a different person, or to get them a part in a movie, or immediately find a rich husband. If they're doing it for the right reasons, have realistic expectations, and legitimately have something that we can't make better naturally, then plastic surgery is an option they should look into."
What about fellow physicians who want to appear on the show? "I feel a little bit of pressure, but, honestly, it doesn't happen unless it's a new procedure or something truly different. Is it different than something we've done? Does it fit into a particular episode?"
THE PRACTICE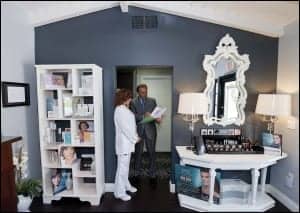 Ordon's staff is instrumental in helping him balance his practice with the TV commitments.
A family, a successful television show, trips to foreign countries, the Smile Train, etc. What about the business of running a plastic surgery practice in multiple locations?
Managing the practice has been "a big challenge," Ordon says. "I brought in a good associate, and he's there to do the surgery; he works with me." He refers to Ritu Chopra, MD, his partner during the last several years. "He holds down the fort when I'm involved in some of these other things," he adds, gesturing toward the on-site surgical center at his Rancho Mirage office. "In fact, he's operating right now."
In addition, Ordon's physician's assistant "has been with me back in my New York days, so I've been with him 20 years, so he really is my right-hand man. He helps me preparing stuff for TV, like working on segments and giving [the producers] information on topics and medical background. He really does everything."
Because of his association with The Doctors, Ordon has been exposed to equipment and techniques that have changed his practice and other areas of his work life. "I got to use the fractional CO2 razor as part of the show," he says. "I ended up buying that piece of equipment, because I did believe in it. And we use it; we're happy with it. People come on the show talking about using it for scars and stretch marks. Again, I try to be fair with it. They're not going to get rid of scars and stretch marks with anything right now. But, at this point in time, I think probably the fractional CO2 razor is the single best thing that may make it better."
One of Ordon's latest projects is writing a book in which, as he says, "A plastic surgeon offers advice on how to stay young without surgery. It is going to be touching on so much, on skin care and other [topics] that I've talked about on TV. It's not just plastic surgery; it's all the noninvasive, preventative approaches and products. We don't have a dermatologist on The Doctors, so I talk about all the skin stuff. We do a lot of these crazy, funny things, banana peels and papaya facials and oatmeal facials—a lot of home remedies. My point is, are they really going to help? Well, yeah, you're going to exfoliate a little bit, maybe you're going to put some moisture back into your face, but the bottom line is that it's not going to hurt you, so give it a shot."
He continues, "The show's producers are constantly being bombarded with new products, new procedures, new skin stuff, and it's mind-boggling. I mean, how many cellulite treatments have I done this year? A lot. I don't have any interest in any of these, and I try to point out that there is no permanent cure for cellulite. Cellulite is fat that's gone wild. Is it related to circulation? Is it related to lymphatics? We don't know for sure. All of these things we talk about [on the show] probably do give you some sort of temporary relief. As long as you understand that going in, if you stay on top of some of these regimens then you probably will see some improvement."

On The Web!
See also "Could YOU Be the Next Reality Show Star?" by Tyler Barnett in the July 2007 issue of PSP.
Ordon's practice has changed in more personal ways, as well. For example, patients meet him and respond with instant recognition. "They say things like, 'I know who you are. I see you every day.' That kind of thing. It's great that they feel like they know me a little bit before we start. They also want to take a picture with me or have an autograph. However, they also know—having seen me on TV—that we're professionals here and that I'll give them a straight answer to their plastic surgery questions."
With all the opportunities and challenges the television show has brought, ultimately Ordon has kept his million-dollar smile intact while he continues to beautify the smiles on his patients' faces.
"It's been a good run," he says. "Hopefully, I can continually still be who I am—a regular, approachable person and a professional—but also have a little fun and not be too stuffy or serious."
---
Sarah Russel is a contributing writer for PSP. She can be reached at plasticsurgery@allied360.com.
THE MEETING MAN
In a drive for facilitating improvements in plastic and cosmetic surgery that goes beyond his office walls, Z. Paul Lorenc, MD, FACS, truly wants the medical experts of the world to come together and share the latest advancements and research.
To prove it, he has founded and launched the International Scientific Symposium, which held its first meeting in New York City in 2009. The next one will be held in 2011. As soon as the subject of the scientific meeting came up, you can hear the excitement in Lorenc's voice. "We've had a tremendous response," he says. "And I think I'm pretty much there with the faculty being formulated. The title of the 2011 meeting is 'Aesthetic Plastic Surgery/Antiaging Medicine—the Next Generation.' "
The symposium has been tailored to meet the specific needs of the attendees. For example, knowing that many physicians cannot afford to take a full week away from their practice, Lorenc keeps the meeting at 2 1/2 days of very intense learning. The audience can contribute questions to speakers on the podium via texting or e-mail. The symposium is very interactive and innovative, Lorenc says.
During the symposium, 1/2 day is dedicated solely to injectables, including televised demonstrations of invited experts showing attendees how to work with fillers or neurotoxins.
"The attendees like to participate and ask questions while the injection is being done," Lorenc says. "They obtain much more information versus just sitting there and observing. Having done an awful lot of meetings and live surgeries and live injections, this is the best way to get that information out to the plastic surgeons and dermatologists."
The meeting is multidisciplinary as well as international—the 2009 meeting had 22 countries represented.
—SR