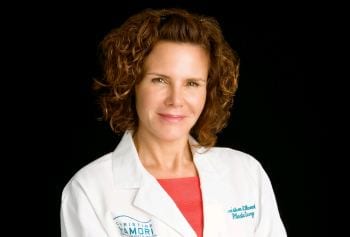 Why did Christine A. Hamori, MD, FACS, choose plastic surgery as a lifelong career? It's the pace, the excitement, and the personal reward, she says, adding, "I always liked surgery, thought about doing cardiac surgery, but loved plastic surgery."
As Hamori belongs to the same demographic of most of her patients, she holds a unique first-person knowledge of what her patients go through. "Women want to look younger and healthy," she is known to say. "I can help."
At her private practice in coastal Duxbury, Mass, her clientele is mostly women. "All different types, young, old, thin, not thin," she says. She specializes in facial and body contouring via both surgical and nonsurgical procedures.
As for her staff of eight, she says they are friendly, hardworking, and dedicated. Most have been with her for more than 5 years; some, 10 years.
Hamori is a speaker at several conferences throughout the year, including the American Society for Aesthetic Plastic Surgery (ASAPS) meeting and the QMP Aesthetic Surgery Symposium. Her skill of speaking candidly and in concise terms that all can understand is why media outlets ask her back again and again to share her expertise and knowledge.
She has appeared in magazines such as Allure and New Beauty; on TV on Boston's WCVB news program; and on The Montel Williams Show and The Doctors. In addition, Hamori has published articles in numerous peer-review journals.
"Educating the public about new aesthetic solutions is so important," she says. "That's why I agreed to appear as a guest on The Doctors earlier this year, to discuss new labia-rejuvenation techniques."
THE GO-TO EXPERT
In fact, Hamori has become an expert on labiaplasty, which is a fast-growing trend in the world of cosmetic surgery. As medical societies and plastic surgeons in general have grown more comfortable with speaking openly about labiaplasty, Hamori has been there to clarify falsehoods and educate those who will listen.
The labiaplasty procedure, she says, "is more for aesthetic rather than functional [purposes]." The patient demographic is mostly 20 to 55, and most have not had children, which she says squashes a popular, misguided theory that the main customer is women who have had children but now want to repair any change that occurred during childbirth. Instead, Hamori says, "They are young women very concerned with looking good in a tight bathing suit and just not looking loose. The procedure takes about 45 minutes, and many times we just use topical aesthetic cream plus local anesthesia."
Hamori has presented on this topic for some time now, especially on the cosmetic surgery circuit. At the Chicago QMP Aesthetic Surgery Symposium, she offered "Female Genital Surgery with Video" to her peers and was a part of a discussion panel on patient safety.
At the annual ASAPS meeting, she informed other plastic surgeons and insiders on surgical techniques for vaginal rejuvenation, including labiaplasty, fat grafting to inflate the labia, and labial puff treatment using cosmetic injectables to renew a lax labia majora. In addition, she recently published an editorial in the Aesthetic Surgery Journal, titled, "Aesthetic Outcomes of Labiaplasty," which is available on the SAGE Insight Web site.
Very media savvy, Hamori publishes a blog on the Web, which keeps patients and readers current with the latest news and treatments available, as well as provides them with links to her interviews and educational videos from various media outlets.
Hamori graduated from Tulane University School of Medicine and completed her surgical residency at Boston University. She was distinguished in her class and given the honor of being chosen to be administrative chief resident during her fifth year. She then completed a plastic surgery residency at the University of Pennsylvania.
Christine A. Hamori, MD, FACS
Christine Hamori Cosmetic Surgery + Skin Spa
95 Tremont St Suite 28
Duxbury, MA 02332
(781) 934-2200
www.christinehamori.com
She is board-certified by the American Board of Plastic Surgeons, and in addition to being a member of the ASAPS she is a member of the American Society of Plastic Surgeons (ASPS).
Hamori is involved in the charities Cranberry Hospice and Children Without Borders, has a dog named Elvis, and has two school-aged boys. "We love to hike. I do triathlons and love to run with our dog in the woods," she says.
As far as the future, Hamori says she will continue "learning as I go, working with my wonderful staff and patients."
---
Sarah Russel is a contributing writer to PSP. She can be reached at plasticsurgery@allied360.com.