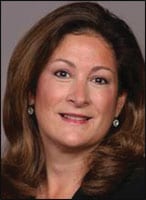 Laurie Casas, MD
Creating an alliance between research and industry is a top priority for Laurie Casas, MD, who recently became the new president of the Aesthetic Surgery Education and Research Foundation (ASERF).
ASERF is a nonprofit foundation whose mission is to demonstrate the effectiveness and safety of plastic surgery procedures, devices, and techniques through directed, physician-initiated research. In addition, it acts as an independent third-party resource for corporations interested in having their products tested through the newly formed ASERF Research Alliance.
Through the newly established Research Alliance, ASERF will aim to provide quality sites that have researchers who are not only competent in their own studies, but also exhibit organizational skills and the ability to attract patients. "What this alliance will do is 'certify' some sites to be researchers in aesthetic surgery procedures and technologies, as well as aesthetic nonsurgical procedures," Casas says.
In private practice for 19 years, Casas has also worked as a full-time faculty member at Northwestern University Medical School, Evanston, Ill, where she received her medical degree in 1982 after completing general surgery and plastic surgery residencies.
Other titles she's held include clinical associate professor at the University of Chicago Medical Center Pritzker School of Medicine, Section of Plastic Surgery, and past commissioner of the Aesthetic Society's Communication's Commission. Casas finished a microsurgery research fellowship at New York University and a Breast Reconstruction fellowship at St Joseph's Hospital in Atlanta. Additionally, she was certified by the American Board of Plastic Surgery in 1992 and in 1995, and was a fellow of the American College of Surgeons.
A member of the American Society for Aesthetic Plastic Surgery since 1997, Casas has served on its board since 2004 and has been a member of the editorial board of the Aesthetic Surgery Journal since 2005.
Speaking about her new leadership role within ASERF, Casas says she wants to foster relationships with industry in order to advance the field of plastic surgery. Whether at the FDA level, the clinical trial level, or the post-FDA approval level, Casas stresses the importance of qualified sites doing research on new technologies that vendors have developed.
With precertified sites, the Aesthetic Research Alliance will be able to facilitate that much-needed connection, according to Casas.
"We're very excited about this prospect because I think industry is really looking for that kind of consistency in researchers," she notes, adding that it is a service that plastic surgery has not previously provided the industry.
THE PURSUIT OF RESEARCH
A study that ASERF performed in cooperation with Allergan serves as a prime example of the types of research relationships Casas strives to establish with the industry. Shortly after Casas became president, ASERF released survey statistics that showed how injectable procedures have been widely accepted in America. Specifically, nine out of 10 respondents reported they openly discussed their Botox Cosmetic and hyaluronic acid dermal filler treatments with others. Moreover, seven out of 10 said they received support from those they told.
"In a similar survey issued 4 years ago, we dispelled the myth that Hollywood and corporate wives were the typical Botox Cosmetic patient," Casas says. "Now, demographic and perception data trends show us that aesthetic injectable treatments have continued to evolve into mainstream and accepted options for the everyday woman."
Figures from the survey show that the typical aesthetic injectable patient is a working mother who is married, between the ages of 41 and 55, and has a household income of less than $100,000. Furthermore, statistics show that this particular patient population is health-conscious and philanthropy minded.
"Interestingly, among Botox patients, nearly seven out of 10 respondents also received treatment with hyaluronic acid fillers," Casas says. "Most people have great success with Botox and dermal fillers. However, we need to make patients aware that even though injectables are not 'surgery,' their administration is a medical procedure with risks that depend on the training and experience of the clinician, the clinical setting, and the technique used."
INVESTING IN THE FUTURE
Despite the challenging economic climate, ASERF also hopes to start an endowment as an investment to its future in research, Casas says, adding that the organization does not want to depend entirely on donors. Most of ASERF's funding comes in the form of donations from ASERF members. "We'd like to reach out and have a fishnet much bigger than that," she continues.
Rather than financing administrative costs, Casas notes that 100% of donations are used to fund research and to investigate current and future procedures and technologies, such as injectable and topical skin care products.
Casas emphasizes that the alliance's objective is not just to attract a postmarket-approval business from the industry. Instead, it looks to delve beyond that and search for various indications for products.
"Evidence-based research is the key to all of this," Casas says.