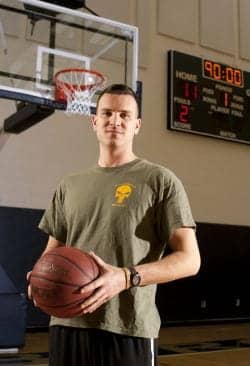 Marine Sgt Ronald Strang is a poster child for regenerative medicine.
It was mid-February 2010, and Marine Sgt Ronald Strang was tasked with leading his unit through what should have been a very peaceful mission. The marines were careening down the narrow roads of Southern Afghanistan to let locals know that they were only there to keep them safe from the Taliban.
It was then that a roadside bomb blindsided the unit, and tore through Strang's left leg. He was just 26 years old. The gash was deep enough to see through to the bone and had eradicated the main muscle in his thigh.
At the time, Strang's prospects for full or even partial recovery were grim. "I was told that there was nothing that could be done due to the extent of damage to the muscle and nerve," he recalls. "There was nothing there to support a graft."
The former athlete couldn't stand or walk without a limp, and was facing a future where he would have to rely on a cane or walker.
REGENERATIVE MEDICINE POSTER CHILD
You would never know any of this if you saw Strang today.
The marine has become somewhat of a poster child for an emerging discipline known as regenerative medicine. Doctors are using stem cells and other biological materials to cure—not just treat—disease and disability. You see, the hope wasn't to keep Strang from needing a prosthetic limb; it was to gradually reverse the bomb's effects.
Marines like Strang and soldiers are among the first to reap the benefits of this new field as the Defense Department is one of the main benefactors supporting the groundbreaking research which is now taking place in medical centers across the US.
It was a serendipitous chain of events that first led Strang to one of these centers—the University of Pittsburgh's Center for Innovation in Restorative Medicine (CIRM). His original orthopedic surgeon happened to hear about a muscle-regenerating procedure during a conference, and thought Strang would be a candidate.
And after a thorough evaluation and informed consent process, Strang was actually deemed "the perfect candidate" for extracellular matrix (ECM)-induced regeneration. It was then that he became one of the first participants in a Department of Defense-funded clinical trial of this device. The trial is set to enroll 80 patients with volumetric muscle loss. So far, six patients, including Strang, have received the ECM.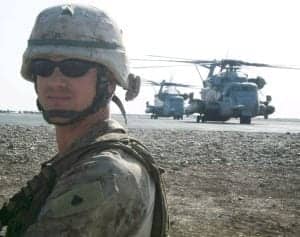 PERFECT CANDIDATE
When he first heard about the experimental procedure, Strang was skeptical and uneasy, but after discussing the ups (getting full use of his leg back) and downs (none to speak of) with his team of physicians, the decision quickly became a "no brainer." If it didn't work, the remaining part of the muscle would still be intact. In other words, no harm, no foul.
J. Peter Rubin, MD, then the chief of the division of plastic and reconstructive surgery and an associate professor at the University of Pittsburgh (see cover story "Brave New World"), performed the surgery in October 2010. Strang first underwent a standard reconstructive surgical procedure to repair muscle and tendon tissue. During this procedure, he also received an ECM that provides scaffolding for cells to grow on. Made from cow tissue and composed mostly of collagen, the ECM has been approved by the FDA as an "implantable device."
This device was designed and developed by Stephen Badylak, DVM, PhD, MD, a professor in the department of surgery and deputy director of the McGowan Institute for Regenerative Medicine at the University of Pittsburgh. "The scaffolding goes away, and while going away releases signaling molecules to rebuild the muscle rather than replace it with scar tissue," Badylak explains.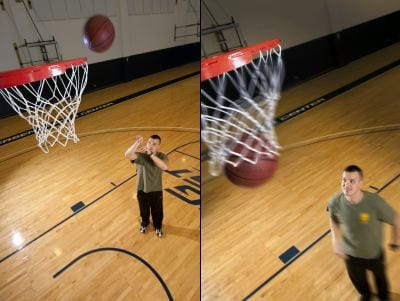 Then (above left) and now
Full results of the clinical trial should be available within 2 years, and they may change to the standard of care of how patients like Strang are treated. Researchers are not taking any chances with the study design. Part of the protocol involves an aggressive prehab and rehab. "We are trying to head off the potential critics who will say that it's not scaffold, it's the rehab," Badylak says.
And so far, so good. By all accounts, Strang's procedure was a success. The surgery took place on a Friday, and he walked out of the hospital that Monday.
Most of the improvements came quickly. "The first week, I could almost walk with a normal gait, and a week afterward, I was in the woods hunting and hiking," he says. Now, "I can go up and down hills and don't have to catch my footing as much as before."
GIVING BACK
Before the accident, Strang swam, played water polo, and participated in some track and field activities. Today, 10 months after the procedure, he is hiking with friends and even able to jog on the treadmill for 2-minute intervals. His muscle strength is now back to 90% of what it was before the explosion.
Swimming is still difficult because Strang finds it hard to kick his left leg forward, but he is working on it.
Today, Strang remains on active duty, but will likely retire from the military this month.
"With everything I have been through, I have gotten interested in the medical field," he says. He is thinking of seeking a job as a recovery care coordinator. "I could help other veterans going through the process that I went through, and guide them if they get snagged along the way," he says.
---
Denise Mann is the editor of Plastic Surgery Practice. She can be reached at plasticsurgery@allied360.com.