SKIN-HEALING FORMULA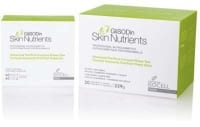 Isocell North America Inc, Toronto, introduces GliSODin Skin Nutrients Advanced Pre/Post Formula, which is specifically formulated for medical aesthetic treatments. Phase One supports the immune system and helps reduce anxiety associated with noninvasive aesthetic medical treatments. Phase Two contains amino acids and antioxidants that prepare the body for cosmetic surgery, and help support postsurgical recovery from invasive surgical procedures. Key ingredients include maritime pine bark to support immunity and reduce inflammation; gotu kola seed for proper wound healing; hyaluronic acid to improve blood flow, regulate inflammatory processes, and promote dermal repair; lemon balm leaf to help reduce anxiety and stress; and L-glutamine for collagen deposition and net protein synthesis.
Isocell North America Inc
(866) 534-5868
www.glisodinskin.com.
---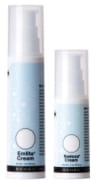 NECK AND CHEST TREATMENT
BENEV Co Inc, Mission Viejo, Calif, offers solutions to help rejuvenate one's neck and chest area after undergoing a facial peel or laser resurfacing procedure leads to mismatched skin coloration. BENEV® Redoxa® Cream, with CoEnzyme Q10, DMAE, and vitamins C and E, helps fight free radical and DNA damage, and helps the skin become more firm, smooth, and even-toned. BENEV® Emlite® Cream is a gentle-pregnancy-safe formula that contains phyllanthus emblica fruit extract. This extract is a safe, effective alternative to hydroquinone and helps reduce the appearance of hyperpigmentation.
Benev Co Inc
(888) 43-BENEV
www.benev.com.
---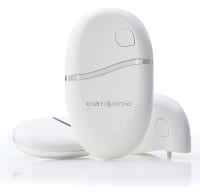 FAT HARVESTING DEVICE
MD Resource, Hayward, Calif, offers the AquaVitage, an FDA-cleared high-volume fat harvesting device that processes autologous fat to produce viable, undamaged "yellow" product that can be reintroduced into other areas of the body during cosmetic surgery. The device reduces lipocyte trauma through its unique design and gentle processing to produce a more pure product with a higher percentage of viable cells for reinjection, therefore obviating the need for overfilling. It can harvest up to 2,000 cc of fat in less than 30 minutes, often concurrently with liposuction to dramatically reduce surgery time.
MD Resource
(800) 633-8423
www.mdresource.com.
---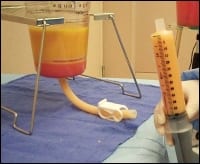 INFUSION SYSTEM
Pacific Bioscience Laboratories Inc, Bellevue, Wash, introduces the Clarisonic Opal Sonic Infusion System, which combines sonic micro-massage with a proprietary antiaging serum to reduce the appearance of fine lines and wrinkles. After dispensing a measured amount of Anti-Aging Sea Serum, the system uses a soft applicator tip, precision-tuned sonic frequency, and a proprietary gentle kneading motion to massage the lotion into the epidermis. The Serum—an antioxidant-rich, paraben-free formula—is optimized for the dynamics of sonic infusion and is integrated into the Sonic Infusion System.
Pacific Bioscience Laboratories
(888) 525-2747
www.clarisonic.com.
---
ANTIAGING SKIN CARE SYSTEM
Wellness Formulations, Hazelton, Pa, introduces Dermal Renu® Advanced Skin Science, an antiaging skin care system that contains antioxidants, moisturizing elements, peptides, botanical extracts, and four antiaging agents. These ingredients are continuously released into the skin through a proprietary delivery technology called EnduriVeil.™ The 60-day two-step, twice-daily skin care system for women of all ages and all skin types includes two CleanStart cleanse and preps, DayShield am treatment, NightRestore pm treatment, and SmoothReveal exfoliating gel.
Wellness Formulations LLC
(866) 323-4285
www.dermalrenu.com.
---

ANTIAGING SERUM
La Roche-Posay, New York City, introduces DERM AOX anti-glycation and anti-oxidation serum, which, according to the company, inhibits the glycation process and protects against cell oxidation to slow the skin-aging process, smooth wrinkles, and restore radiance. It combines three ingredients: carnosine, which maintains the skin's suppleness by preventing the skin's matrix from stiffening; Pycnogenol®, which neutralizes free radicals and helps protect skin cells from damage; and vitamin C, which helps restore skin structure, smooth skin texture, and increase radiance.
La Roche-Posay
(888) LRP-LABO
www.laroche-posay.us.
---
FILLER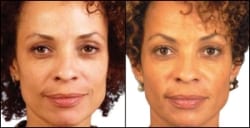 Allergan Inc, Irvine, Calif, announces the FDA approval of Juvéderm XC, a new formulation of the currently FDA-approved Juvéderm dermal filler and the latest advancement in hyaluronic acid dermal fillers. Allergan's new Juvéderm formulation contains the local anesthetic lidocaine to provide patients with enhanced comfort during treatment of moderate to severe facial wrinkles and folds, such as the nasolabial folds.
The FDA approval of Juvéderm XC was based on data from a multicenter, double-blind, randomized clinical trial. A total of 72 subjects were followed for 2 weeks after treatment with one of two Juvéderm formulations (Juvéderm XC with lidocaine or v without lidocaine) in each nasolabial fold. In the clinical study (N=72), 93% of patients reported less pain when treated with the new formulation of Juvéderm compared to those treated with the non-lidocaine formulation of Juvéderm.
Allergan Inc
(800) 433-8871
www.allergan.com.