Over the years, Haddle has noticed a trend toward more conservative, nonsurgical procedures—such as injectables and certain laser procedures—that can give a comparable result to surgical procedures in some patients.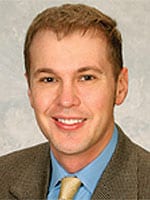 Kevin R. Haddle, MD, DDS
Geneva, Ill
Kevin R. Haddle, MD, DDS, is board-certified by both the American Board of Oral and Maxillofacial Surgery and the American Board of Facial Cosmetic Surgery. Since 2003, he has been helping patients address cosmetic and maxillofacial needs as a premier provider in the Geneva, Ill, area.
Haddle's private practice offers full-scoped oral & maxillofacial and facial aesthetic surgery, which also includes facial aesthetic surgery, orthognathic surgery, implant surgery, trauma surgery, reconstructive surgery, and skin care.
His philosophy is that true cosmetic results are gained by looking at the underlying structure of the face—the skeletal foundation.
The Complete Approach
Haddle has achieved multiple prestigious academic goals. He holds a bachelor's degree in Biology, earned a DDS from Indiana University School of Dentistry, and obtained his medical degree at Louisiana State University School of Medicine.
He has conducted research in molecular biology, completed the Oral & Maxillofacial Surgery Program at Louisiana State University, and completed one of the top fellowships in Facial Aesthetic Surgery through the American Academy of Cosmetic Surgery.
Haddle pursued these advanced programs because he believes that making a true difference for a patient requires knowledge of the entire body system that creates his or her appearance.
"My training in dentistry, maxillofacial surgery, and facial cosmetic surgery lends me a foundation to evaluate the face, like an engineer might view a structure," he says. "First, you have to look at the foundation, or the patient's bite and teeth, and then evaluate the relationship it has to the bone structure."
From there, he moves on to the exterior: the forehead, face, and neck and their associated tissues. He helps the patient address needs such as resurfacing, laser procedures, chemical peels, and skin care. "I really try to create a foundation that will support the kind of results the patient expects," he adds.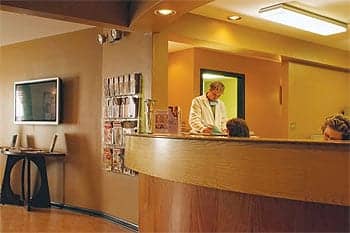 From the Beginning
Haddle first became fascinated with surgery as a biology student in grade school. "I loved the dissection we did on mice and frogs," he says. "And I was lucky that my grandparents had a farm where I could really get close to animals and learn even more."
He became particularly intrigued with reconstructive surgeries when his uncle was diagnosed with squamous cell carcinoma of the tongue, which required many surgeries. From there, the complexity of the head and neck anatomy sparked additional interest, bringing Haddle finally to a focus on cosmetic reconstruction and various elective surgeries.
"Everything about my approach to cosmetic surgery has a long-term goal and treatment plan in mind," he says. "From my extensive training, I make it our goal to always create an achievable, realistic plan that results in the desired long-term improvements for the patient."
His deliberate approach has created outstanding success. Because Haddle has a complete understanding of the entire head and neck anatomy, he is able to reconstruct the aesthetic placement of soft tissues, visualize where the soft tissues need to go, and evaluate any treatments that will be beneficial to the skin's surface.
Haddle uses technology to help visualize the final result, but with an added layer of complexity not normally employed in cosmetic surgery. By taking a CT scan and using a radio graft of a patient's skull, he is able to use particular predefined bony landmarks to more accurately guide soft-tissue adjustments.
This approach allows him to evaluate other bony structures of the face, including the nose and the chin, and make recommendations for patients. "In many cases, I find that making minor adjustments to the chin or the nose can significantly benefit the patient's overall result," he says.
Practice Focus and Trends
Of the many procedures and services he offers, Haddle has a few that he particularly enjoys.
"I think endoscopic surgeries are one of my favorites," he says. "With minimal incisions, we can create an aesthetic result from a simple brow lift that does not give a 'pulled' appearance."
For these procedures, Haddle does extensive preoperative measurement, and then uses predictable ratios to scope the tissues to their new location. In addition, he offers skin care and laser resurfacing, cheek and chin implants, and more.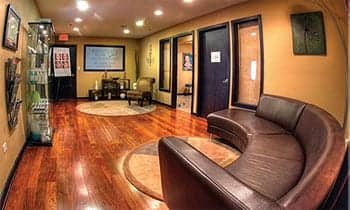 Over the years, he has noticed a trend toward more conservative, nonsurgical procedures—such as injectables and certain laser procedures—that can give a comparable result to surgical procedures in some patients.
"Our area is upper Midwest and conservative," he explains. "And as a result, a lot of patients take a more conservative, economical approach to their cosmetic goals."
Haddle's patients have profoundly endorsed his approach, he says. He credits his success to the professionalism of his practice environment, his status as the only AAAHC-accredited maxillofacial surgery office in Illinois, and his ability to clearly explain the aging process within the appropriate individualized treatment plan.
"My patients regularly send their friends and family members to visit me for consultations," he says. "That kind of loyalty and trust is what drives me. After all, medicine and cosmetic surgery are really all about helping people feel good about themselves."
Haddle maintains staff appointments at Delnor Community Hospital and Valley Ambulatory Surgery Center. He has also obtained a medical license in Louisiana, Ohio, and Illinois, and a dental license in Indiana and Illinois.
Haddle belongs to numerous organizations, including the American Dental Association, the American Medical Association, the American Association of Oral and Maxillofacial Surgeons, the American Dental Society of Anesthesia, the National Dental Board of Anesthesiology, and the American Academy of Cosmetic Surgery.
---
Schae Kane is a regular contributor to PSP. She can be reached at plasticsurgery@allied360.com.