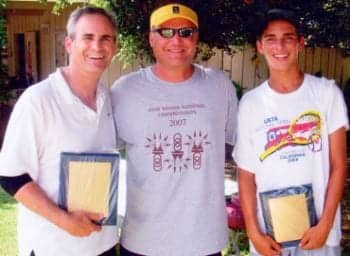 Dr Miller and his son, Eric, winning the 2008 Balboa Open Father-Son Championships.
Meet Scott Miller, MD. He's a plastic surgeon in private practice in La Jolla, California, and an attending surgeon at Scripps Memorial Hospital in La Jolla. Miller is also a voluntary clinical assistant professor of plastic surgery at the University of California, San Diego, and frequent lecturer at many industry meetings.
But there's more to this surgeon than what you read on his CV. Scott is also an avid tennis player, devoted dad and husband, and self-professed Diet Coke addict.
Plastic Surgery Practice sat down with Miller to find out a little bit more about his practice, and what he does when he is not operating.
1 Procedure you perform most often?
Facelift. It represents the pinnacle of our art, and the results are out there for all to see. I love and embrace that challenge.
2 Procedure you perform least often?
Postbariatric surgery.
3 Favorite procedure?
Any facial rejuvenation procedure. Balancing the highlights and contours of the face to reveal beauty is deeply fulfilling to me.
4 Least favorite procedure?
Any procedure, when done on the wrong patient.
5 Healthiest habit?
Tennis. I played for the University of California at Irvine in college and rediscovered the enjoyment of the game when my son, Eric, wanted to take it up competitively. We've been playing a few times a week for the last 7 years, but now that he is off to play for Boston University this fall, I'll be needing a new partner!
6 Least healthiest habit?
Diet Coke. I know I'm better off without it, but it sure helps out on a long clinic day.
7 Favorite guilty pleasure?
Dark chocolate.
8 Professional mantra?
"Autograph your work with excellence." I have a passion for performance. This goes hand in hand with the words of the automotive innovator, Carroll Shelby, quoting his father, "You're never so slick you can't be greased"—so the learning continues.
9 Tool or technology you couldn't or wouldn't want to practice without?
My staff. They always put the patients' interests first and remind me to do the same.
10 Charity of record?
Interface International Surgery Program. Volunteer plastic surgeons operate on children with disfiguring birth defects in remote areas of Mexico. I have been involved with these efforts since residency and consider it fundamental to who we are as plastic surgeons.
---
Denise Mann is the editor of Plastic Surgery Practice. She can be reached at plasticsurgery@allied360.com.